The Queue: Wherein many surreal experiences were had by me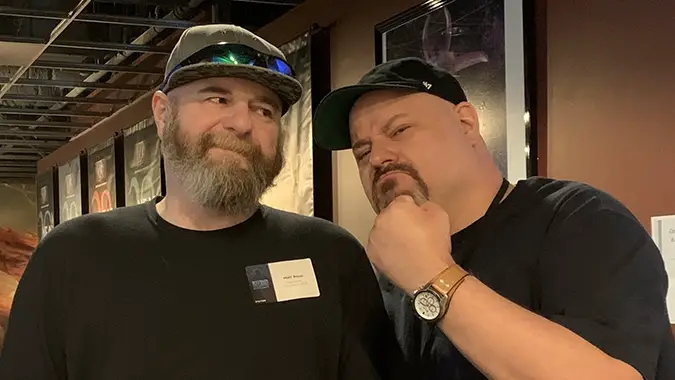 Rossi. Danuser. They fight lore crimes.
---
ORANGE YOU GLAD I DIDN'T TELL THE BANANA JOKE?
There will not be an ordinary anything, but there will be this here Queue, written by this here me.
---
VALENCEMAGI IS PLURAL? I THINK IT'S PLURAL
Q4tQ: So are we expecting full-on Christmas Jingles and Decorations to be up in every store tomorrow? >:P A lot of the Big stores here already have decorations out for sale like a week ago.
That does seem to be the case but I've had very little time to really pay any attention to stores lately. Except the haunted 7-11 down the street from my hotel, and there, they're mostly worried about phantasmal freezer food.
---
KALCHEUS ASKS ME A QUESTION WHICH IS THE ENTIRE PREMISE OF THIS COLUMN
Q4Matt: How are you enjoying BlizzCon?
I admit to a touch of anxiety but I met a lot of very nice people at the Con before the Storm meet and greet last night and that was very nice. By the time y'all see this, we will be in line to go in for the opening ceremonies.
Seriously it's been so amazing and terrifying and just more than I ever could have hoped for. Getting to meet people like Christie Golden and Steve Danuser and Kurtis McCathern and Danielle Vanderlip and all of the people I met at Con before the Storm, it was so beyond my ability to capture it with superlatives.
And the con itself isn't even until tomorrow.
---
JALAMENOS, WE'RE HOLDING OUT FOR JALAMENOS IN THE MORNING LIGHT
I suspect based on dialog in 8.2.5 that yes, we'll be seeing more of her soon.
---
PHPRENTISS WANTS TO KNOW ABOUT CENARIUS
Q4tQ: If Cenarius came before Night Elves, why does he look like a Night Elf?
Well it may well be more accurate to ask why Night Elves, who were apparently descended from Dark Trolls who were exposed to the Well of Eternity (and thus, Azeroth's blood as it seeped out of the wound left when Y'Shaarj was torn out of the planet by Aman'Thul) look like Cenarius. And if Azerite is Azeroth's blood, are we literally on the verge of a brand new Well of Eternity?
Furthermore we see Night Elves in the Temple of Elune/Tomb of Sargeras, especially in the chamber where the Pillars of Creation were used to originally seal and later rip open the portal to Argus. Why? The creation of that Temple would have predated their existence and come about just after the destruction of the Black Empire, and yet, there they are. What connection does Elune have with the Titans? What connection does Cenarius, the son of Elune, have with Night Elves?
There's a lot we don't know about Night Elf origins, is what I'm saying.
Guys, by the time you read this I will be standing in line outside waiting to go in at BlizzCon. I'm so excited.