Essences won't be account-wide in patch 8.3, but they will be easier to get
Updated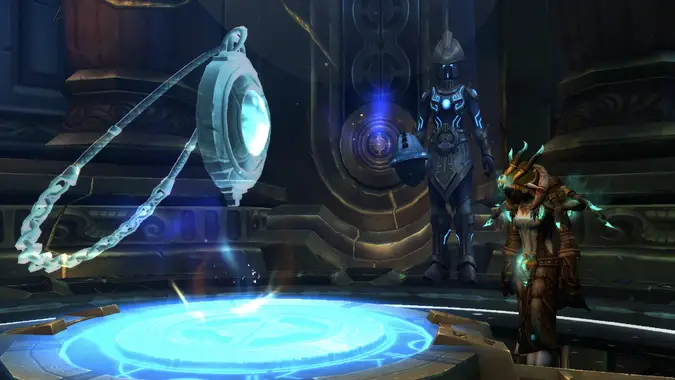 Introduced in patch 8.2, Essences for the Heart of Azeroth were unequivocally a great addition to the game. However, one element that few players have enjoyed is that progress on them is locked to individual characters. For example, I play a Guardian Druid as a main, and Nullification Dynamo is a commonly-used minor essence. The first rank is easy enough and can be bought at honored with the Rustbolt Resistance for a two measly S.P.A.R.E. crates and a Galvanic Oscillator; sneezing anywhere on Mechagon is enough to get you covered there. Ranks two and three are available at revered and exalted respectively, with the total cost coming to a stomach-churning 60 crates and 35 oscillators. Because rank three is really what you're after (why be an absorbing bear when you can be an exploding one?), you're looking at a fairly hellish grind for both reputation and materials. After that, rank four is a random drop from Rustbolt Supplies, so you could conceivably get it straight off, or … be in for another hellish grind.
Tired of grinding and want to pop to an alt so you can do something different? You won't be doing it with your awesome Nullification Dynamo, because progress on essences isn't shared between characters. I have two Guardian Druids, one for each faction. One is a happy bear, cheerfully exploding as both God and nature intended, and the other is a resentful, sulking bear for this reason.
Due to the sheer amount of effort involved in obtaining and advancing many of the Essences, players have been requesting that they be made account-wide for some time. However, Blizzard confirmed at BlizzCon that this will not happen in patch 8.3, but that they will make the grinds easier by reducing reputation requirements for Essences that require it. This will
Replace with the blue post text
apply to all characters and not just alts, in the interests of allowing new or returning players to catch up without being overly penalized for being absent for patch 8.2.
Here's what's changing:
Reputation requirements for Nazjatar and Mechagon vendor-sold Essences have been reduced from Honored/Revered/Exalted for ranks 1/2/3 to Friendly/Honored/Revered.

Acquisition of Rank 4 of these Essences is unchanged.

The follower experience requirements for Ranks 2 and 3 of Memory of Lucid Dreams have been reduced from 3000/6000 to 2400/4800.
Players who are Revered with their respective Nazjatar reputation may now exchange Manapearls for Bind-to-Account reputation tokens.
While this doesn't solve the entirety of the problem with alts and Essences, it at leas offers a bit of help.