Overwatch 2's new hero Sojourn is light on story but full of potential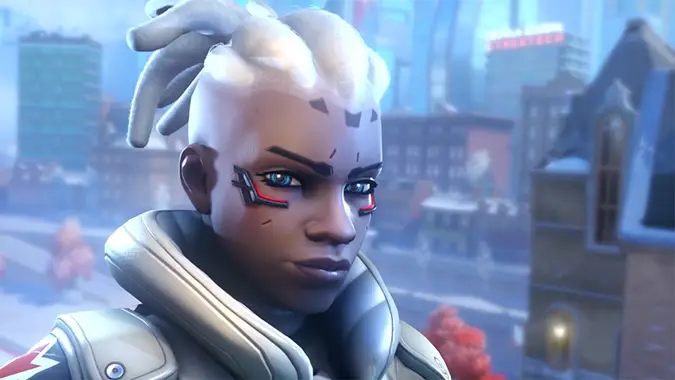 The next hero to join the Overwatch's universe, Sojourn, has surprisingly little story for how much fans of the game want her to be released and playable. She's appeared in the game's animated shorts as early as 2016 and has reportedly been in development before that. We know that she'll be in the game at some point in the near future, so let's dive into everything we know about her to prepare.
Like a lot of known characters in the Overwatch universe, Sojourn was a Canadian-born member of the international task force of the same name. As a captain, she led missions alongside people like Jack Morrison and Ana Amari. But like everyone in Overwatch, she disappeared after the organization was shut down. Years later, we see her face flash on Winston's computer as he calls out to former Overwatch agents to reconvene in the Recall short. She's out there, ready to return and help fight foes like Talon and Null Sector again.
In the game's Storm Rising PVE event, we get to see how Sojourn operates. She's about strategy versus blunt force — coordinating a kidnapping of Doomfist's accountant rather than chasing the man himself. In a persuasive voice mail to Morrison, she explains that she's been working with members like Mercy, Genji, Tracer, and Winston and believes they're capable of finding a high-value target like Maximillien. Sojourn has an eye for precision and seems to believe in the capabilities of her colleagues — something that might have changed after the group's fallout.
We don't know how much Sojourn fights herself. In the BlizzCon sneak peek, we see that her right hand has been replaced by a large gun. She sympathizes with Genji during the Storm Rising event about having cybernetic implants and finding peace with them, so it's possible that she has more than a firearm connected to her. Given her expertise in commanding a strike team, it seems likely that she can also do the deed herself, but we've yet to see her in action.
And that's it when it comes to Sojourn. She'll be the first black woman hero in Overwatch — which should appease the many, many fans that have wanted one since the launch of the game. She's like a lot of characters in the game's fiction at the moment: built for potential but largely empty. That's not necessarily a bad thing, but it means we simply don't know the scope of her personality and where she stands on the current events of the world.