Learn why Mercy (re)joined Overwatch in the short story Valkyrie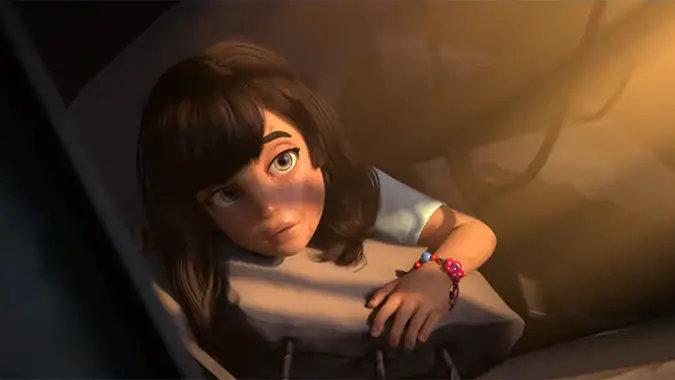 Coming out of approximately nowhere, Overwatch lead writer — and Zork enthusiast — Michael Chu decided to drop a new short story. "Valkyrie" focuses on Dr. Angela Ziegler, AKA Mercy, and covers her encounter (no, not that one) with Jack Morrison and Ana Amari, which spirals into fighting an assault by Talon on the Anubis facility in Cairo. New illustrations by Nesskain appear in the short story as well. Similar to previous releases "Bastet" and "What You Left Behind" this appears to be the prelude to an event where we can pick up an exclusive new skin for Mercy, but that has yet to be announced.
The story is told in first person from Mercy's perspective, so while Morrison and Ana are present, they end up doing a lot of things we don't actually see. Instead, the focus is on Mercy's work to rescue civilians and render aid where possible — which leads to the rescue of the girl you can see in the header image, taken from the "We Are Overwatch" theatrical teaser for the game, which played in cinemas before the game's release in 2016. And that's not speculation on our part — Chu confirmed it himself when asked on Twitter.
Yes!

— Michael Chu (@westofhouse) November 11, 2019
When it comes to new details revealed in this story, there are far too many to list, but a few highlights:
We knew from Mercy's official bio that her parents had been taken by war, but now it's established that they were aid workers in a hospital destroyed in an air strike during the Omnic Crisis.
While Angela had close ties with Overwatch during her education, she was recruited into the organization by Morrison himself on the premise of developing the biotic technology she pioneered…
… technology that, aside from the applications that Overwatch themselves engineered like biotic grenades, the Valkyrie suit, and Ana's sniper rifle, did not ultimately revolutionize medicine as Angela had hoped.
Angela's dedication to humanitarian aid work is as much penance for the failures of Overwatch as it is a necessity for her: specifically, having the organization on her resume after they fell into disrepute and then collapsed made finding more prestigious work difficult.
This story is quite timely for a number of reasons, but top of the list is this: in the Zero Hour animated short, all of the other heroes who answered Winson's recall had their reasons mostly explained in other cinematics. All except Mercy, that is.
Angela's history with the Overwatch organization — which gets a flashback sequence in the story itself — is a bit strained, portrayed in-game with voice lines and interactions indicating that "Overwatch was shut down for a reason." Despite her care provider nature, Mercy had seemed a bit cool to the idea of Winston trying to put the band back together. Thus, her appearance in Zero Hour felt surprising, as there was no explanation as to what changed her mind enough to join the fight in Paris.
Based on the conclusion of Baptiste's short story, where he planned to warn Angela that Talon was hunting down former Overwatch agents, I thought that was going to be what connected the dots. But "Valkyrie" suggests a different rationale: namely, Angela knows she can't lock her own heroism away forever, and while she won't follow Morrison and Ana in their personal war on Talon, the world needs heroes, even those who thought they could hang it all up.
Overall, this is an excellent story that gives a lot of insight into Mercy's mindset, in a way that most other forms of storytelling might have struggled to accomplish. It's Chu in his element as a storyteller, and (if a hero challenge event is in the cards) it's a sign that we won't be waiting until Overwatch 2 for more content in Overwatch, as some folks have feared.
What did you think of the story? Let us know in the comments.