What skins do you want added in Overwatch's 2019 Winter Wonderland event?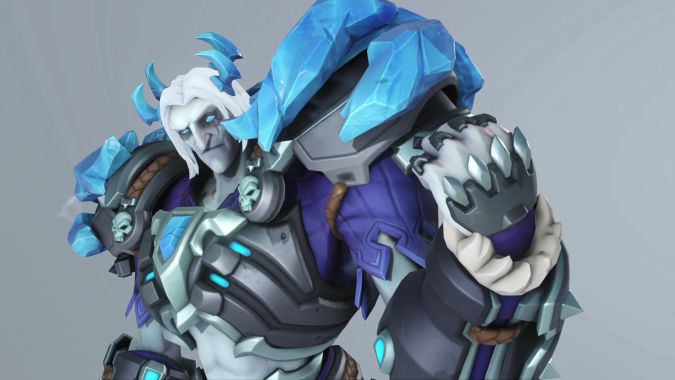 This week, Overwatch's annual Winter Wonderland is hitting servers (barring "some unforeseen circumstance") and that means it's time for everyone's favorite pastime: fawning over new skins! So far, we've only seen one skin revealed briefly at BlizzCon 2019's Artists at Work panel, and is was the icy-looking (and somewhat Death Knight-like) Sigma skin above. But with how many skins we've seen in previous years — twelve in 2016, seven in 2017, and nine in 2018 — that still likely leaves us with at least half a dozen more for 2019.
At the moment (and excluding Sigma who's confirmed to be getting one this year) the following heroes don't have any Winter Wonderland skins:
D.Va
Orisa
Wrecking Ball
Doomfist
Genji
Baptiste
Brigitte
Moira
If you ask me, that's a pretty fine roster for potential Winter Wonderland skins. Of those, my marvelous main Moira is the one I want to get a skin the most. Not necessarily because I think she needs it most, of course — it's pretty much entirely because she's my main. Objectively, though, I think it would be great to give Wrecking Ball a Winter Wonderland skin. Not only would his silhouette work well for an ornament, he's also in desperate need of an event skin.
I also think having a Genji skin to complement Hanzo's casual skin would be a cool little nod to the two's connection, even if it's not necessarily the most out-there concept. In a similar vein, I would love to see Orisa given a nutcracker skin similar to Zenyatta's. Not only are they terrifying, but the two of them being Omnics ties the concept together on multiple levels. But when it comes to the rest of the characters, I'm not all that sure. What would a Doomfist skin look like? Or a Baptiste skin?
Heck, what about the other heroes who have skins already? Plenty of heroes have more than one Winter Wonderland skin, so who's to say we have to stick to the ones above? What do you guys want to see from Overwatch's 2019 Winter Wonderland skin selection?