When should exceptions be made to WoW Classic's "#NoChanges" rule?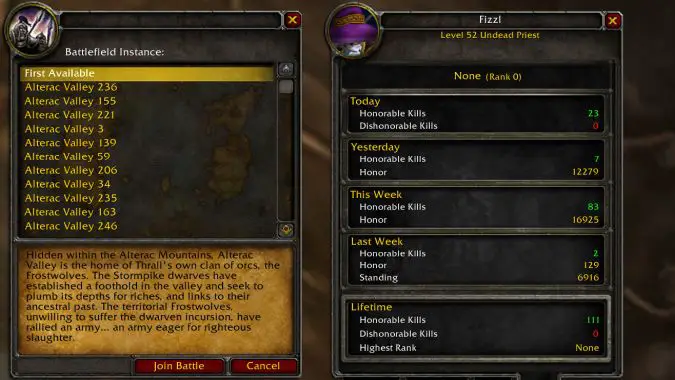 Before you jump in to suggest a litany of conveniences WoW Classic could use, let me make something clear: This post isn't about adding features to Classic that weren't there. It's about modifying the functionality of various systems already in place. If that doesn't make much sense, allow me to elaborate.
Last Tuesday, Blizzard added Warsong Gulch and Alterac Valley to WoW Classic. We've had the Honor System in place since November, but it wasn't until last week that we had actual battlegrounds to participate in. They've given players a convenient way to farm Honor that's much more lucrative than world PVP. Warsong Gulch is pretty much exactly how I remember it. There's only so many ways you can change that one. But Alterac Valley is almost nothing like what I remember.
Nearly every single match I've been in has ended in 20 minutes or less, with one ending in 8 minutes. Back in Vanilla, AV was notorious for lasting hours — even days — and for the long sub-grinds that were intended to help one side gain an advantage. But players don't do those grinds, and matches don't last for days now. As a result, the Honor gains per hour from farming Alterac Valley are astronomically higher than they were in Vanilla. Basically, anyone who has any interest in climbing the PVP ladder will pretty much need to do it exclusively through Alterac Valley. And that feels like a problem for a system whose rewards are designed around farming multiple battlegrounds.
But at the same time, Classic is all about not changing anything. So keeping Alterac Valley as a stupidly effective way of farming Honor would very much be within the philosophy of Classic that it wouldn't be surprising. But then again, how reflective of the original AV Honor experience is it really if the players have changed so much that the battleground feels nothing like it used to?
It's a tough call to make, and one that I've been mulling over. I'm very much a purist when it comes to not changing things, but I think I might actually be okay with a change in Honor gains here. How about you, though? When do you think exceptions should be made to "#NoChanges"?