The Queue: Am I blue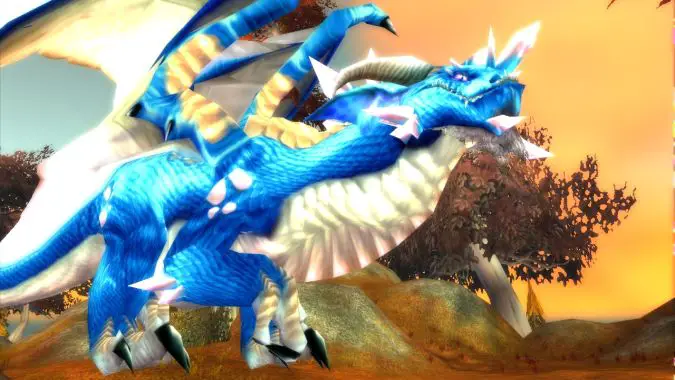 Welcome back to The Queue, our daily Q&A feature for all of Blizzard's games! Have a question for the Blizzard Watch staff? Leave it in the comments!
I think one of the nicest parts of having Classic around and the old world back again is the restoration of zones that were thoroughly altered in Cataclysm. Take Azshara for example — I loved the place in vanilla. Sure, there wasn't a lot to do there, but the scenery was absolutely gorgeous. Don't get me wrong, I appreciate the Goblin themed zone as it stands now and I do love that it's been filled with quests…but sometimes I just miss the days when it was a relatively quiet place to skulk around and try not to get ganked by rampaging dragonkin, you know? Let's get to your questions.
---
HUSSKIES ASKED:
Q4TQ: Now that we've had the game awards and have discussed the games of 2019, what is the game you are looking forward to the most for 2020?
I mean, Shadowlands is pretty much top of the list of course! But beyond that, I'm really looking forward to the new Animal Crossing title. I don't really talk about it here at all, but I absolutely love that game — there's something very relaxing and soothing about it. I still play Pocket Camp regularly, even though it's not quite the same as far as Animal Crossing titles go.
But I find myself picking up different games for different reasons, and Animal Crossing is one of those ones I habitually play just because I want some casual relaxation. There's no dire world-ending threats, no crazy stories that I want to see the end of, no real…you know, purpose beyond collecting and building. It's just a place to go where your animal buddies would like you to grab a few things for them, you can fish if you want, pick some weeds, maybe kit out your house with pretty objects…it's entirely low-stress.
The new title looks a bit different in concept, but Nintendo never really strays too far from that original formula, which makes me happy, and decidedly chilled out while I'm playing it.
---
RED ASKED:
Q4tQ: why is Zaladormu semi-transparent?
If you're asking if he's a ghost, he most definitely isn't. There's not really an explanation out there for why he's a little there-and-not-there, so I'm assuming maybe he's just drifting in and out of the timeways while he's chilling by the hourglass. Bronze dragons, you know? Never quite know what — or when — they're up to.
---
LUOTIANX ASKED:
Q4Q: how do you anticipate Talan'ji and Bwonsamdi factoring into Shadowlands? I don't think the Loa of Death becoming the Loa of Kings right before an expansion about death is an accident. Plus more Talan'ji is a plus.
Well, we already know that Bwonsamdi's realm is going to feature as a dungeon, if I recall correctly — which means we should definitely see more of that particularly pesky loa whether we want to or not. As for Talanji, I don't know how much she's going to feature in the next expansion. The Zandalari need to rebuild, and she's got her hands full being the new Queen. While I really hope we see her story continue to progress in the future, I don't know if Shadowlands is going to feature her quite so heavily — at least I don't think she'll be there right at the outset. Maybe more in a future patch?
On the other hand…the last we saw of Vol'jin's spirit, it was headed to the Other Side — and since we are headed there, maybe Talanji will take an interest. Sure, Vol'jin is a Shadowspear, but his spirit was revealed to be a pretty important anomaly in Battle for Azeroth. She's got to have at least some small interest in solving that particular mystery, don't you think?
In either case, I do hope we see her again in the future. I'd hate to have another wonderful character just kind of shoved to the side at the end of an expansion, never to be seen again (I'm looking at you Yrel — sure I know you came back briefly but it didn't really amount to anything, did it?).
---
ENO ASKED:
QftQ…. Are Azshara's extra eyes her own… or N'Zoth's?
That's an excellent question. Unfortunately, I don't really have an answer for you. However, I will say this — Azshara had her own plans for N'Zoth, and the Old God seemed to be fully aware of them. It's hard to put one over on Azshara, although not impossible…but if she assumed the body she'd been gifted was simply hers, and didn't consider that perhaps part of that gift was the ability for N'Zoth to keep tabs on her at all times…well, it wouldn't be the first time someone had been tricked by an Old God. All of this is speculation though — we really don't have any idea, and I doubt we're going to get any clarification on that front anytime soon.
---
AUSSIEEEVEE ASKED:
Q4tQ. I just had an argument in AV that it doesn't count as PvP, and only counts as PvE… "People are there to level". What are your thoughts? Should I stop worrying about trying to win?
AV definitely counts as a PVP Battleground, but whether people are treating it as such is a different matter entirely. Given how so many people are using it as a method of leveling alts, the PVE argument could be made…but it's still player vs. player. I don't know if I'd advise anyone to simply give up and not try to win, but be aware that not everyone might be on the same page as someone who is busting their rear end to get to the other side of the map and try and engage the last boss. People want to take their time and reap the rewards, not necessarily barrel through there at top speed.
I'd say the best idea is probably just to view each battleground on a case by case basis. If it seems like people are more interested in the PVE side of things, join in with that. If it seems like you've found a group that's all about winning the Battleground, follow them and help out. AV may count as a battleground, but the PVE elements contained in it means that you're going to get a very different style of play than Warsong Gulch or Arathi Basin — it was like that in vanilla too. Sometimes you're in and out of there in a hurry, but most of the time, you're going to be looking at a longer crawl, and victory may not necessarily be guaranteed.
---
DANE ASKED:
Q4tQ: I'm playing classic and the Spirit of Azuregos tells the player "My watch is eternal". What exactly is he watching? Who is this big blue dragon and why is he in azshara?
Blue dragons have typically been the guardians of magic — and that includes magical artifacts. As far as Azuregos is concerned, you just have to look at the history of Azshara. Once upon a time, the place was home to the Night Elf city of Eldarath — the ruins still exist today. As a Highborne city, it's believed that many powerful artifacts may still be found among those ruins…which makes it a place of particular interest to the Blue dragonflight. Azuregos was basically overseeing the ruins of Eldarath, which made a lot of people wonder exactly how powerful those rumored powerful artifacts were. If it attracted the attention of a full on dragon, it had to be pretty important, right?
Probably.
See, the thing about Azuregos is that he's a bit of a…prankster, for want of a better word. You don't really discover this immediately in Classic, but if in the future you find yourself attempting the Scepter of the Shifting Sands quest chain, you'll get to have a conversation with Azuregos directly. Over the course of that conversation, you discover that Azuregos isn't exactly keen on being assigned other duties. He just wants to chill in Azshara and see what there is to see. After being given the Blue Scepter Shard for safekeeping, he hung onto it for a good 500 years, then got bored and handed it off to a minnow named Maws.
Years later, after the Cataclysm revamp, you can still find Azuregos…only this time he's hanging out in the spirit world with a Spirit Healer named Anara who is apparently his lady-love. After that fell through and Kalecgos became the new Aspect of Magic, Azuregos returned to the abandoned Nexus, hoping to secure any magical artifacts remaining there. That's the last we saw of him — presumably he's still out there.
Needless to say, any information regarding Azuregos should probably be taken with a gigantic grain of salt. To the casual observer, he's a great Blue dragon, leading a careful watch over magical ruins in the middle of nowhere. But really, he's just interested in magic trinkets and treasures, and is prone to bouts of reveling in his own self-importance every now and again.
That's it for today's Queue — if you have any questions you'd like to see answered, be sure to leave them in the comments below!