The Black Dragonscale Backpack lets you turn your cloak into a backpack, and it opens the door for a whole new world of transmog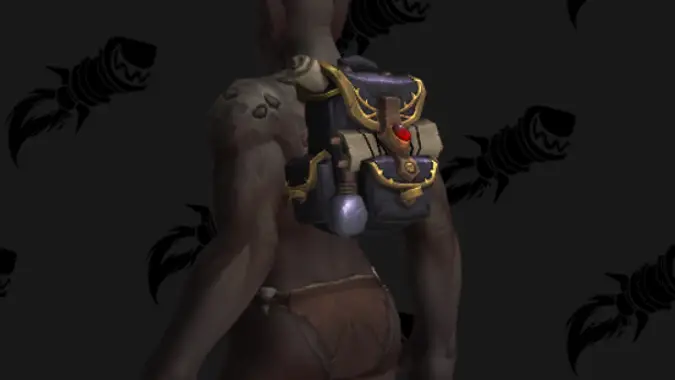 It's no secret that I'm ludicrously engrossed by transmogrification in World of Warcraft. So when I read this article about the new Black Dragonscale Backpack cloak that Wrathion sells for 40,000g on the PTR, I got excited. Not for the object itself. It's a purely cosmetic item that isn't really my jam — it's very cool that players will be able to choose the look, and I'm all aboard, but I would not personally choose a backpack look. I mean, we already had the Renowned Explorer's Rucksack from Recruit-A-Friend that does the exact same thing, and I wasn't particularly interested in that one, either. But what's fascinating about it is the potential it offers for us to have something besides a cape or cloak for that slot.
We now have two potential backpack "capes" for players who'd rather have those. And what this immediately has me thinking is, what else could go back there? One idea that comes to mind immediately is wings, like the ones we see in Diablo 3 as cosmetic rewards. Imagine a cosmetic item for the back slot that didn't put anything there, until you leapt off of a roof, and then a huge pair of wings unfurled from your back. Another possibility could be something like a hooded cloak, perhaps even one you could pull up or down to cover your face for different looks. Or maybe even a quiver for Hunters. And why stop at variant cloaks? We could have headdresses and turbans for helms, glove slot items that are just sets of rings for each finger, boots that are just sandals. The more variant transmog possibilities we get in game the better, as far as I'm concerned.
Plus, with Wrathion selling this item, perhaps he'll sell that whole outfit he's got on now. It's a huge upgrade from his old look, and I know some folks would absolutely kill for it. For now, though, if you really want a backpack and you have 40,000 gold to spare, patch 8.3 will allow you to buy one from Wrathion.