The Queue: New year, new you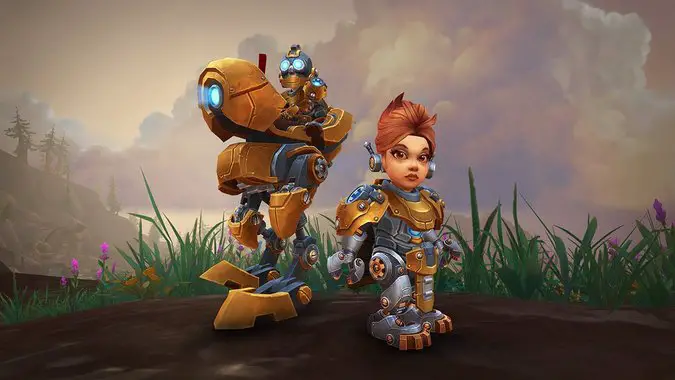 New you? New me? Maybe. Maybe it's time for a new me.
---
RED ASKED:
Q4TQ: patch 8.3 comes out in 12 days. What are your "Day 1" plans?
– unlocking and rolling Vulpera / Mechagnomes?
– rolling any of the new Allied Race / Pandaren DKs?
– race changing any toons?
– boosting any toons?
– unlocking the Worgen and Goblin heritage armor sets?
– anything else?
I am really, really contemplating race changing my Mistweaver to Mechagnome, but I haven't come to a conclusion yet… and now I'm running out of time. Do I race change? Do I roll a new character? Do I even want to play a Monk anymore? I'm tormented by indecision!
Sooo… I think my patch day plans are to remain tormented by indecision. That's going to get me ahead of the game, right? Right!
---
KALCHEUS HIGHMOUNTAIN ASKED:
Q4tQ Since the Monk Champion replaces Grand Master Hight as part of the Legion storyline, shouldn't I be handing out quests to lowbies?
It's extremely rude how little respect they pay you, the Grandmaster of the order and savior of Azeroth. Kids these days, honestly.
---
RED ASKED:
Q4tQ: do you feel like, in general, World Quests are too much reward for too little effort?
I feel like it's the other way around. World Quests are run-all-over-the-zone tedium, and clearing emissaries can feel like it takes forever. Unless you're doing an emissary, the reputation gains are tiny (even with buffs from the Darkmoon Faire or anniversary event) and you have to do so many of them to get anywhere.
And the rewards just aren't anything to write home about. I'm wearing 430 gear, I'm exalted with all of Battle for Azeroth factions (except Rustbolt, which I just need to remember to log on and quest for a couple more days to get), my neck is at level 67, and I have several hundred thousand gold.
World Quests might give me 390 gear, 100 gold, 150 reputation, or a few hundred Azerite Power. Even doing four World Quests to complete an emissary doesn't give me gear upgrades or any other kind of notable character progression.
There was a time when these were a good way to gear up, but that time has passed. The rewards they offer now just aren't very substantial.
---
SPENCER MORGAN ASKED:
Q4tLiz: did you dogs happen to wear Santa hats last year?
I am afraid not. They just aren't fans of headgear, no matter how stylish.
---
MOG MOXI ASKED:
My first ever question for the queue: do you think "the forces that be" are really ready to see people who are considered minorities as subscribers? Apparently WoW will have more character options but does this explore enough into "minorities"?
WoW is an old game, with old sensibilities about minority representation. The game has gradually added new race and customization options — including, finally, basic things like a wider range of skintone options — that let everyone see themselves in the characters they play. And, in so doing, recognize that people of a similar nature actually play the game and should be able to see themselves in it.
Warcraft, sluggish in its old age, has been slow to adapt. New looks, new eye shapes, new skintones — these are baby steps in the right direction, but they're only baby steps. I think the game is heading in a good direction, but I can't say how long it will take for it to really shake its 90s gaming roots.
But ready or not, the forces that be have noticed that gamers go beyond stereotypes.
---
DREW ASKED:
What are your WoW goals for 2020? What are your other gaming goals for 2020?
To find a good balance where I can play WoW and other games without getting behind on work and the rest of life. I love playing games, but it's tough to juggle them with everything else — particularly as games become more involved and time-consuming. WoW alone can be a monster of a time commitment, and there's always something more to do.
Juggling everything just right is an unending struggle, but I keep working on it.
---
ROSSI ASKED:
What would you most like to see happen, and least like to see happen, on Saturday's D&D game?
I really want to ruin someone's day with a counterspell. I've never gotten to ruin someone's day with a counterspell. Maybe I could ruin Mitch's day with a counterspell.
Just… shhh, no one tell him.
Oh, and the Blizzard Watch team is playing D&D again this weekend, for everyone who enjoys our zany adventures. It will be livestreaming tomorrow (Saturday) starting at 10:30am central time.
And that's all the news that's fit to print. Or, well, type. Have a great weekend and (or?) come join us for D&D tomorrow morning.
I'll see you there. Or I'll see you next week here in the Queue.