The Queue: Bitey McStabface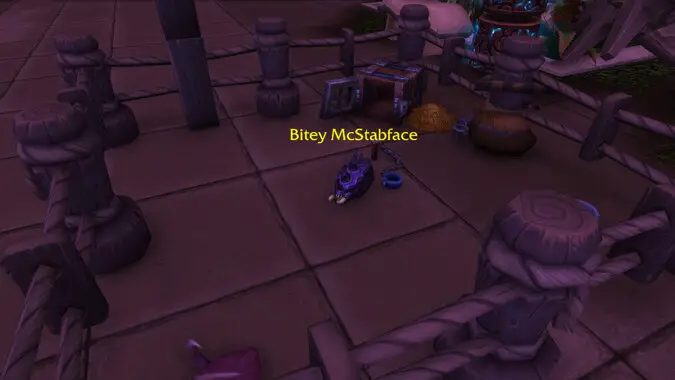 I've only had Bitey Mcstabface for a couple of days, but if anything ever happened to him I would destroy Azeroth. Look at that cute little face. That's the kind of face that just makes you fall in love with something. Not to mention those teeth! Those are the kind of chompers that would make a beaver jealous! Forget about that giant sword just sticking out of the planet in Silithus — Bitey Mcstabface will gnaw through that in no time at all.
I am curious about the naming breakdown. There are four options there, did everyone choose Bitey McStabface for their Larva? Almost everyone that I've talked to so far has chosen that — but there are always outliers. I'm running a quick Twitter poll so vote for what name you chose, or would choose if you haven't started the quest chain yet.
In the meantime, lets Queue!
---
JUNKERMAGE RC CAN YOU SAY OF YOUR BITE THAT IT'S WORSE THAN YOUR BARK?
Q4tQ: Are there any classes you love playing, but for whatever reason give up after a while? 
I loved raiding as a Holy Paladin. Being able to work with the healing team was my favorite gameplay, but outside of raids I just wasn't having as good of a time. I would have to keep a set of gear ready for Retribution if I wanted to accomplish anything questing wise, and dungeon healing can't really compare to keeping 25 people alive through gouts of Dragonfire.
Keystone Dungeons did make it more interesting for a while — until Grevious. Nothing made me more upset playing a healer than Grevious. So when I realized that I was coming out of a run more upset than having a good time, I just chose to focus on the other two roles, because at least as a Guardian Druid I may take ten minutes to kill a rare by myself, but at least I'll never die.
---
KALCHEUS, TOTALLY NOT CORRUPT WHEN YOU FALL ON YOUR HEAD DO YOU LAND ON YOUR FEET?
Q4tQ What's easier for the Coins of Ancestry/Perma-Crown quests, Mage or Druid? 
Mage and Druid both have some excellent portals to help get them around Azeroth. Mage gets points for the Dalaran Portal being more central in Northrend. But I have to give it to the Druid — The Legion ability Dreamwalk handles most of your portal needs. Plus Flight Form will save you valuable seconds at every Elder.
(I might have a teensy bit of Druid bias)
---
DOMEHAMMER ARE YOU TENSE WHEN YOU SENSE THERE'S A STORM IN THE AIR?
Are rares that can be faction tagged the worst thing ever or rares that don't count towards the kill three rare quest the worst?
Nobody likes seeing that shiny rare get pulled right before you arrive by the opposite faction. And taking the time to kill one of the giant health pool rares only to find out that it wasn't in bounds for the Assault daily to count it is rough. But I think the worst rares are the ones that have something exciting on them and only a tiny health pool.
Corpse Feaster can drop one of the cool A'qir flying drone mounts but only has a million health. With the gear some people have they can sneeze twice and blow their nose once and Corpse Feaster has become a corpse. Even if they were nice and announced that it was up and available in general chat before starting, you would pretty much already have to be en route to the spawn point to have a chance.
---
MIGHTYMODES CAN YOU FIND YOUR WAY BLIND WHEN YOU'RE LOST IN THE STREET?
When you do the extra quests in the assaults, are you supposed to get the normal worldquest pop up thing telling you what the quest is and how to complete it? I've been doing them as I run into them, but on some of them, I have no idea what to do. Spent 20 minutes trying to figure out how to release a white serpent, then realized the torches nearby are the same colors. Its kind of nice, having to figure out the puzzle, but some are just kills and I dont know how close I am to finishing it 
I wish! There have been a couple of them that have bugged out on me (pun intended) where you have to protect a caravan of people from the A'qir in Uldum. There was no indication that I'd failed the quest, or that progress wasn't happening, so I just spent a bunch of time killing wave after wave of disposable insects. Eventually, I must've reached some sort of pre-set limit on the quest and it shut down. So yeah, a little guidance would be nice.
What I really want to know though is why aren't they just World Quests. They work exactly the same way. You go to a place, take care of whatever needs taking care of and get a reward. There are easier ones and harder ones. The only difference is that you have to stumble on them instead of Blizzard marking them on your map.
The only possible reason I can think of is that they didn't want to do Emissaries for the new factions. We're already getting large amounts of reputation and a cache from filling the Assault bar. The extra reputation from an Emissary reward every nine days might've skewed their plans for how quickly you could reach Exalted with them.
---
LOTHARFOX DO YOU KNOW HOW TO GO TO THE HEAVISIDE LAYER?
Does anyone use a flying mount on their druid? 
I'd say that 85/100 times I mount on my Druid I use Travel Form. The instant cast just makes the most sense — and being able to interact with quest objectives while in Flight Form really can save a bunch of time. I'm also using the Legion Class Hall mount in spite of its weird neck. I like being able to carry a friend on my back. Sometimes though you're just going to fly across the zone so I don't mind using one of my other mounts.
---
SCUNOSI AND VALENCEMAGI AND KALCHEUS CAN YOU SING AT THE SAME TIME IN MORE THAN ONE KEY?
Heroes of the Storm lightning round!
1: Why did a play a co-op vs. AI game the other night with a queue so long I ended up being given all AI teammates? 
2: Playable Azshara when? 
3: When they add Moira Thaurissan Bronzebeard to Heroes of the Storm, what alternate skins do you expect her to get? Do you think we'll get a -Diamond Moira? 
1: Sometimes if you're choosing a hero that everyone else is trying to play right then the matchmaking can get a little wonky. Or maybe your internet had a weird hiccough and the game lost you somewhere in the Nexus. I'm not really sure about the why behind long matchmaking and how long it'll wait before placing you in a match. If you feel like you're spending too long in an AI match queue just try stopping and looking again. I know that's the IT equivalent of try turning it off and on again, but it might work!
2. Soon™
I'm honestly surprised that we haven't gotten Queen Azshara as a hero. She's unique, a fan favorite, and has a vague set of powers that could give her all sorts of different ranged assassin style kits. She is one of the most powerful mages on Azeroth and has had ten thousand years to practice her skills. We could see something similar to Arcane Mages in World of Warcraft where casting spells repeatedly leads to increased damage and increased cost. Or a summoner like Azmodan or Nazeebo where she makes her minions do her dirty work. You wouldn't make the Queen get her hands dirty after all. If she's being actively worked on, I bet she's near the top of the list.
3. I'm not sure if they'd give her a straight diamond Speaker of Azeroth skin, Magni already has that covered with his Avatar ultimate. Adding a hero that is always diamond-y could lead to complications. But I do think they'd give her a full Dark Iron skin. That fancy lava hair would really make her pop. I could see them adding an Explorers' League skin too, finally Li-Li wouldn't be the only one in a Pith helmet.
Todays Anna Earworm™: Jellicle Songs
Make sure that you leave lots of questions for Anna tomorrow and I hope you have a great week!