What class do you find the most fun to play?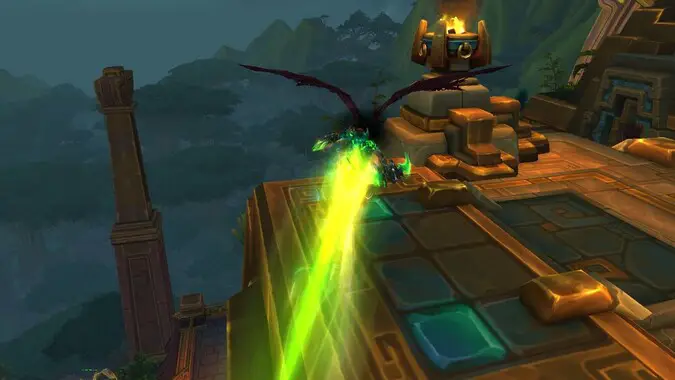 Ever since the Legion beta, when I first got to play the Demon Hunter starting area I knew that this was the pinnacle class to play for me. They play like zippy little race cars. I spend my days on my main character lumbering around as a Guardian Druid that plays more like an armored car. Which don't get me wrong, I love too. I love being a Bear tank, and I love the Druid kit of abilities. But after playing what feels like the heaviest class in the game, sometimes you need to let loose and play the opposite.
I can't get enough of that speed. Having a pair of charges of Fel Rush feels so wonderful. One second you're underneath the boss, the next you're at the entrance of the room attacking the minion that just came in. Add to that being able to Glide, and of course Double Jump? Outstanding. If we're waiting to start a dungeon or pull a boss, chances are you'll see me bouncing around and gliding all over the place. It's just so much fun!
The rest of the abilities all feel just as good to use. Your big cooldown, Demonic Metamorphosis, leaps you into the air and you land as a 10-foot tall Demonic avatar of destruction. Even your basic abilities and attack animations have a great sense of kinetic joy to use. You're spinning and twisting and your glaives or swords or axes are a deadly ballet of edges and death.
I haven't even talked about the best ability — Eye Beam! You do a little hop back and then let a blast of raw chaos power out of your face! The animation is gorgeous and the ability itself feels impactful every time you use it. Plus it does extra damage if you make laser sounds out loud when you use it. Just ask my dungeon team, they'll tell you that I'm always making laser sounds.
There are 36 different class and specialization combinations that you can play in World of Warcraft. Maybe you've played them all — even if only for a moment or two. Or maybe you've found the perfect one right out of the gate and you don't need to experiment with any others. What's your favorite, and what do you like most about it?