Tired of waiting for a Diablo animated series? Here's some media that can scratch that itch.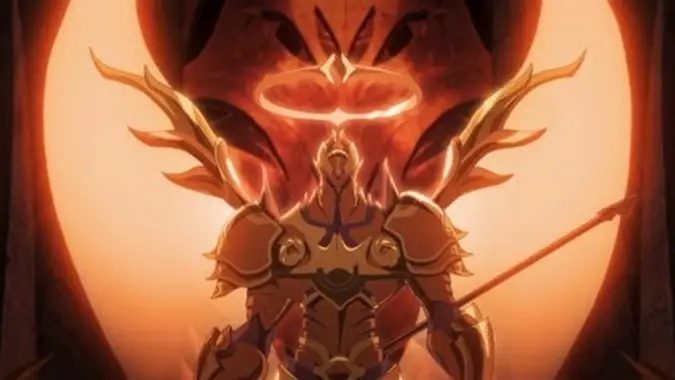 There's still no Diablo animated series to watch yet, and that's unfortunate — I know I would like it if I could binge a whole lot of demon crushing on ol' Sanctuary. For right now, the only recourse there is the Wrath animated short, and it's very good, don't get me wrong, but it's from 2012 and it's not quite seven minutes long. But there are alternatives — movies, TV shows and animated series that will give you some of that glorious feeling of crushing monsters and facing the ultimate evil. Here are a few recommendations to keep you content until we finally, finally get that Diablo animated series.
https://www.youtube.com/watch?v=1j2sXLbzm9U
First off, Travis Fimmel was an amazing Anduin Lothar, but he's much better as Ragnar Lothbrok on Vikings, a show that is based on the old 13th century Norse sagas. It's a brutal show at times, and while it lacks Diablo's more outlandish elements, it's a pretty solid contender for a grim but heroic atmosphere. The whole cast is great — Katheryn Winnick steals every scene she's in, and while it gets kind of weaker after Season 4, I'd still recommend watching it.
There was a 2011 movie with Jason Momoa as Conan that actually is better in terms of having weird magic and monsters and feeling more like Diablo, and that's the one I recommend, but come on. You're all going to watch the Terminator in a bad wig and call it good. I don't feel like I can legitimately do a list like this and not mention Arnold Schwarzenegger as the Barbarian who essentially inspired Diablo's Barbarian class.
I do legitimately think Momoa gave a much better performance in a much worse film. Not that any of the Conan movies has set the world on fire or anything.
Look, I'm not necessarily recommending this because it's good. I mean, I like it, but I can like some real cheese, and this? This is a huge block of Wisconsin cheddar, my friends. This is not a movie that is afraid to say Vin Diesel plays an immortal knight from the Dark Ages who fights witches in the modern day, and Michael Caine is his sidekick, as is Elijah Woods, and did I mention Julie Englebrecht is the Witch Queen? Because she totally is. It very much plays like what you'd get if you set Diablo in a modern city instead of Sanctary, and while it is ridiculous to see Vin Diesel play the role, it's still weirdly compelling? And Rose Leslie is good in it. It's the kind of fun that goes better if you don't think too hard about how silly it all is, which also goes for Diablo, I think.
Sort of a no-brainer, but if I didn't mention it, some of you would probably throw things at me. Reprobate Vampire Hunter Trevor Belmont teams up with Dracula's rebellious son Alucard (I'm going to name my kid Issor Wehttam, just you watch, it'll be hilarious when he kills me) and I'm so done with this magician Sypha Belnades to hunt down the big D himself, who is very reminiscent of Malthael from Reaper of Souls in terms of the scope and ridiculousness of his plans.
The fact is, there are a lot of vaguely fantasy anime which we could list here. I think Berserk will do the best job of being as gloriously, unrepentantly violent and disturbing, and it's one of the better anime in terms of story and plot. It's adult and disturbing at times, but the story of Guts, Griffith and Casca is complicated and tragic and yes, terrifyingly brutal and destructive at times.  It also has a 2016 adaptation/remake, which I have not seen. People swing swords the size of train cars and disembowel people. Honorable mentions go to Record of Lodos War which is heavily inspired by games like Diablo and Dungeons and Dragons, Goblin Slayer which is based on a light novel that itself feels like someone's D&D campaign, and the various Fate/ series like Fate/stay night and Fate/Apocrypha which, well, I really have no idea what's going on in these but they're pretty.
https://www.youtube.com/watch?v=BOm_PAI2goo
This one I felt like it needed its own entry. It's very distinct and different from Diablo, but it's a grim fantasy war story with characters who tried to work a great magic and ended up destroying themselves in the process and their quest to repair what they did to themselves. I feel like if you like Diablo you'll get something cool out of watching this, and if you're big on faithful adaptations they made a second series, Brotherhood, that is a 1:1 adaptation of the manga.  Where it matches up well for Diablo fans is the tone, ultimately — the homunculi are horrific and powerful and the various magic battles are show stoppers.
I honestly feel like The Witcher is a pretty good watch on its own (heck, you can go read that review I wrote) but it also serves well as a template for how a Diablo series could work. The only real problem is, there's no clear cut analogue to Geralt of Rivia. Honestly, maybe they should adapt the original Diablo game's story and give us an Aidan as main protagonist adaptation, and that way, we can all scream What, no, that's a terrible idea, don't do that in unison at the end of Season One when he jams the Soulstone in his forehead.
Seriously, what I said for The Last Witch Finder? Oh, yeah, this movie is outright bad. But it does an excellent job of taking that brooding, monster infested aesthetic and translating it to the screen, and Purefoy is pretty good as the famous Puritan adventurer created by Robert E. Howard. Just don't go into this expecting a great film — it's notable for its visuals, but it's not what I'd call quality filmmaking. It's better than Van Helsing or Hansel and Gretel: Witch Hunters or Snow White and the Huntsman, though. I realize that's not saying much.
In terms of a Diablo feel, I think the 2004 movie does a better job than the 2019 one, but I'm not really going to say no to either David Harbour or Ron Perlman in prosthetic make up killing monsters with a big gun and a big stone fist. Again, these are movies set in a modern day setting, but they still get across that juxtaposition of cosmic demonic horror and evil being vanquished through the power of raw force and murder.
I could keep going — there are a lot of possible options out there — but I feel like we've got a good representative sample to tie us over until we finally get that Diablo series to binge on.