WoW
Mar 12, 2020 4:00 pm CT
Horrific Visions will be your number one source for corrupted gear next week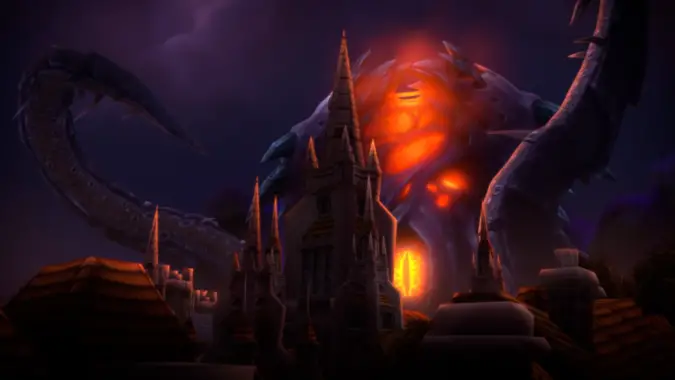 N'Zoth has heard your pleas. He knows how strongly you wish to wield his power, no matter how horrific the effects may be on your psyche. So, going forward any of the gear you get for completing your trips to the Horrific Visions of Stormwind and Orgrimmar will be Corrupted.
Beginning with scheduled weekly maintenance in each region the week of March 17, all gear rewards from Horrific Visions will be Corrupted.
We've heard from many players that Corrupted items were not obtainable enough, limiting their ability to play with the system and its inherent tradeoffs. This change will substantially increase the number of Corrupted items reliably earned each week, allowing players to choose from among a greater selection of Corrupted pieces and enjoy using those that work best in a given situation.
Much like the last hotfix to the power of Twilight Devastation, this feels like an elegant solution to one of the issues surrounding Corrupted gear. Some players were able to get lucky rolls and wound up with a bag full of Corrupted items, while others weren't seeing any of them at all. Running your Horrific Visions to upgrade your cloak, and then to not even need the extra resistance provided by your new levels didn't feel great. Now you'll be building your arsenal of Corruption powers while also increasing your cloak's power so you can use more. This is also a great incentive to keep doing Horrific Visions after you've gotten your cloak maxed, and to continue running the dailies to earn more of the Coalescing Visions needed to enter.
The Corrupted gear you get will be stronger, too — depending on how difficult you're making your run. More areas cleared or more masks worn mean greater rewards.
ilevel 420 – Defeat Thrall or Alleria
ilevel 430 – Complete any two side areas and Thrall or Alleria
ilevel 445 – Complete all five areas including Thrall or Alleria
ilevel 450 – Full clear with one mask active
ilevel 455 – Full clear with two masks active
ilevel 460 – Full clear with three masks active
ilevel 465 – Full clear with four masks active
ilevel 470 – Full clear with all of the masks active
Remember that you can only earn each tier of reward once a week. As you get each piece of gear you'll earn the next highest one available. So if you did a full clear with five masks once you'll get that piece of 470 gear. If you did a second full clear with all of the masks active you'd get something 465. You'll be able to earn a piece higher than what you got the first time if you progress further in, or put a new cloak upgrade to good use.
I can't wait to get a bunch of different items and actually have some options depending on the fight. The Infinite Stars power is great for just a single target, but having the option to swap to a Twilight Devastation or Echoing Void for multi-target encounters will be nice. I just worry that having all these different corruptions may prove to be too tempting and I'll be obliterated by nameless Things from Beyond.