The Queue: This is Animal Crossing Watch now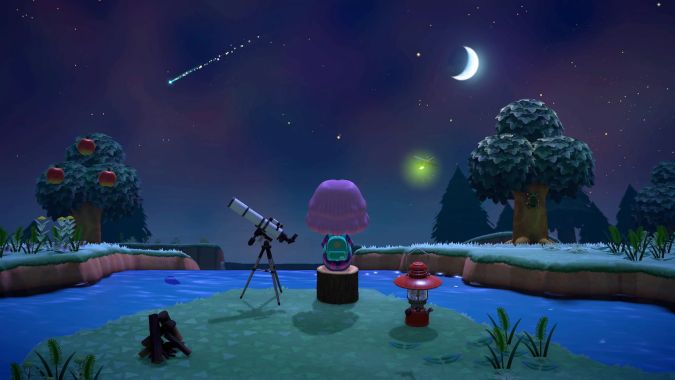 If I haven't made it clear over the last forever, I'm excited that Animal Crossing: New Horizons is finally here. Or, it will be tonight. Same thing. We're in the final few hours and my excitement could probably power an entire continent. If you don't hear from me for a while, it has nothing to do with *general hand gestures at world* and entirely everything to do with Animal Crossing. I AM SO EXCITED, YOU GUYS!
…
Anyhow. Let's Queue.
---
MAALIN ASKS ABOUT MY FAVORITE PART OF 8.3:
Q4tQ: What is it that keeps you interested in running HV's? You all know I'm not a fan, but I don't begrudge others liking them. I'm just curious. At first they were frustrating for me. And by the time the frustration eased I was bored. So are you a collector and willing to grind them out for the goodies? Are you, like me, just leveling the cloak? If you just think they're "fun," what is it that makes them fun? Inquiring minds want to know.
So, I love Horrific Visions. They certainly have their issues — and, frankly, they sometimes feel more frustrating than they're worth — but overall, they're my favorite part of patch 8.3. My main love of them stems from having a repeatable, solo challenge that relies (at least in part) on learning from past mistakes. In those ways, it's a lot like the Mage Tower, which I also loved.
What I dislike, though, is that you have to gain CVs to run them. I liked the Mage Tower because, even though it wasn't up 100% of the time, you could run it infinitely if you wanted when it was up. I HATE that Horrific Visions have limits on them. Although, the reason they have limits brings me to my next point…
I don't love that they can be made a huge deal easier via cloak upgrades and the Titanic research. I don't hate it, mind you, but I don't love it, either. It both largely eliminates the challenge that the Mage Tower provided and is the reason you can't run these more often. I like pushing myself, and while I still do have to do that with more masks on, overall I kind of wish it were more of a challenge all around.
All that said, to answer your original question… I've been running them for the cloak upgrades. That's not WHY I wanted to run them, but it's what I felt I needed to run them for, so it's what I prioritized. Now that I'm capped, I'm going to play a bit more fast and loose with it. I still hate the limit imposed by CVs, but I can finally run them without worrying about losing out on an upgrade because I wanted to push myself.
---
RJAGODA ASKS ABOUT… OH, LOOK! HORRIFIC VISIONS!
Q4tQ (except Jalamenos and SJHawk, who are outliers): How many masks have you managed to successfully clear so far? And how hard was it for you on your particular class?
I can full clear either Vision with 2 masks no problem right now. I tried 3 the other day, but I messed up a pull and it got me killed. I haven't really been pushing masks for the reasons mentioned above — getting my cloak runs in was what I prioritized. Now that I don't have to worry about that, I'm pretty sure I could clear 3 masks easily, with 4 masks being my current biggest hurdle.
---
JALAMENOS THE FACELESS ONE ASKS ABOUT SOMETHING THAT MAY INVOLVE FACES:
Q4tQ: Is there a specific new character customization option you are hoping for in Shadowlands (that they haven't officially revealed yet)?
Not really, unless "undead versions of every race" would be on the table. Otherwise, I'm happy with what my character looks like, and I have a hard time changing that.
ALTHOUGH… I would *love* if Blizz added a color slider for eyes and hair, if not more. That would be really cool.
---
KALCHEUS, FRIEND OF SKADI HAS A NEW NAME EVERY WEEK:
Q4tQ: So … Hearthstone [Tuesday]. Overwatch [yesterday]. Shadowlands [today]?
I wouldn't count on it. I mean, it's coming soon, don't get me wrong. But I wouldn't expect it this week, especially with everything going on and Blizzard having folks working from home. Never say never, but… y'know.
---
RED ASKS ABOUT SHADOWLANDS AND DELAYS:
Q4tQ: do you think there's a chance Shadowlands will get delayed because of the COVID-19?
(Do you think the powers-that-be over at the finances part of Activision would be okay with something like that?)
To be perfectly honest, I don't think Blizzard has release dates for this sort of thing set until they have it set. So what would really be a delay in this case? If you mean, "Will it come out later than Q4 2020?" then I think the answer is no. If you're asking if Blizzard's internal goal for release will be pushed back, then yeah, probably. But I also think their internal goal is one that would be constantly shifting under normal circumstances anyway.
Would Activision be okay with that? Probably not deep down. But I'm sure they're more than aware of the situation and already prepping things for minimal loss. No one likes delays, but this is a pretty unprecedented situation, and I think a lot of people are realizing (sometimes too slowly) that company gains aren't coming first right now.
---
MISTAH JAY DIDN'T REALLY ASK A QUESTION BUT THERE'S PROBABLY AN ACHIEVEMENT FOR THAT:
I wonder how many Cosplayers will base their next outfits on those gas masks that filter out airborne viruses and the like (Darth Vader, or Plague Doctor Reaper, or something)
My roommate is actually a huge cosplayer and as far as I know, she isn't. She and her circle of cosplay friends are mostly building their cosplays as usual, hoping that their favorite conventions don't get canceled.
Cosplay takes a long time to make, so while I'm sure there are a lot of cosplayers looking to make something quick/easy based on COVID, I don't actually know if a lot of them will work on a complicated outfit centered around it.
But I am working with an admittedly small sample size, and I'd frankly be all over a ton of plague doctor cosplay.
---
MUSEDMOOSE REMINDS ME VOID STORAGE EXISTS:
Q4tQ: do you still use void storage?
I do! I use it for a lot of old gear that I don't want to get rid of. It's the kind of stuff that, sure, I have the appearance for, but I also got it back in vanilla and don't have the heart to get rid of it. (Yes, I know Void Storage technically deletes the item and creates a new copy of it when you take it out, whatever.)
For newer stuff, I don't really bother. Void Storage is pretty much my nostalgia box at this point.
---
RANDOMGUY67 CLOSES US OUT WITH A DIFFERENT TYPE OF VISION:
Lesser visions? If I spend more than 5 minutes in one, something is wrong… I get the quest, fulfil the quest and leave… the quest is my reward.
Ya, ya, I know you can stay till your sanity runs out and farm currency, but that's where I'll agree with Rossi and say time isn't worth reward… but the few minutes to fulfill the quest, then leave? Well worth the time!
Lesser Visions feel kind of… incomplete? Like, at least in terms of the daily quest, it seems like you can complete that SO much faster than you can do everything else, and even doing other things isn't an efficient way of farming CVs. It just feels like they could have been a lot more, but they kind of got delegated to a literal lesser version of HVs with only one quest associated.
TBH, I'd feel a little better about them if more locations had Lesser Visions associated with them or Lesser Visions had more to do. Right now, I'm thankful for the easy CVs, but they feel like lost potential.
That's all for toda-
ANIMALCROSSINGANIMALCROSAIGNDFH
(Bye.)