Diablo 3, Path of Exile, Animal Crossing, and so much more — how do you pick what game gets most of your time?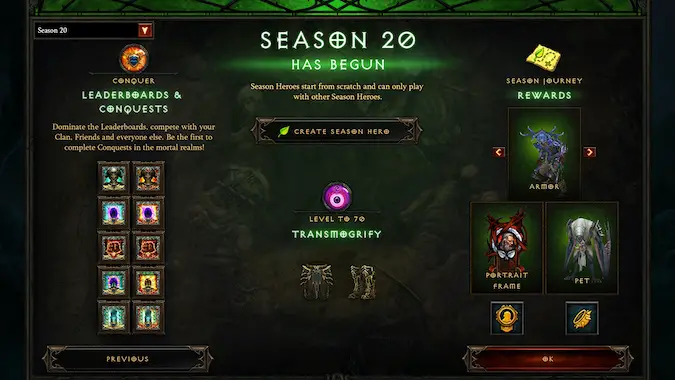 Season 20 of Diablo 3 started about a week and a half ago, which feels like five years ago in the current environment. But another event kicked off on March 13 — Path of Exile's Delirium challenge league. Now, the two technically started at different times — which gets even more squirrely when you factor in D3's staggered regional start — and current events mean the amount of captive attention available can be widely above the norm. Regardless, the same-day kickoff left players with a call to make: What to play on day 1, and what to play for the next few months?
I hate to break it to everyone, but I'm not a fan of POE. I know, I'm the worst. There's just something about the graphics that make me wish for something prettier. That said, it does have some pretty cool features. The classes are unique, and the passive skill tree is gigantic, which equates to a ton of room to grow with your character. I'm also not a fan of micro-transactions, but that is an entirely different story.
On the other hand, D3's Season 20 theme requires the players to be at least level 61 (where they start earning Death's Breaths) before it becomes at all useful. It was interesting in theory, but in practice, it worked out to be a little anti-climactic. I'm not disappointed, just underwhelmed. If it wasn't self-evident (or if you missed the stream), I played day 1 of D3 Season 20, where I had a bunch of fun leveling up with a friend! That's why I (personally) tend to stick with Diablo — it's where my friends are.
Now, POE was not likely to draw me in, but I ended up surprised by how many Diablo friends and streamers kicked off playing the Delirium League, or have been bouncing between the titles since the two events kicked off. I'm delighted they are having fun since that is what gaming is all about! I'm just not interested in splitting my time in that particular way.
Right now, Animal Crossing: New Horizons has the majority of my attention, but there's a weird bat pet out there that wants to be my best friend. So tell me, what have you been playing in these last few weeks of restriction? And if you're someone who plays both POE and Diablo 3, what game did you choose on March 13? Have you stuck with it?