The Queue: You are Meatloaf, yes?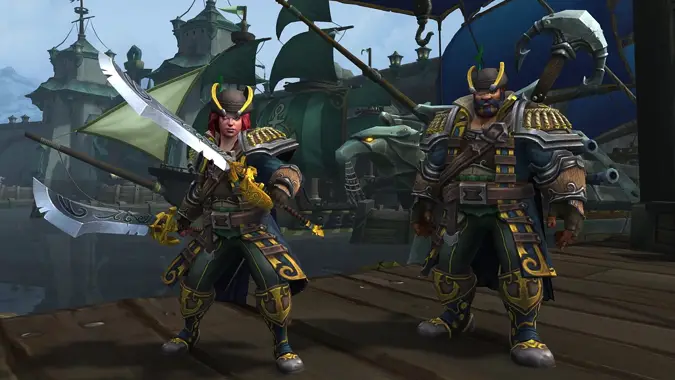 So, true story. Back in 1995/96, I spent a year or so studying in London. It was pretty great — since it was part of a Theatre program at my college, I ended up going to something like fifty or sixty plays, including getting to see some amazing performances like Mark Rylance as Macbeth and Iain Glen as King Henry in Henry V, and I even met some cool people like Tom Stoppard and David Edgar.
But as cool as that was, I still remember with chagrin the day a family saw me out in public, ran up to me, and excitedly declared that they'd come to London to see me perform and asked me to autograph the program for the show. Confused, I looked at the program in the father's hand, and it was for Meatloaf. Now, Meatloaf is a year older than my father and I really don't see the resemblance, but no matter how often I demurred, they would all smile almost in unison and say You are Meatloaf, yes?
So anyway, that's how someone out there has pictures of me with his entire family and a program to a Meatloaf concert signed I am not Meatloaf at the bottom. There was a very large expletive in that, but this is a family site and I trust you all to work it out.
---
KALCHEUS ISN'T EMPHASIZING ANYTHING RELATED TO DWARVES
Q4tQ How do we convince Blizzard to never again have a toy that drops in pieces from separate rares?
Can you rephrase your question to involve Dwarves more?
Okay, serious answer, it's not very likely they'll reuse that idea.
---
ALEX CLERM SAW ME COMING
Q4Rossi
Self-isolation + free trial last weekend ended in me finally buying AC Odyssey. I love it and can see myself spending a LOT of time in there. Any tip for a beginner? I'm used to AC games and this definitely also gets my Horizon instincts going, but I didn't play AC: Origins so I'm not sure how to best handle the new RPG element.
Do you think the XP and gold boost are worth it? I've canceled my WoW sub (and also every outdoor activity…) so I'd have the spare cash for it but not sure how useful it is. Do the mobs always level up with you or stick to the zone's recommended level? I wouldn't want to just outlevel everything…
Keeping in mind I'm so ridiculously over-leveled that I literally have 330 ability points I can't even spend because I have every single ability it's possible to get, including all of the "Spend 20 points for a +5 bonus to X" type abilities that literally takes hundreds and hundreds of points to acquire…
When you start the game, it's worth it to decide up front how you prefer to play the game. I went with a Warrior/Assassin playstyle, leaning heavily on Hero Strike and weapon attacks. You absolutely don't have to do that — a Hunter build with a pet that goes up to get Ghost Arrows of Artemis can be extremely effective, shooting people through solid stone walls and escaping because no one has any idea where you were when you shot that guy in the head.
Just really focus on whatever playstyle you're going for, and whatever else you do, get the Assassin ability that makes your Assassination targets disappear so you don't leave bodies everywhere when you kill people. It's ridiculous, it utterly breaks immersion, but it's so convenient.
As for the XP and Gold boosts? No. Don't bother. You won't outlevel things. I'm level 99 and everything is around 97 or higher, Mercenaries are still a challenge (although at this point, not much of one) and you'll definitely need to play it safe around elites and such for a long, long while as you level up.
---
I MISREAD RC OVERHILL AS RC OVERKILL AND I WAS MAKING UP A WHOLE STORY FOR YOU FIGHTING ROBOTS BEFORE I REALIZED MY ERROR
Q4tQ: Do your characters have surnames (in your head) and if so, are they family names, or a name they chose for themself?
My Nelf's name is Scythe's Edge, Child of Dawn, which in Kaldoeri is Scythias Belodorei. My Dark Iron Dwarf does not have a surname, nor does my Void Elf, but my Human does, it's Grentham.
Belodorei is a chosen name, Grentham is a family name. The Grenthams were landholders in what is now Tirisfal. They're all dead now, died when the Scourge came. If they ended up Forsaken, he doesn't know about it.
---
I CAN'T REMEMBER IF PIDIA GOT THIS ANSWERED ON THE PODCAST SO I'M ANSWERING IT AGAIN
I've completed N'zoth for the second time and the post-kill epilogue where the Horde declares it's council instead of warchief. Present for the goblins is Gazlowe instead of Gallywix. Gallywix is as of the completion of the goblin heritage armor quest stuck in his mech suit to be "negotiated" with. Is Gazlowe finally leader of the Horde goblins?
Yes, Gazlowe is officially the head of the Horde's Goblins. Thrall taps him for the position after Gallywix takes off following Sylvanas' little stunt during the Mak'gora, probably seeing the writing on the wall and not thinking he'd be treated kindly by the Horde after her departure. This left the Bilgewater Cartel without a Trade Prince to lead it, and Thrall asked Gazlowe to take over in one of the little 'post-credit' scenes taking place around Orgrimmar.
As to when we'll see Gallywix again and what he'll be doing, I really have no idea. I don't think he's loyal to Sylvanas — he had his own schemes and he liked getting paid and being in the inner circle more than anything else.
Okay, that's the Queue for today. Mitch is up tomorrow, so ask him some questions, please. He is also not Meatloaf.