Everything you need to know about Hearthstone's Ashes of Outland expansion, now live!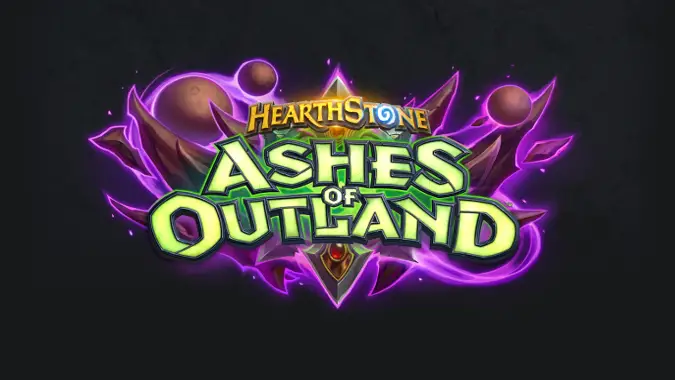 Are you prepared? Hearthstone's latest expansion, Ashes of Outland, is live now, so I hope you're ready to return to the days of The Burning Crusade. The gang is all here from Illidan to Maiev to Lady Vashj to Kael'thas Sunstrider.
Here at Blizzard Watch, we're celebrating with a live stream tonight at 8:30 p.m. CDT on the official Blizzard Watch Twitch channel. Between my preorder and the gold I've saved, I have over 110 packs to open. We'll open the Demon Hunter in the Prologue and then I'll build some decks and venture forth into the new expansion.
But what about you? As soon as you log on, you can open all the Ashes of Outland packs you've already ordered and buy packs with the in-game gold you've been saving. Take it nice and slow: the servers usually get slammed and there have been hiccups in the past, like packs opening without the animations. Even if there are problems, you should the cards, but you may not see them until they're in your collection.
What's new in Ashes of Outland
135 new cards to collect, some of which look quite interesting.
The Demon Hunter class, which is Hearthstone's first new class. You play through the single-player campaign now to unlock the Demon Hunter Basic cards, though the final encounter, Cenarius, can be quite challenging. We've got a handy guide to help you secure victory.
New Keyword: Outcast. Demon Hunters have their own special Keyword, which gives a card an addition effect when played from right-most or left-most side of your hand. We've seen this effect before with Stargazer Luna, a Mage Legendary from The Boomsday Project set, which was probably a test case for the new Keyword.
Imprisoned cards. When a minion is Imprisoned, it's on the board but can't attack, be attacked, or be buffed/debuffed. (If this sounds familiar, it's because we saw the same mechanic in the Violet Hold Chapter of The Dalaran Heist adventure.) After two turns, Imprisoned minions are freed and have a Battlecry-like effect — some of which are simply fantastic.
Prime cards. These Legendary cards have a Deathrattle that adds a more powerful Prime version to your deck. It's another mechanic we' ve seen before, much like Pyros card in Knights of the Frozen Throne. Prime cards vary in power, and Astromancer Solarian might be one of the best.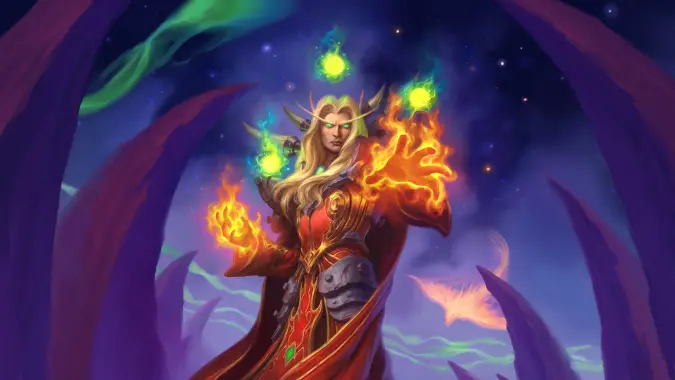 Free cards with Ashes of Outland
Everyone who logs in will get  Legendary card Kael'thas Sunstrider for free! You can get even more free cards with the Ashes of Outland launch quest chain.
April 7, 10:00 AM PT: Play 25 Cards in Play Mode to earn an Ashes of Outland and Descent of Dragons card pack.
April 8, 10:00 AM PT: Play 3 Games in Play Mode as Demon Hunter to earn an Ashes of Outland and Saviors of Uldum card pack.
April 9, 10:00 AM PT: Play 20 Spells in any mode to earn an Ashes of Outland and Rise of Shadows card pack.
Hearthstone guarantees a Legendary card in your first ten card packs of a new expansion which means each player will probably have two new Legendary cards soon: Kael'thas and a random one from the packs.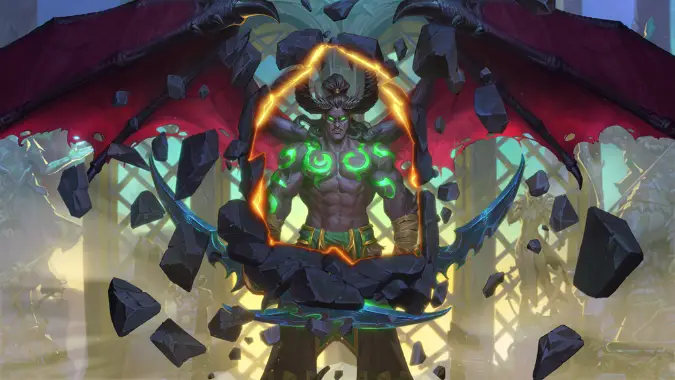 Does Ashes of Outland have a single-player mode?
Not everything for Ashes of Outland is launching today. All of the single player content, which we still don't have details for, will likely release later in April.
What should I play in Ashes of Outland?
The meta is still shaking out, but theorycrafters are already coming up with decks that have potential. Expect to see a ton of Demon Hunters as players try out the new class — if you're one of them, plan a deck that's either aggressive or with some solid defense and Lifesteal.
To find the best decks at the moment, search Hearthstone Top Decks for decks that match your current card collection.
Good luck!
Best of luck in Ashes of Outland. May you get all the cards you want from your packs, and as RegisKillbin says, "Game on!"