The Queue: I can show you the world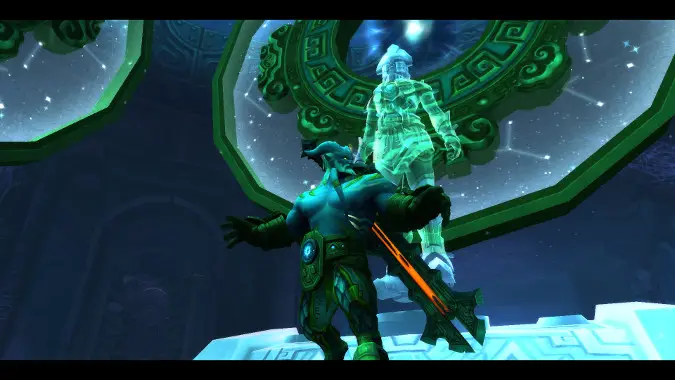 Hi. It's the Queue. My Lightforged Draenei looks like he's a bit worried about what MOTHER plans to do, doesn't he?
Let us talk about things.
Oh, and yeah, this is very cool. Unfortunately I didn't see it until just before this Queue went live or it would have been a very different Queue.
---
CONGRATULATIONS TO MYNTHIA WOW
Grats!
---
TKC ASKS ABOUT CHILDREN'S WEEK
Honestly, I didn't know that was still a thing.
---
SPENCER MORGAN TALKS CHARACTER ARCHETYPES
Q4tQ: what are some character archetypes you'd like to see spring up within the now council run Horde?
Honestly, there have always been interesting little nuanced characters popping up in side quests and out of the main storylines of expansions, and I'd like to see more of that kind of thing — Forsaken who have embraced their new existence without necessarily being the 'DEATH TO THE LIVING' types, Tauren engineers who are all about progress and construction, a sarcastic and petty Troll who enjoys standing up to full height so he can look down on Tauren, an Orc Monk who is all about balance and who truly enjoys tea ceremonies and calligraphy while still being great at punching people in the face, a Pandaren who embraces the fact that they're a big talking bear.
These kinds of characters have always existed. But I think it's time to get the focus off of the Rexxars and the Baines and just start covering your average day to day life for people in the Horde.
---
SPENCER MORGAN AGAIN, THIS TIME WITH A PRETTY WEIRD QUESTION ABOUT THE ARCHAIC PERIOD AND BUTTS
Q4tRossi: did Greek women circa 700 BC decorate their butts as part of the courtship rituals of the time?
My sources for this are Michael Grant's The Rise of the Greeks, Herodotus' The Histories, and my dog-eared copy of Hesiod.
The Archaic Period isn't as blessed with writers and primary sources as the Classical Period that followed it, and writers like Herodotus generally covered events like wars and foreign customs rather than their own. But it's generally accepted that Hesiod wasn't being literal there — he used the phrase he did in much the same way a modern writer might describe someone as having a 'sweet behind' (except they'd use a three letter word that starts with an A and has two S in it) understanding that butts are not actually sweet.
Keep in mind that Hesiod was… well, kind of a misogynist, and he's basically saying that women are just out to take your stuff. It's not intended to be an accurate representation of how women adorned themselves, but from pretty much all the art we have describing or depicting women from that period, while the Greeks had a wide assortment of cosmetic options they were not, on the whole, in the habit of decorating their behinds.
It would take a lot longer than I have to really go into detail on Greek society and how it treated women, but I do recommend the Grant book, as well as the Penguin Books Greek Reader for some examples. Let's just say it depended a lot on where you were in Archaic Greece.
---
MUSEDMOOSE ASKS A TRANSMOG QUESTION… OKAY, A TANGENTIALLY TRANSMOG QUESTION
Q4tQ: is there an older armor set that you'd like to see updated to the current graphical quality, like the sets from Tomb of Sargeras?
It's been a while since I liked a Warrior set. I liked the Warrior sets in TBC, Wrath and Cataclysm but I'm kind of meh on Mists of Pandaria, Warlords of Draenor and even Legion left me a bit cold. My favorite set from Legion isn't even a set, it just has an excellent unified look.
Blizzard did the Tomb of Sargeras sets with the updated Tier 6, so maybe do an updated Tier 10 for a Shadowlands raid? I kind of think Tier 10 doesn't really need the upgrade, but I do like the set quite a bit. The Sanctified Ymirjar Lord is still one of my go-to transmogs, so if we're going to go with an updated set, that's one I'd like. Maybe just add in that blue version Muradin was wearing on the airship.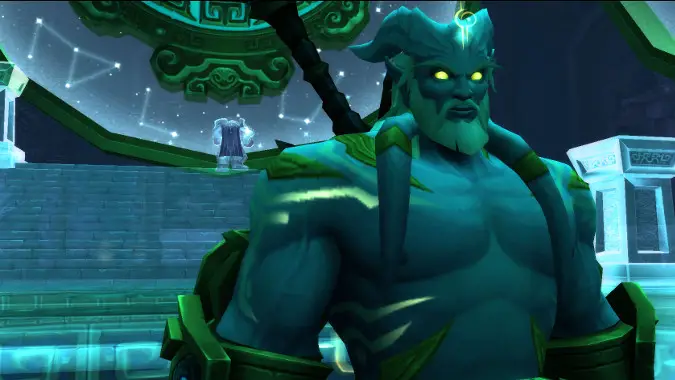 Magni just running around being weird.
See y'all next week.