The Queue: Mecha-Done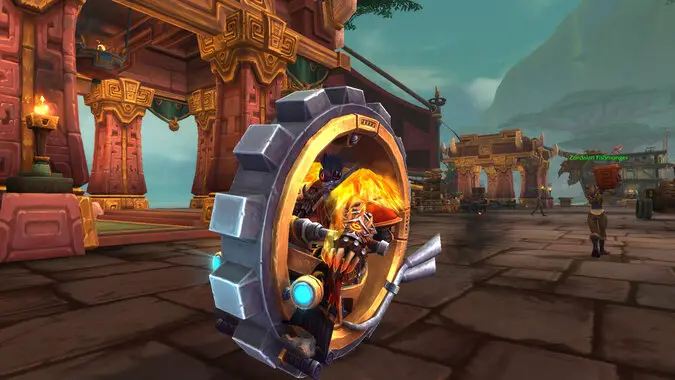 It's finally over. I've done everything on Mechagon island required of me to get the keys to the shiny Monocycle. I am Mecha-Done. I really liked Mechagon when it first came out in 8.2. After the struggles to get the last things necessary for the achievement — I like it a little less.
It was a lot. But it's over now and it's time for — the Queue.
---
LUOTIANX I REMEMBER WHEN WE BROKE UP, THE FIRST TIME
If you had to name your child after a Warcraft character who would it be and why? 
"We named him Dranosh. It means "Heart of Draenor" in Orcish. I would not let the Warlocks take him. My boy would be safe, hidden away by the elders of Garadar. I made a promise to his mother before she died; that I would cross the Dark Portal alone – whether I lived or died, my son would be safe. Untainted… Today, I fulfill that promise."   
On second thought, no that's not a great name for a real live human person. I'd probably go with Jaina or Alleria. They're both pretty and can be shortened to something that isn't super nerdy if they wanted. But any boys I had would get to be Lor'themar. No explanation necessary. Honestly, you couldn't do worse than many of the names that celebrities choose. 
---
ELAINE DE SHALOTT SAID THIS IS IT, I'VE HAD ENOUGH
Will Blizzard ever let us give our characters last names? Or at least use punctuation like many Lore characters. 
If we all make a wish on a shooting star, while blowing out our birthday candles, and throwing a coin in a well — maybe. 
I know that when I made my first Troll I was very sad that I couldn't give it a name like Zul'jin or Vol'jin. They felt like the epitome of Troll coolness, and when I couldn't emulate that I was bummed. I know that the usual excuse is that players would use the extra space of adding the last name to do inappropriate things, but it's not like inappropriate names don't already exist. So come on Blizzard. Please? 
---
ENO WE HADN'T SEEN EACH OTHER IN A MONTH
Which two characters would you like to see interact for the first time in Shadowlands? 
Example: Kael and Sylvanas 
I'd love to see Lady Liadrin and Malfurion get into a heated argument. I feel like she'd just be unbelievably in his face. Sure there are lots of overlap between wielders of Light and Life magic, but Liadrin is a stone-cold badass and Malfurion has his moments but he doesn't really compare — at all. 
I'd also love a moment where any well-known Rogue and Demon Hunter get to hang out and compare methods. They're both masters of quick blade work who could teach each other a bunch of neat tricks. Imagine a Rogue who could use Blade Dance or a Demon Hunter who had access to the passive cleave of Blade Flurry. Downright frightening! 
---
RED WHEN YOU, SAID YOU, NEEDED SPACE
Q4tQ: if WoW was playable on consoles, how would you want your main/favorite spec to play? 
Best case scenario, they'd play like a really solid action/RPG like the Devil May Cry series or Bayonetta. They had the in your face combat that I loved the most from the genre, and we're already pushing a lot of buttons while playing World of Warcraft. I know that when I'm tanking I'm hitting something as soon as the global cooldown on pushing buttons is over. There are a few classes and specs like Rogue who will sometimes hold abilities in favor of building resources, but for the most part, the faster you push your buttons the better you do. 
With the four buttons on the back of the controller as modifiers, you could get up to 20 inputs just in the standard X, Square, Triangle, Circle layout found on the Playstation and Xbox controllers. That should be enough to handle pretty much everything you'd need in a fight. As long as you were playing damage or tank specs. 
Healers get a little more complicated. Selecting the right person out of 5-30 potentials can be tough, especially if your joysticks are being used for general movement and camera positioning. Maybe if you had an extra button on the back of the controller that stopped the left stick from being character movement and made it a cursor instead… it could work! 
---
TKC WE ARE NEVER EVER, EVER GETTING BACK TOGETHER
Q4tQ: what smells worse, a live mangy orc or a dead mangy orc? 
Any Worgen.
Today's Anna Earworm™: We Are Never Ever Getting Back Together
Have a great week everyone, may all of your drops be rare drops! Make sure to leave Anna lots of questions for tomorrow!