Small World of Warcraft will let you conquer Azeroth in board game format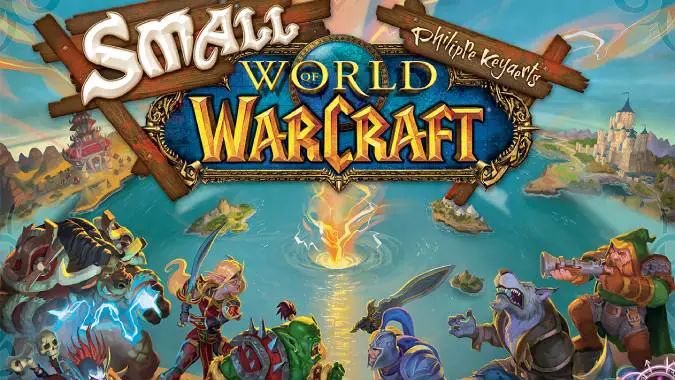 In its lengthy history, Warcraft has had a handful of board games, and while none of them have hit the way the the series has in the video game space, they're still a clever way to hone in on what makes the video games fun. And soon, there will be another new way to enjoy the Warcraft universe with the Small World of Warcraft board game, which comes out later this year.
Small World of Warcraft will be based on Small World, a strategy board game which pits fantasy races against one another in a battle for territory. It's easy to see how that would fit right in with Warcraft, and Small World of Warcraft will mirror the original's features, but with a few twists to help it fit nicely into Blizzard's fantasy world. Up to five players can take on the mantle of their Warcraft race of choice and set out to conquer Azeroth.
Small World gained a fair amount of popularity for how easy it is to get into and how quick the games go, so anyone should be able to jump in without the kind of learning curve the video games have. The board game can be played by up to five players and completed in a speedy 40 to 80 minutes. As you'd expect with anything Blizzard-related (and anything board game-related, the game will come with tons of cards and tokens that bear exclusive artwork from the team.
Small World of Warcraft will cost you $59.99, the same as pre-ordering the heroic edition of Shadowlands. The game is due out this summer, while Shadowlands isn't due out until Q4, so if you're finding little to do in the MMO while you wait for the expansion, you might safely gather some friends or family and head to the table.
It's a little odd to see a board game announcement happen in a time where almost nobody gets to convene with their friends in a physical space, but considering this was previewed at BlizzCon 2019, this summer release has probably been planned for a while. It might just mean a few of these go unplayed for several months — which looks to be a shame given how well-matched Warcraft and Small Worlds are.
We don't have an exact release date for Small World of Warcraft, but look for it on virtual store shelves sometime this summer.