WoW
May 18, 2020 5:54 pm CT
New catch-up mechanics let you buy the Corruption you want and upgrade your cloak faster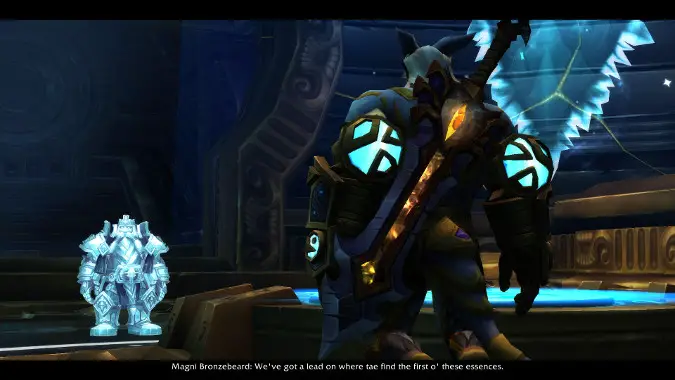 Starting this week, you'll be able to buy specific types of Corruption to apply to gear, removing the randomness from the system — and making it a lot easier for new 120s to gear up. And if you or your alts are working on upgrading your legendary cloak, that's getting easier, too (at least at lower levels).
Whether you've taken a break from the game or you're trying to gear up one of the alts you've leveled with the current +100% XP buff, these changes will make it a lot easier.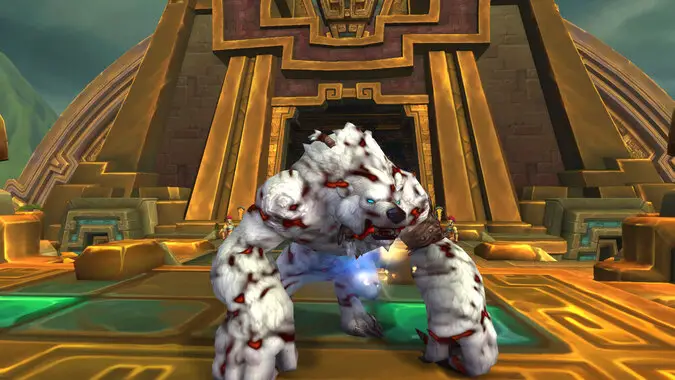 Anyone can buy the Corruption they want
MOTHER will now have an assortment of Preserved Contaminants, basically allowing you to do the opposite of cleansing an item and instead corrupting one instead. You'll be able to choose your favorite Corruption buff and then apply it to your gear.
Preserved Contaminants will cost Echos of Ny'alotha, giving you something to do with the currency if don't have any more Essences to buy — currently the only thing you can do with the currency. That means Echos aren't just for alts anymore, and your main may want to start collecting them, especially if you're trying to get that proper combination of Corruption effects but haven't gotten lucky on drops. Just be careful when gearing your alts, because you can easily hit a dangerous level of Corruption.
Their drop rate is being changed, too: every activity that grants Echoes is going up by a factor of five, but so is the cost for Essences, so a rank 3 Essence will cost 2500 Echoes. That won't change the effort needed to buy Essences, but it prevents  anyone who's been racking up Echoes from immediately buying everything. If you've been holding off on buying that Rank 3 Essence for some reason, you should get now, before inflation makes your Echos a lot less valuable.
But you won't be able to buy all Corruptions all the time. MOTHER's inventory of Preserved Contaminants will rotate twice a week, so you may need to wait a while for the perfect item to come up. Here are sample prices that Blizzard provided:
| Item | Cost (Echoes of Ny'alotha) |
| --- | --- |
| Vessel of Horrific Visions | 1750 |
| Rank 3 Essence | 2500 |
| Masterful I | 3000 |
| Siphoner I | 4250 |
| Twilight Devastation I | 6250 |
| Siphoner II | 6300 |
| Ineffable Truth II | 6750 |
| Racing Pulse III | 7875 |
| Echoing Void III | 12000 |
| Twilight Devastation III | 15000 |
There is one major snag with this system: you won't be able to add a Corruption effect onto a piece of old gear that you already cleansed. If you get a piece of gear today and cleanse it, you can immediately apply a new Corruption effect — but if you have an old piece of gear you cleansed a month ago, you can't.
However, with increasing chances to customize your Corruption comes an increased temptation to ride the Corruption red line, and so, it's worth noting that you'll be able to buff your cloak faster as well.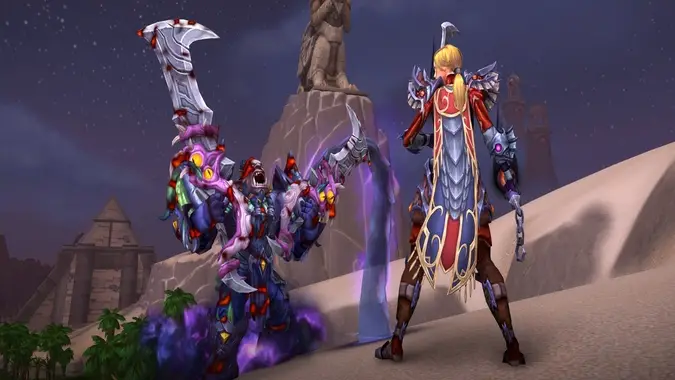 It will be easier to upgrade your cloak
We're also reducing the requirements for any quest step in upgrading the cloak from Ranks 1 to 15 that previously required multiple Horrific Visions. Each Rank can now be achieved in a single Horrific Vision. For example, upgrading your Rank 13 cloak to Rank 14 will now require 2 Torn Pages of "The Final Truth" (was 6), so if you're currently in possession of 2 or more pages, you'll turn them all in and immediately complete that quest. The following quest to upgrade from Rank 14 to 15 will then require that you go get 2 more new Torn Pages (was 8).
The requirements for further minor upgrades to the cloak after Rank 15 with Malefic Cores have not been changed.
MOTHER will also offer Vessels of Horrific Visions in exchange for Echoes of Ny'alotha, providing an additional source of access to Horrific Visions that does not require completion of Assaults.
So you'll be able to run Horrific Visions more often and you'll need to run them less often, which will be a particular boon for fresh 120 alts. With that increased Corruption Resistance, you'll have a lot more latitude to add Corruption to your gear setup. And because you can pick the Corruption you want, you won't have to curse the RNG every week when you just can't get an item with the effect you want to drop.
More flexibility and control over Corruption effects, faster leveling for Ashjra'kamas, and more uses for Echoes of Ny'alotha all sound interesting to me. It will particularly help new players and alts feel less behind the curve once they get to 120. All in all I'm interested to see how it works out, but I will admit, seeing that 15000 Echoes cost for Twilight Devastation rank 3 does make me wince, considering one Major Assault will only grant 625 Echoes. It doesn't look like those 15000 Echoes will come fast, but we'll see how it feels when it gets here.
Changes to Echos and the Legendary cloak will go live with this week's reset, but we'll be waiting a little longer to buy Corruption from MOTHER — Blizzard promises it will be available "as soon as possible," which hopefully means soon. It would make a decent way to replace the recently-expired reputation buff for WoW players. I'm actually really looking forward to putting some Corruption on the gear I carry around in my bags on my alt who has become my main.