Complete your last objectives before Diablo 3 Season 20 ends on June 21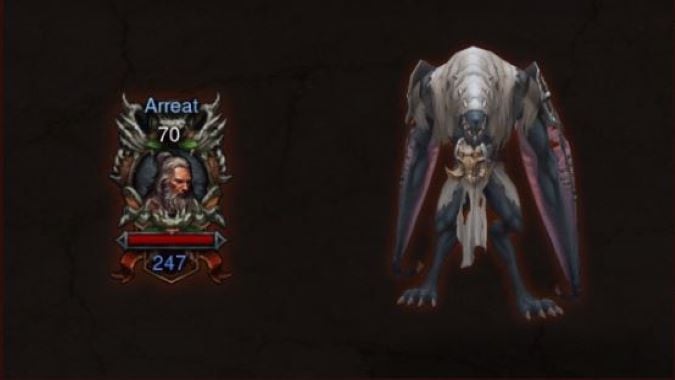 The doors haven't shut on Season 20 in Diablo 3 yet, so you've still got time to dig in and extract some key rewards before the next Season kicks off — but not very much time, because the Season ends on June 21. Of course, what rewards you're interested in will depend on how deep you want to go.
Here's a quick and dirty guide on how to wrap up those goals before Season 21.
The Seasonal Journey armor set and wings
If you're keen on picking up a complete set of set armor for your chosen class, you'll need to complete the first four chapters of the Season Journey, which will get you the following 6-piece armor set:
Barbarian – Immortal King's Call
Crusader – Seeker of the Light
Demon Hunter – Natalya's Vengeance
Monk – Uliana's Stratagem
Necromancer – Trag'Oul's Avatar
Witch Doctor – Spirit of Arachyr
Wizard – Vyr's Amazing Arcana
You'll earn two pieces of the set for completing chapter 2, two more pieces for completing chapter 3, and the final two pieces for completing chapter 4.
In addition to the free Haedrig's Gift class set, you'll also pick up the returning Season 8 Burning Hells portrait frame and the cosmetic Andariel's Wings, as well as the Conqueror's Boots and Pants of the season-exclusive cosmetic armor set. These are all useful if you missed these cosmetics the first time around, and is a good incentive for future seasons since a second chance at past exclusives is always welcome.
When it comes to clearing these first four chapters, it's easy to do with a few hours of dedicated play, and even faster if you have an existing max-level player to help you out, and as you climb difficulties you'll get more of them done almost unintentionally. Joining public games is a great way to speed this up if you don't have any friends to play with, but your mileage may vary.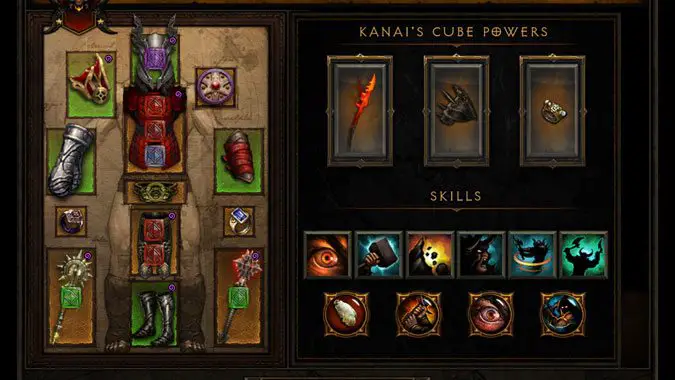 More rewards await after Chapter 4
Three all-new sets of armor were added for Barbarian, Witch Doctor, and Wizard this season, and none of them are sets you get for free. While those sets are available in Non-Seasonal mode as well, the grind for set pieces that you'll need to do for clearing later chapters — and some of Season 20's conquests — means you're likely to come across them while working on other objectives. So it's convenient to hunt for those now, though certainly not a requirement before the end of the season.
In terms of time-limited rewards, pushing through to successive chapters mainly provides upgrades to the Burning Hells portrait frame, while completing Chapter 8 (Conqueror) will get you an additional stash tab (up to your maximum of five bonus tabs earned through seasons).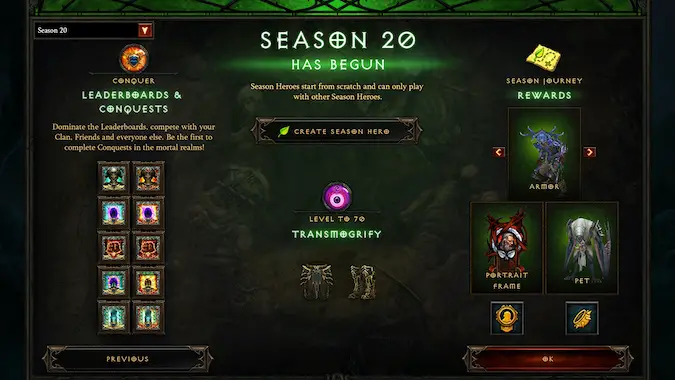 The best rewards — including the bat pet — lie in the final chapter
Pushing through to Chapter 9, Guardian, will earn you the last shiny upgrade to the Burning Hells portrait frame, as well as a new Teganze Warrior portrait frame and a unique and creepy bat pet. While it's now more likely that these fresh cosmetics will cycle back in during a future season, be wary: it's been a long time since Season 8 — October 2016 to be precise — which is where the recycled rewards for this season originated, so you may be waiting awhile for Season 20's stuff to come back into style.
When it comes to clearing Guardian's requirements and your three Conquests, much of it will come naturally:
The number of Nephalem Rifts you'll run to collect Greater Rift keys should give you all the Death's Breaths you need for cubing 40 legendaries.

The longer grind is collecting all of the Act-specific reagents you need, but at higher difficulties you reduce your number of caches needed dramatically.

The number of Greater Rifts you'll run to level three legendary gems to 60 is at least 60 (20 runs each), which is plenty of opportunity to collect legendaries for cubing and set items for set dungeons.
Clearing a GR75 solo (Divinity/Lionhearted) will likely just come as a consequence of gaining enough power to clear the rifts you need to guarantee gem upgrades.

Remember that if the level of the Greater Rift is at least 10 higher than the level of the gem, you'll have a 100% chance of upgrading it. (Ex. Clear a level 65 rift for a 100% chance to upgrade a level 55 gem.)
For Conquests, some of them pair well together, creating a possible two-for-one scenario once you're able to collect all the key pieces you need:
Years of War/Dynasty and Masters of the Universe/Masters of Sets play well into each other since both hinge on collecting sets (and again, you're running a LOT of GRs), and clearing GR55 solo in a particular set ought to be a good preliminary step for attempting the corresponding Mastery Dungeon.
That said, Boss Mode/Worlds Apart and Curses!/Stars Align are Conquests that are much easier to complete as part of a group, so if you can find folks who have the same goals, it's likely you can knock those two out easily.
Right now, Season 20's days are numbered and you just have a couple of weeks to wrap up these achievements before the Season ends on June 21. So go to Hell, go directly to Hell, kill all the demons, and reap your rewards — before your time runs out.