WoW
Jun 11, 2020 2:15 pm CT
You can independently customize the look of each Druid form in Shadowlands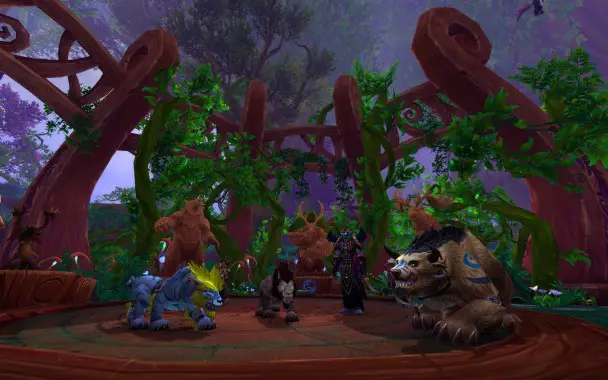 Shadowlands is all about increasing customization and providing a slew of new options for existing races in World of Warcraft, and now we know that Druids are getting their own set of customizations. We already knew about a lot of new customization options, like new skin colors for Humans, at least three new hair colors for Night Elves, a lot of new customization options for Trolls, and blue eyes for both Void Elves and Blood Elves, and Druids felt a little left out.
Druid forms are reliant on their respective race's hair or skin colors to decide the color of the Bear and Cat form, which may mean having a style you dislike in one form to have a style you like in another. Datamining suggested Blizzard might be planning to open up Druid form customization, and now they've confirmed it.
In Shadowlands, Druids can travel to their local Barber Shop and now choose their Bear and Cat Form appearances separately from their character's hair or fur color. This addition to the Barber Shop services will also include the option to select Bear and Cat Form Artifact appearances so all Druid specs can have the choice to shapeshift into their unlocked Artifact appearances and allow Guardian and Feral Druids to have more choices with weapon transmogs when choosing their Artifact forms.
The Barber Shop will also allow Druids to select their favorite Aquatic, Flight and Travel Forms so that they will no longer require switching glyphs to change the animal forms. These glyphs will now become a one-time use to unlock the appearance and switch the forms easily at the Barber Shop.
The datamined info included new sliders for form customization in character creation, so new Druids should be able to take advantage of these options right away. For everyone else, you'll be able to head to the Barber Shop to change up your look whenever you'd like.
So hooray! Our dreams of more Druid customization are finally becoming a reality in Shadowlands.