High Elves are (basically) coming to the Horde and Alliance in Shadowlands — thanks to new customization options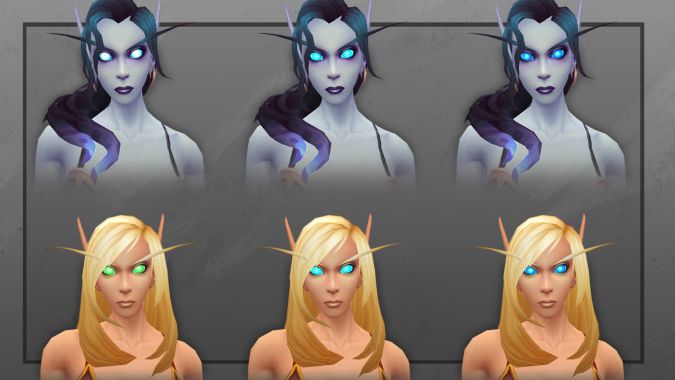 In a surprise news post, Blizzard has shared some very exciting new customization options for the Elves of Azeroth — whether they serve the Alliance or the Horde.
A few weeks ago, Ion Hazzikostas, Game Director for World of Warcraft, had to confirm in an interview that Blood Elves were NOT getting blue eyes — as a response to the outrage of players by some datamined info. As it is known in the community, High Elves — the elves of Quel'thalas who did not turn into Blood Elves and whose eyes remained blue instead of turning green — have been staunch defenders of the Alliance since the days of Warcraft II. It's no surprise that several Alliance players have wanted to play them. And the datamined news that their blue eyes were being given to Blood Elves instead was… not well received, to put it mildly.
Well, it turns out that Blizzard has landed at a new resolution for this conundrum that might please players of all parties: Both Blood Elves and Void Elves will be able to have blue eyes in Shadowlands. And that's not all! Like their leader, Alleria, Void Elves will now be able to get the option to display their original skin tones again. Void Elf characters will inherit all the skin color options that will be available for Blood Elves, including some brand-new ones that are coming with Shadowlands.
I am unreasonably excited about these news. I am definitely on the team of players that have long wanted to play as a High Elf in the Alliance. While this will not allow me to officially roll a character from that race, it will be so close that I won't be complaining. Roleplayers might even decide that their original High Elf characters tuned into the Void directly, as some of those are included among Alleria's apprenticed.
In the end of the day, I feel like this is the best possible solution. It might not be perfect, but it will certainly please a great number of players, on both sides, and finally put an age-old debate to rest.