The Queue: HBD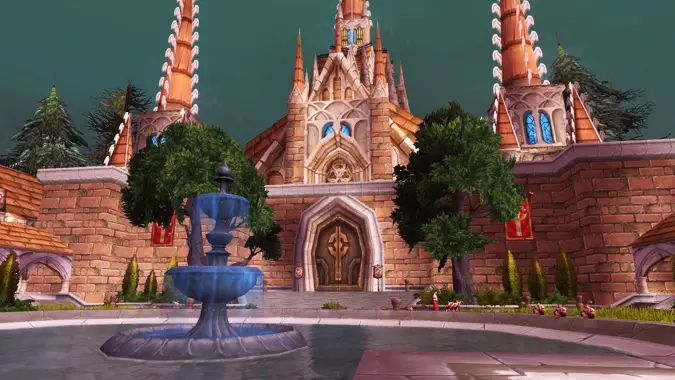 How's everyone hanging in there? Well, I hope. If not, it's almost the weekend, which ideally means a bit of a break.
Anyhow, it's today at Queue time, which means it's Queue time. Let's start with a nice message.
---
RETPALLYJIL HAS A FUN FACT FOR US:
By the way, [today] is my birthday.
HAPPY BIRTHDAY!!!!
I hope your day is amazing :)
---
NEIL JUNG ☮ GETS A QUESTION IN THE QUEUE AGAIN!
2QsftQ: I seem to remember that someone at Blizzard Watch was working on a replacement for Disqus.
Is my memory correct?
If it is correct, has there been any progress.?
It may have been something Adam talked about, but uhh… Adam doesn't work here anymore. So I wouldn't count on Disqus going away anytime soon. Sorry!
---
ARTHONOS WANTS TO KNOW ABOUT RETURNING CHARACTERS:
Q4tQ: Aside from Bolvar, who else from Azeroth would you like to see cross over into Shadowlands with us? I feel it would be nice to see Natalie Seline again. She did pull of quite a trick managing to cheat death the way she did, and it might mean she gained some insight while she was dead all those years.
Y'know, I hadn't really considered her as an option, but I do like it! That said, I think if we see any "familiar" names in Shadowlands, I'd actually prefer they be background characters or even regular ol' nobodies that we inadvertently interacted with while questing.
We know plenty about the "big" characters in Warcraft. Maybe some of them have something important to say or a big lesson to teach us, but I feel like us being our heroic selves and getting sucked into world-saving efforts sometimes makes us lose sight of the smaller things. I'd love to hear from an NPC who witnessed us attack their town in the name of the Greater Good™ or who was somehow impacted by our efforts to save the world.
---
SOEROAH DIDN'T HAVE A QUESTION BUT I WANTED TO ADDRESS SOMETHING:
If the "Super Big Shadowlands Reveal" event doesn't include either "rare drops will have bad luck protection" or "every character who hits the weekly anima cap will cause your alts to get 50% more anima until reset" I don't see what new 'features' would be so hype
Other than the solo mode one-time dungeon/raids for quest purposes I mentioned the other day
I haven't been paying attention to what the exact hype is surrounding the reveal event, but here's what I would expect: A reveal date, possibly an in-game cinematic, and if we're lucky, a closer look at Maldraxxus and/or the experience we'll have in The Maw. Maybe something about the pre-expansion event. Maybe.
Why? Because this reveal event lines up with the sort of thing Blizzard did for their media day back in 2018. There, the biggest reveal was the expansion's launch date. We (by which I mean media and not the mass public) also got a basically final version of the Zandalari introduction cinematic. Outside of that, if I remember correctly, we could  also test Island Expeditions. The experience itself was fantastic! But it wasn't a mini-BlizzCon or a mass reveal of everything we'd been waiting to hear about BFA. The focus was on the release-date announcement.
That's what I expect the Shadowlands reveal to be, and I recommend not blowing it out of proportion in your mind.
---
ELAINE DE SHALOTT BRINGS BACK 2BE, SORT OF:
2WQs enter: Fill the Bar vs 2 target Elite WQ
I'll take the two-target WQs over fill the bars, mostly because fill-the-bar WQs end up having you kill like a bajillion things worth 1% and then a few things worth maybe 10-20%. Two elites is still faster.
---
RJAGODA RESPONDED TO MY CTA:
How do you feel about your class in Shadowlands?
I feel like the recent Wowhead overview did a great job explaining all of the issues with the class. There are a lot of ideas that won't mesh well together, and we're still feeling the effect of a class whose bones were built on the idea that Artifact Traits would hold those bones together. The spec often feels like an afterthought of designs made with Holy and Disc. in mind.
I would love a ground-up redesign of the class so that it stands up on its own and feels unique, with anything else (like various Traits or Covenant abilities or whatever) adding onto that solid-on-its-own design.
---
RJAGODA ACTUALLY HAD MORE QUESTIONS FOR ME:
One more, since you asked: what's your favorite weekly event in WoW? What would you add if given the chance?
Aside from Muse, what sort of music do you listen to? Do you play it while you play WoW?
To your first question: I love the battleground weekly events. It's been a minute since I've participated, but I love how they change up something familiar in a weird, experimental-feeling way. If I could, I'd add more instanced content that puts us in fairly ridiculous situations and gives us powers that don't always work in the larger world of the game. Which, come to think of it, is kind of what Torghast does.
I'd say alternative rock is the best description of my musical preference. Mayday Parade, Pierce the Veil, All Time Low, Blink-182… stuff like that tops my list. But I list to a pretty wide variety of music. Usually, my first time through content, I'll listen to the actual in-game sound. But when I'm just farming old transmog or doing mindless things? I tend to watch shows on my second monitor. Background music tends to exist when I need to work or focus on something.
---
DOMEHAMMER ALSO ANSWERED THE CALL:
Out of all the WoW expansion what is your favorite version of Shadowform? My favorite is the Cataclysm Shadowform with the glyph that made you solid.
I'm not sure I really have a favorite, to be honest. The original variant will always have a special place in my heart, though. I always remember how fondly I looked at Shadowform back in Vanilla. It was THE talent I wanted to hit. A rite of passage, of sorts, that said you were committed to Shadow and that you'd made it far enough to show it. There was something really cool and special about seeing a Shadow Priest back then.
That's all for today! Let's all wish Jil a happy birthday! And also ask questions for Liz.