What's your favorite fictional video game food?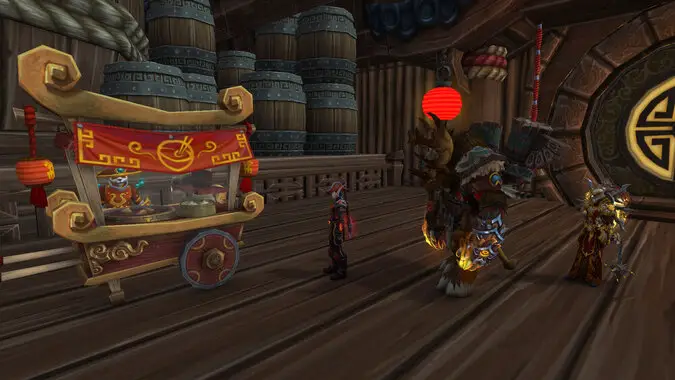 Food in video games can be something where you're eating to gain important stats, regain lost health, or because you're in a survival game and if you don't eat your character will literally die. Just like in real life! Players have understood the importance of a great video-game meal from the very beginning of video gaming when Pac-Man would have to choose between finishing the level or risking everything for a cherry that just popped in next to one of the ghosts. But which video game food is your favorite?
The Pandaren Treasure Noodle carts are my favorite food in all of Warcraft. I love eating a giant bowl of ramen, so already I'm getting hungry just thinking about them. Plus they've got that tray of steamed dumplings just sitting there on the edge just taunting me.
Not only did they sell tasty-sounding food, but they feel the most tied into the actual expansion that they were part of. Plus, they also were a fun spin on the traditional feast mechanics. You got to buy a little stack of noodles from the person who set up the cart, and then you had your food buff covered for the next five fights! The person running the cart could also wave at potential customers, set off fireworks, dance, and play a little cooking animation to add some flavor to the interactions. None of the raid feasts since then have been nearly as interactive or fun, and the game has suffered for it! (Hyperbole aside, I would like to see a return to more interactive feasts in Shadowlands.)
Outside of Warcraft, there are tons of examples of outstanding virtual cuisine. Skyrim has its wheels of cheese, complete with physics so you could roll a bunch of them down a mountain if that was something you were interested in. The latest Zelda game, Breath of the Wild, has a robust cookbook full of delectable morsels. Some of them that you could even try to make in real life by following these recipes from Binging with Babish. Babish also has other great video game-related recipes from Red Dead Redemption 2, and those Skyrim Sweet Rolls the guards are always asking if you've had stolen.
What's your favorite? Could you go for a big plate of Kickin' Chimaerok chops? Would you brave the crunchy spider surprise? Or do your tastes lie outside of the kitchens of Azeroth? Let us know below!