Looking for dice to play D&D? The places to buy dice are as varied as the sets you'll discover.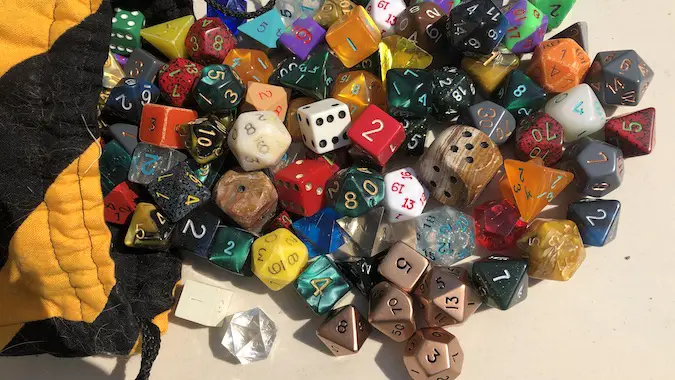 In order to harness the awesome powers available to players in many tabletop board games, one of the first steps is buying dice. The earliest representation of these playing pieces is from 3100 BCE. The Egyptians played a game called "Senet" which used sticks with notches cut into them, and throwing the sticks indicated how far someone could move.
Dice pre-date the adoption of Arabic numbers, which is why they were created with spots on the sides instead of numerals. The oldest d20 is from 300 BCE — the Ptolemaic period of Egypt. Both d4s and d6s are older than this. Eight-sided poker dice date from the 1880's with the first patent in the US for a d10 coming in 1906. Plastic dice show up in the 1950's, but it would take Dungeons and Dragons selling a set — minus a d10 — with their rules books in 1974 to codify what dice looked like in table top gaming. I still have my original D&D set, although the numbers are very hard to read.
Thanks to D&D, many other role playing games were created around this set of dice — d4, d6, d8, d12, and d20. As the games evolved, a d10 and a percentile dice — d00 — were added. This is the set you'll most likely encounter as you go to purchase dice. In researching this article, I purchased even more dice because you can't have enough really.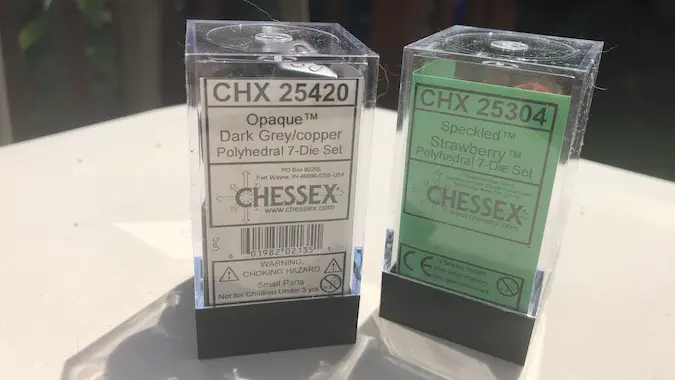 Simple dice sets to get you started
So many places and people sell dice sets or individual dice, it can get overwhelming when looking for the perfectly colored set. Really, anyone can make dice, especially now that the materials are relatively easy to acquire. All you need is a set of silicone molds and resin to make a perfect set for you. Fill the molds with resin, seal the end and let the resin set. Resin is clear so you can add any number of things to it — glitter, dried flowers, dye, to make it personal. Once the resin is dry, you unmold, sand down any sharp edges, and polish them. Viola. A set of custom dice.
But really, with the sheer availability of dice, why go to all that trouble? One of the largest dice manufacturers is Chessex. You've seen their handy-dandy rectangular dice containers at any game store. I remember walking into a random game store while on vacation and seeing a whole wall of Chessex dice in every color of the rainbow plus some. It was beautiful.
When you are in the market to expand your collection, don't go to that impossibly large warehousing company making bazillions of money — start with your local game store. They may be happy to do a custom order for you or suggest something unique because they know you. If you go online, search "Dice Sellers" and prepare to fall down a rabbit hole of amazing small shops selling dice of any color under the sun. I got these two sets — Dark Grey Copper and Speckled Strawberry — from Dark Elf Dice. You can't go wrong with Chessex dice. They have a reputation for true rolls and that's something your handmade dice may lack.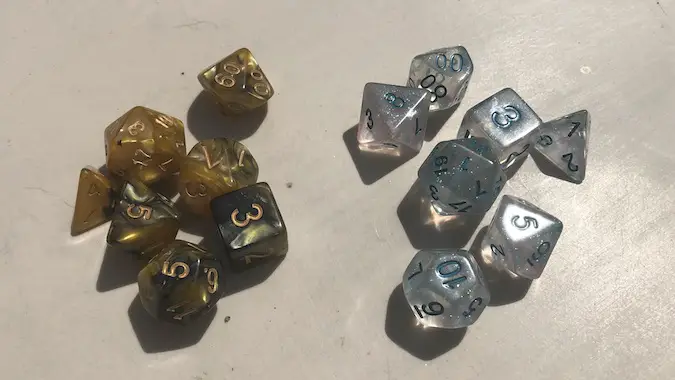 The sky's the limit, but buyer beware
What color do you want? It doesn't matter — they definitely have dice in those colors.
It's impossible for one article to list all the dice makers out there. Boutique dice makers advertise on Etsy and Twitter. Ice Cream Dice, The Casting Elf, HeartBeatDice are only three of the many, many dice makers on Twitter. They often have give aways which require a simple retweet and follow to enter. The two above — Hornet Swarm and Wall of Ice — were purchased from Tabletop Loot. Many dice sellers have exclusives like these. Those might be a bit more expensive than other sets, but the sheer, "Hey guys! LOOK AT THESE DICE!" factor cannot be emphasized enough.
However, after you purchase, make sure you know what you've received. I have an incredibly beautiful set of copper dice obtained many, many years ago from somewhere I've forgotten. They're gorgeous, but they don't roll true. Each side should have the same percentage chance to turn up when you roll, but in a controlled test my solid copper d20 rolled a 20 less than 2% of the time, while the 8 seemed to be its preferred number. They are lovely to look at but if I'm playing a high-stakes game where every roll counts, those are relegated to the back of my dice bag.
Many sellers have sections on their web sites for metal dice. Check out Die Hard Dice, Kraken Dice, and Awesome Dice — among other places — for metal dice with character. Head over to Norse Foundry or Easy Roller Dice and look at their gemstone dice. Dice Envy has gorgeous wooden dice.
Some sellers have sales regularly, and you can get amazing dice at prices which are easy on the pocketbook. The dice below — Emerald Twilight and Nuclear Fallout — were purchased from D20 Collective, which regularly has select dice packs on sale for five bucks.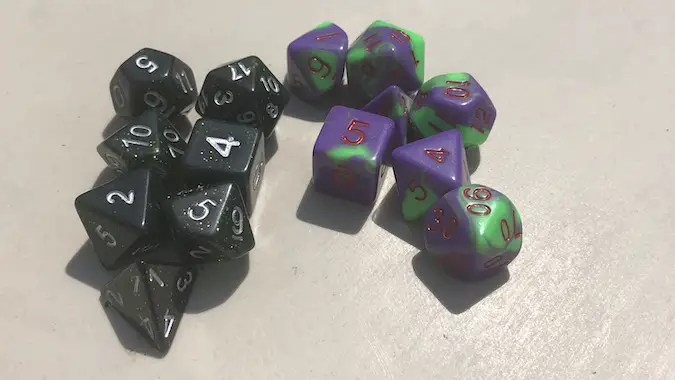 Kickstarter is where we go to drool
And lastly, don't forget about Kickstarter. Hopping onto the platform and searching for "Dice Sets" yields a lot of hits. I've had a 50-50 relationship with Kickstarter dice projects. Half of those I've sponsored have come through, which means half have not. If you're new to sponsoring dice projects, here are my suggestions.
Use the search functions to narrow your choices. How close do you want to be to the seller? Weeding by proximity — especially with delays in shipping — will winnow your choices down.
Read the entire Kickstarter proposal. Do they sound like they know what they are doing?
Have they done this before? What were their results last time?
What are they offering as their proposal gets funded? Does it seem realistic?
How soon do they estimate they will get your dice to you? Does it sound reasonable?
Finally, how much are you willing to lose? It's awful to think but something could go wrong and you won't get your money back.
Dice are such a simple item to collect — compact, easy to store. Yet the possibilities for collection are endless based only on your tastes. Happy collecting.