WoW
Jul 6, 2020 2:00 pm CT
Pelagos is WoW's first transgender character, and you'll meet him in Shadowlands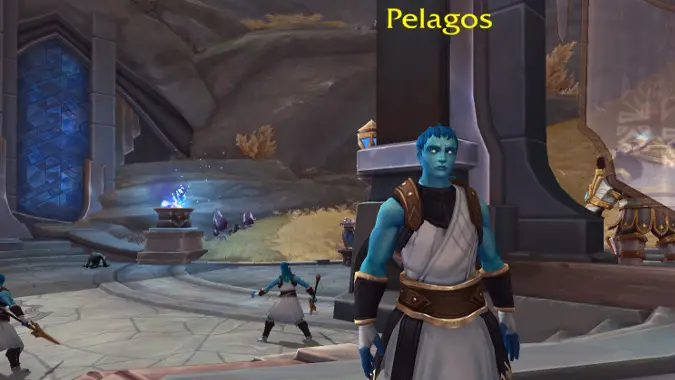 Recently, Blizzard CM Kaivax made a post to the forums regarding some changes to the Shadowlands alpha. In it, changes were detailed to the character Pelagos. This isn't a major change per se, but if you've run Bastion and noticed the character — as many of us did — big in their implications. Up until now, Pelagos has used they/them as their pronouns, which was a clue for a lot of us as to a major element of Pelagos' story.
Pelagos is a Kyrian and the soulbind of the first Kyrian you meet, Kleia, when you arrive at Bastion. Pelagos isn't the most competent Kyrian ever, but he's faithful and brave — and yes, I'm using he instead of they here, because that's the whole point of Kaivax's post. In life, Pelagos was assigned at birth as a woman. In death, he has chosen a physical form that reflects his true self, and that true self is male. This would make Pelagos transgender. He is technically the second transgender character in a Blizzard game, the first being a tribute NPC for a transgender Blizzard employee.
In an upcoming build for the Shadowlands alpha, we are updating some dialog and quest text referring to a key character to the Bastion storyline: Pelagos. While normally we wouldn't share these changes in advance, we recognize there is a higher than usual possibility of this being misunderstood if (and when) it is discovered out of context through datamining, and wanted to make sure that our intentions are clear.
A key part of the Bastion storyline is that Aspirants are able to choose a physical form that represents their true self. Pelagos, who presented as a woman in his mortal life, chose to be a man in the Shadowlands. The team had originally written him to use they/them pronouns, but received feedback that he/him would be more respectful of the character's wishes to be identified as a man. This change is simply the result of us listening and responding to that feedback.
The changes aren't big in terms of what actually changes in game — Pelagos behaves exactly like he did before — but it's a really big step for Blizzard and for gaming as a whole, although it sucks for Pelagos that he had to die to be his true self in the afterlife. I can only hope we'll see a trans character who manages to transition while still alive at some point. If Dragon Age Inquisition could manage it several years ago, I'd like to think World of Warcraft could get there. I'm glad to see Blizzard taking feedback from the alpha on a change like this.