What rewards are available for Diablo Season 21?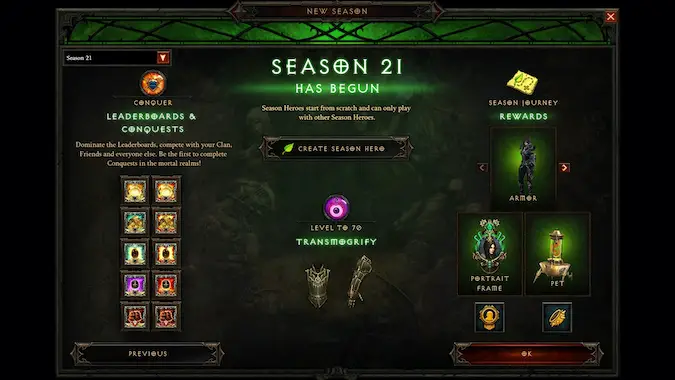 Season 21 may be bringing us back to random benefits with its theme of elemental aid but there's nothing random about how cute the pet rewards are for this new season of Diablo 3. Season 9's Rocky pet returns, and we're getting introduced to the steampunkiest little pet baby ever as the reward for completing the Season Journey.
Let's dive in for what we're chasing after.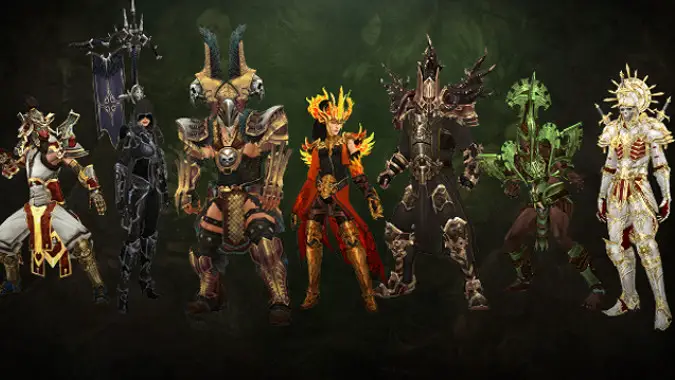 Class sets from Haedrig's Gift
First off, I'm going to let you in on a little secret: Diablo class sets are on a rotation per Season, so even without the PTR, we could make an educated guess as to what is available for each class. Besides, Blizzard has previously confirmed that newly added class sets will not be inserted into the seasonal rotation until every class is covered. As this patch is giving us our last two class sets, for Demon Hunter and Necromancer, I'm wondering when we're going to see a new addition to the rotation.
The sets in this Season's rotation were last seen in Season 17, so if there's a set you want in particular from Season 21, go for it, or you're liable to wait another 14 months. You get two pieces in a cache when you complete Chapter 2, 3, and 4 of the Season Journey, but you don't have to open the caches on the class that earned them. You can level and complete the Seasonal Journey tasks on your Necromancer, then have your Demon Hunter open up the caches to get the Shadow's Mantle set. Remember, you can only earn one full class set from Haedrig's Gift per season, so open the caches on whatever class you want to receive this Season's set gear:
Barbarian – Might of the Earth
Crusader – Thorns of the Invoker
Demon Hunter – The Shadow's Mantle
Monk – Monkey King's Garb
Witch Doctor – Raiment of the Jade Harvester
Wizard – Firebird's Finery
Necromancer – Grace of Inarius
Pets, portrait frames, and more
But there's more to look forward to than a new set of gear! Season 21 brings us two new cosmetic rewards for completing the full Season's Journey: the Stupendous Contraption pet and the Industrial portrait frame. The Stupendous Contraption is a 4-legged brass-and-gears combo with what looks like a salamander floating in a glass jar on top. Both the pet and the portrait frame are so delightfully Victorian sci-fi, and while I love them, I do wonder what the tie-in is to D3 as we don't really have any mad scientist types.
Completing the first four chapters still nets you the Rocky pet and Pandemonium progression-portrait frame, which upgrades after you complete the individual Seasonal Journey tiers. These two cosmetic rewards were both last available in Season 9, so I strongly recommend trying to at least knock out those initial requirements.
Who else is in love with our future mechanical buddy? Season 21 is live!