News
Jul 10, 2020 8:00 am CT
What would you replace heirlooms' XP bonus with?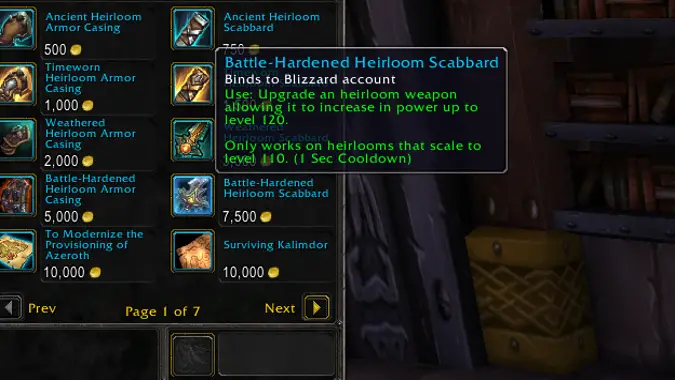 Of the many, many pieces of news unveiled yesterday, one of them seemed to strike a nerve among the community more than others: Heirlooms will no longer provide XP bonuses in Shadowlands. The knee-jerk reaction to this was, of course, not a happy one. Over the years, heirlooms have become a must-have for anyone interested in leveling, and a side effect of that is players having spent a lot of gold and resources to collect as many heirlooms as possible. And even if you're someone like me, who only ever bought the cloth heirlooms, you still spent a decent amount on them.
But if you stop to think about it, the XP bonus doesn't really make sense given the leveling changes coming in Shadowlands. We're already going to be leveling much faster than we can now, and it's a much more reasonable thing to provide a boost when the level cap is 120 versus when it's 60 and redesigned around a specific leveling speed. So even though the XP bonus will be missed, I get it.
That leads us to the main question for the day, however. What exactly should the XP bonus be replaced with? What could possibly compare to a buff that essentially became the biggest reason to buy an entire set of gear? I don't have an easy answer for this one. I've thought it over, and my first thought was that it could increase gold or item drops… but that was quickly dashed by the realization that that sort of thing is completely open to being exploited.
What about a speed boost though? Would constantly running really fast feel as good as the XP buff? Moreover, would it feel so bad to lose that speed at max level that it wouldn't be a viable idea? Again, I don't really have a good answer here — but that's why I'm asking you! What do you all think should replace the XP buff on heirlooms?