The Queue: Ch-ch-changes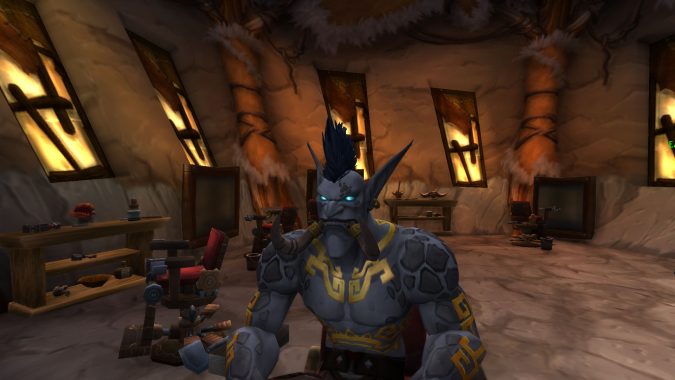 A lot of questions about the barbershop this week! I haven't had a real haircut in years, but let's dive right into virtual ones!
Take a seat right here — in the Queue.
---
STILL DON'T KNOW WHAT LUOTIANXS WAS WAITING FOR
Are you planning to gender swap any of your characters? It's too big a change for my brain…and, I just realized, all female roster. 
I don't think so. If I did it would probably be a character that I don't really play much right now. Any of the ones I play a bunch I've gotten used to the way they are. I race changed my Druid from Tauren to Zandalari — and that nearly broke my brain. He had been a Tauren from Cataclysm all the way up until Zandalari were available. That's a lot of history to get over!
It's still really cool that they're adding the option though.
---
AND TIGER HAWKE WAS RUNNING WILD
Are all of the new character customizations available to test on the Alpha? If so, has anyone tried "Random" just to see what kind of crazy looking characters it creates? 
They are! We've made a bunch of galleries for the different races as they were added. Those mostly highlight just the new options, since trying to show off every single combination would've resulted in galleries hundreds of images long. It's really easy to get lost in the character creator, I've made so many of our galleries that I've started seeing the creation sliders in my sleep.
As for just mashing the random button, I went through and did a quick roundup for you of every main race. I went in and pushed the random button once for men and women and here are the results for you. Looks like the most recent build broke something in Pandaren eye options though, guess I better write a quick ticket for them.
---
EVERY TIME AMBULANCE ROBOTS THOUGHT THEY HAD IT MADE
Q4tQ: How many, if any, or your characters are you gonna take straight to the barber shop when 9.0 drops? Everyone? All but the Main? Maybe a couple? Screw it, I'll roll ten new ones from scratch? 
New characters from scratch?! In this economy???
I know that leveling is going to be faster in Shadowlands but that's too much leveling for me. I do think that I'm going to take everyone through at least once. My Zandalari and Vulpera probably are still what I'd want them to look like, but the rest are so far removed from their creation that it'd be worth it.
---
IT SEEMED MUSEDMOOSE WAS NOT SO SWEET
Follow-up to that: do you think the devs will make the barber shop free during the pre-patch event? Seems like it'd be reasonable, so people could test out the new customizations all they wanted. 
Dang, I hope so. When I was taking the screenshot to use for the Queue today I poked all of the options once to see what the price was going to be — 630 gold! That'll add up if you're swapping things back and forth a few times. Sure when you're sitting in the chair the mohawk seems like a good idea, but when you get it out into different light maybe you realize that it doesn't quite fit your somber Priest.
---
GLOWING METEOR CARROT HAS NEVER CAUGHT A GLIMPSE
All skeletal option for Undeads, nay or yay 
Yay!
Think of the extra customization options! Replace half your bones with metal bones, rune carved bones, ghost bones, the possibilities are endless! Maybe you could choose whether or not each section of your body had flesh on it at all. Just think of how awesome it would be to have just a pair of fleshy arms, while the rest of your body had been taken down to the bones. Or maybe your right leg and right arm would be bones, and you could use yourself as a cautionary tale for new raiders about the importance of getting all of your body out of the fire.
---
TIME MAY CHANGE SPENCER MORGAN
Q4tRossi: would you elect to be made into an Ork? Not those lame hypocrite orcs from WoW that can't seem to learn from their own past. Orks with a 'k'. Space Orks. Just some cool dudes who roam the galaxy, shooting, smashing, chopping, stomping, and burning. 
Health care? who cares you body is a sturdy mish mash of fungal and mammalian features. If it don't ya, it's just a flesh wound. Lose a limb or eye, have the painboys stitch machinery in their to replace it. Won't even need anesthetic cuz you're that tough. 
Drive as fast as you want. Settle all disagreements with the satisfaction of smashing the other guys face. Start fires to keep warm, laugh when it spreads to your friend's house. Panic when it spreads to yours. 
Worried about death? Don't be. Gork (or perhaps Mork) will just chew on your soul for a bit, before spitting you back out onto the material plane as a newly emerged ork. 
WAAAAAAAAAAAAAAAGH!
---
BUT TIME WON'T CHANGE RETPALLYJIL
Q4tQ: Do you – like me – wish they'd do a 60s mod/Austin Powers setup for Overwatch or Heroes? Because I think that could be pretty awesome. 
That'd be Groovy! Bring on the swinging 60's spycraft looks! Bright colors and chunky boots would fit in with the rest of the events pretty well. Plus we haven't had a spy event yet in either Overwatch or Heroes which feels weird considering how many of the characters are some variety of spy or secret agent/assassin. As long as Deathwing gets a sweet neck ruffle like Austin Powers had.
Todays Anna Earworm™: Changes
Have a great week everyone! Leave lots of interesting questions for Anna tomorrow!