Blizzard Watch Plays: Deadlands Noir TTRPG is the perfect setting for a classic New Orleans detective story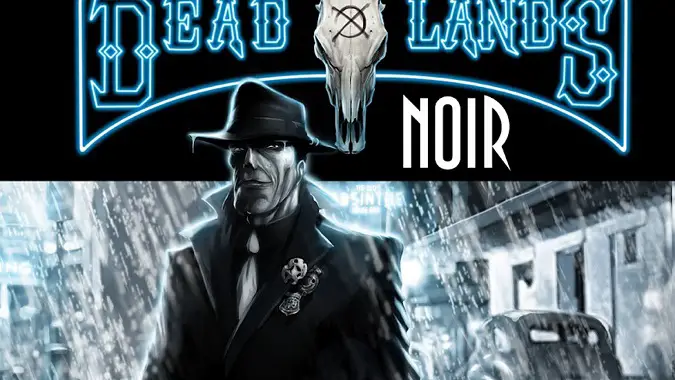 This week our tabletop gaming crew took a break from D&D to try something completely new…. Deadlands Noir! The group of hard-boiled detectives took the the mean streets of New Orleans for a murder mystery set in the 1930's. The game world is set in the same universe as Deadlands (which is often thought as the real heart of the Savage Worlds game system), but instead of the Wild West it takes place in 1930's New Orleans. The setting also has other cities like Shan Fan, Chicago in the Roaring Twenties, Lost Angels in the glitzy Forties, and the City of Gloom in the Fifties.
Our group of detectives this week tracked a murder in the Treme:
Anne: Catherine L'Herisse, the money of the operation
Liz: Jackie Thibodeux, the Huckster
Anna: Doris Gordon, the Mad Scientist
Cory: Henry Tate, the skeptical reporter
Andrew: Miles Wallace, the ex-cop turned private investigator
It was a fun game, and you should go give it a listen before you read any further so you don't have any spoilers, because we're going into a game synopsis from here.
Our story starts with our hard-boiled detectives in their agency office, Private Dicks. Henry Tate, a reporter for the Tribune, comes to hire the agency to look into a series of what he believes are murders in the Treme neighborhood. The police haven't given them much attention and even the Times keeps burying the murders deep in the paper, claiming that the deaths are due to the unseasonable heat. The only problem is that while the heat can definitely hurt, it doesn't leave bruises or ligature marks.
Not able to pay the agency any real money (hey, things are tough all over right now!), Henry eventually convinces them to take the case by sharing his information on the first victim: Eunice Mournier. She was found dead in her home, with a hole in her chest that looked like it was burned through her. She also happened to be a fellow weird scientist and friend of Doris'. The gang decides that taking a look would be for the best, and exposure might help them land some actual paying jobs as well.
It isn't long after they arrive at the scene that things start to seem just a bit odd. Stranger, even, than a woman with a hole burned through her midsection. Stepping around back, Henry and Jackie discover a shed with a chain and collar attached to a concrete slab in the ground, with a small sleeping cot and food bowls nearby. It's clear that whatever was here was very big and probably, almost certainly not a dog. Maybe.
Meanwhile, Miles, Catherine, and Doris step into what is clearly a house in disarray. It doesn't look anything like the crime scene photos, and clearly someone tossed the place after the police finished with the scene. The house has been picked pretty clean, but all of Mournier's experiments and tech was left behind. Anyone looking for an easy score would have taken all of that and sold it off as quickly as they could.
It's a mystery, but maybe the neighbors have an answer. They knock on the door at the nearest house, and kind old woman answers and she knows exactly who the killer is: Zombies and the Red Sect! Almost everyone buys into it, except Henry. He staunchly believes there is nothing supernatural out there. Just really big dogs, clearly.
From here everything moves fairly quickly, and I won't ruin anything more for you because it really is something that you should listen to. Especially if you enjoy investigations into the weird supernatural, Noir detectives doing their best to get ahead of a killer and a very frustrated Story Teller that can't get his dice to roll above a 3!
You can check out our ongoing D&D campaign or our one-off TTRPG games on Soundcloud. If you enjoy our games and want more D&D and tabletop content on Blizzard Watch, please support us.
Be sure to tune in next time, when the group will be going back to the world of Shadowrun. They'll get to deal with the consequences of the last session, which we played way back in April. We'll see you in August for the next game!