The Queue: What a week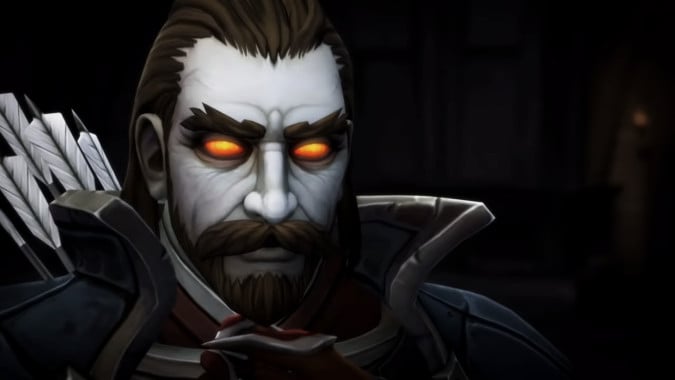 I mean, every week has been A Week™ for many weeks now, but this past week was definitely A Week™ in its own right.
Now that I've said "week" a bunch, I'd say we're ready for my weekly weeknanigans. What say we Queue?
---
SPENCER MORGAN SAW THAT TUESDAY WAS MY BIRTHDAY:
Q4tMitch: Mitch, why does an ancient, incomprehensible being like yourself concern itself with things like birthdays, and brutosaur mounts?
Your age is beyond that of the first men to walk the Earth, and the terrible lizards that preceded us. The terrible lizards that were wiped out the last time you awoke from your ancient slumber within Earth's moon to feast.
Perhaps it is more accurate to say you are the moon, it's surface being millions of years of dust and debris clinging to your body.
Regardless. You will awaken. Billions of souls will be pried from Earth's surface, and sent reeling into your gaping maw. When you are finally sated, you will return to your slumber. Waiting for new life to evolve and populate Earth.
How could such a being deign to notice the passage of our meager years measured by solar rotations of the planet?
Why would it care about our simple technological distractions?
You said it yourself — they're distractions. Distractions from the endlessness.
---
ARTHONOS IS THE REASON THIS QUEUE IS ENDING EARLY:
Going to try for another hat trick:
Q4tQ: Now that we are moving into Beta the window for class revamps is closed. However there is still a glimmer of hope for Shadow, as Ion did say there was still time for changes to the talent tree and / or new abilities. Knowing this what would you adjust to shore up Shadow for the expansion?
I admit, I'm starting to get worried that Shadow's just not going to change much at this point. That said, I'd love to see Devouring Plague's Insanity cost either removed or reduced. At the moment, it kind of suffers the same lack of payoff that Voidform does in solo leveling content. I'm not sure if that's a widespread sentiment or not, but it's how it felt to me after a bit of play. The rest of Shadow, I don't actually hate, but the scaling doesn't feel great right now. I feel much weaker than I do on my Demon Hunter, for instance.
Other than that, I still want to see Vampiric Embrace made to be more like its original incarnation than as a so-so cooldown. I would love to see Blizz go nuts with talents and give us something like WOD's single-target or DOT Weaving builds. I don't think that's likely to happen, though.
Honestly, I'm not entirely sure what I want Shadow to be other than "different." Like I said above, I don't hate how it plays — but it's played this way for a while now, and I miss the big shake-ups we used to get.
---
ARTHONOS GETS ANOTHER. ALSO I WAS KIDDING ABOUT THE QUEUE ENDING EARLY:
Q4tQ: Ion described the Jailer as being Titan++ power level. Where do you think something like the Void Lords fall using this scale?
Y'know, in my mind, I'd always pictured the Void Lords as a step or two above the Titans, but they're actually described as having been envious of the Titans' power. Honestly, the lore around them is a bit confusing when it comes to how powerful they are. My interpretation is that they're actually pretty weak in our realm, and not much is gonna change that. But in the Void realm, they're MUCH stronger.
So I guess they could still be on a level with or above the Jailer if we ever fought them on their own turf? That's where I'm putting them in my mind, anyhow — Titan++(+) in their own realm.
---
IS ARTHONOS REALLY STILL GETTING QUESTIONS ANSWERED?!
Q4tQ: Are you still playing Animal Crossing? Did any of your residents get you anything neat for your birthday?
Not nearly as much as I was when it launched. It's not a lack of interest, though. I just haven't had a ton of free time to play it how I want to play it.
That said, I did log in on my birthday. I was thrown a very awkward birthday party and then given cupcakes to pass out to villagers. I only did that last thing once before I had to go IRL, but I had fun! I don't remember what they got me though >.>
---
NEIL JUNG ☮ HAS THE HONOR OF BREAKING ARTHONOS'S STREAK:
QfM: What do you consider to be a reasonable hour? I worked 6pm to 6am for years, so my sleeping time was around 8am to 4pm. My wife has trained me to sleep "regular" hours now, but I still have a hard time with the adjustment sometimes.
For me, reasonable hours are from noon-ish until maybe 7 or 8? It totally depends on the context, though. Do friends want to hang out? Does work need something? If it does, am I salaried or am I hourly? Is my family asking me a question? Is it a spam call?
So when I say my "reasonable hours" are 12-8ish*, that's more me saying those are the hours I'm expecting to be needed to provide a timely reply to something in some capacity. If you message me outside of that window, I don't feel too bad about not answering right away (although, most times, I will since I'm glued to my phone…)
*It's worth noting that I work for an LA-based company, so 12-8 for me is 9-5 for them.
---
JONATHAN GANTZ ASKS ME A TOUGHIE:
What 1 transmog item do u think would help players the most. Assume it comes in multiple colors. I assume that glasses and a cape or serepe that actually covers the shoulders would be atop pick (i think everyone wants glasses but i think other items would be more versatile)
Oh man, this is a tough one. I'm leaning toward the helm slot because you can have things like top hats or halos or even, like you said, glasses. But I really don't know what sort of headpiece would be a catch-all for any type of player. Maybe some sort of weapon transmog would be better actually.
All that said, if we count it as an option, "Hide Appearance" is almost definitely the most all-around useful transmog option for any type of player.
---
GLOWING METEOR CARROT DIDN'T QUITE TOP ARTHONOS:
Do you think Magni can get drunk?
Favorite barbershop location? I always go to Dalaran
Sure! I mean, maybe not off alcohol, but I'm sure there's a rockboi equivalent out there that could provide him with a buzz.
I don't use the Barbershop, in all honesty. If I have to, I probably just use the Org one, since that's my most traveled-to hub, and I know where it is really well thanks to Horrific Visions.
---
AND SPEAKING OF HORRIFIC VISIONS, MISTAH JAY WANTS TO KNOW…
Q4tQ: are people still doing Horrific Visions?
Of course people are! Someone out there is always doing something. I, however, am not one of those people. I got mega-hyped about them for a short while, then the cost of entry got to me too much and I haven't felt like going back. I will eventually, because I want to get the achievements… but not right now.
---
SIBYLLE APPARENTLY ASKED THIS THE OTHER DAY AND ROSSI SAID TO ASK IT AGAIN:
Q: While we're talking about fishing, does anyone think the updates over the last few expansions have been successful in making the profession more interesting? I've always kinda enjoyed fishing, mind you, but some people I know hate that it's the ever same cast-your-line-and-wait-to-click-the-bobber stuff for hours. That hasn't changed. Again, I don't mind that, but what I definitely didn't want is a million new items and fish types and fish products and bits and pieces that fill up more bag slots. Le Sigh.
I'm actually totally with you on liking the good ol' fashioned cast-n-click Fishing. Some of my fondest memories are of waking up super early, putting on a DVD, and fishing in the Dalaran fountain for those coins. I certainly don't ever want Fishing to become something crazy complicated, and some of the updates have been trending that way. But I'm still okay with how it is for the most part, and even if it's changed a ton, I'll still have that classic Fishing experience when I want it.
---
IS KALCHEUS THE FLUFFY REALLY ALL THAT FLUFFY?
Q4tQ: Do you think Blizzard is going to invite more people to Beta this time around? I feel like with the hard deadline of 5 months before release they're going to need to test a little faster.
Do beta tests usually last that long? I feel like most beta tests have been about 3-4 months long with not much lag time before release. I don't really know if Blizz NEEDS to invite more to make the test work as well as it has in the past.
The one thing I would feel more confident about if they'd test it is the launch-day experience. This is the first expansion in a long time to not have multiple starting zones for the new leveling experience. I want to know if the servers can hold up to that sort of thing nowadays, because they certainly struggled in the past.
That's all for today! Leave lots of questions for Liz, and have a great rest of your week!