The Queue: 100-year-old house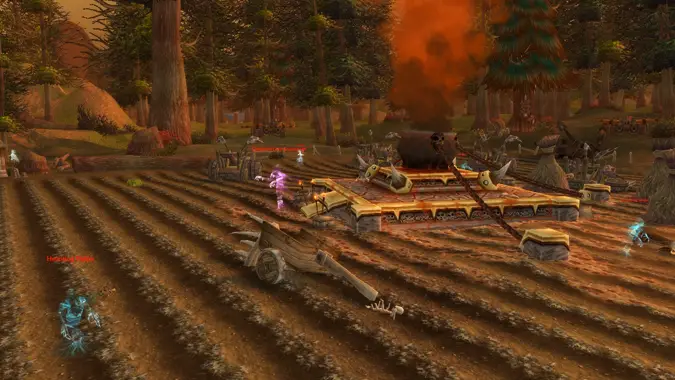 Wow, is it already Thursday? I mean, it isn't for me. But it will be when you read this. I guess unless you live somewhere where it's not or you're another writer at the site and are peeking at this ahead of time.
Okay, let's forget how time and days work and just say "Happy today, folks!" and then get on with The Queue. Sound good?
The Queue!
---
KALCHEUS THE FLUFFY DIDN'T ACTUALLY ASK THIS FIRST BUT IT STARTED SOMETHING FUN:
Has anyone actually asked Mitch a question yet today?
And then Eno said…  
He'll probably use this question for tomorrow's Queue
And then Captain Roxxii replied…
Leave it to Kal to suck it up
Finally MoveWoW came in with a ridiculous accquestion..
Q4tQ: Are Kal and Mitch the same person and Kal is Mitch's online posting identity in the BW The Queue? :D
Wow, uhh… Okay, well, to start: Someone did ask me a question before this, but I wasn't exactly drowning in questions yet! However, this is not a question I would ever include in The Queue, so take that, Eno! Kyle rules! Also, no, Kyle and I are not the same person.
That said, has anyone ever seen Kyle Cheeses and Jovan in the same room?… 🤔
---
ENO IS BACK BACK BACK BACK AGAIN:
Mitch?
A new Mythic+ Affix was added in this #Shadowlands build called Prideful which is probably the new Seasonal Affix. From datamining, it looks like you'll be able to buff a mob with your "Pride", then detonate it on top of other mobs for damage! https://t.co/kVaVOpWByL pic.twitter.com/F8NkHt9sHZ

— Wowhead💙 (@Wowhead) July 29, 2020
To which MusedMoose said…
I was already set to pose a Q4tQ and ask if he'd lost his pet.
To which Eno replied…
We associate Mitch with everything dark and strange, don't we.
Thanks, Mr. Blizzard <3 I love it (:
Also, thanks, Queuers, I love you too!
---
SIBYLLE ASKS AN IMPOSSIBLE QUESTION:
QftMitch: I know I asked this before, but imagine someone held a gun to your head and you had to decide which Muse song you like best (this sounds gruesome, so let's make it a ketchup gun).
I'm asking this mainly because I can't decide. Both Supermassive Black Hole and Map of the Problematique are high on my list, in any case (easy to guess what my favourite Muse *album* is).
Wow, for starters, that person is very rude. How dare they?! Second, that's such a hard and impossible question to answer :(
Mitch spends a couple minutes scrolling through MUSE songs.
Okay, yeah, this is impossible. The first song that came to my mind was Muscle Museum, but a big part of that is because I love the music video. But then I went through and found like 10 other songs I would all consider worthy of being an answer to this question.
If you want what might be a controversial opinion, Get Up and Fight is one of my favorites from Simulation Theory, and it's part of the 10 I mentioned above.
---
ARTHONOS DID A VERY HUMAN THING:
Kind of in a similar vein to the above tech question, anyone else have a habit of assuming things are impossible without looking into them? I didn't realize Facebook had a block tool, and had just accepted I would have to deal with the fact that if I wanted to keep in touch with a former coworker I would occasionally have to deal with seeing their insane family member rant about things under his posts. One Google search later and it is much less stressful now knowing I won't have to see them spew vile stuff anymore.
I absolutely do this, but your question is a good reminder that it's a habit I should more often keep in my active thoughts. That is, knowing you do this is at least part of the solution to not falling into the trap of doing it anymore.
---
ENO IS HERE AGAIN?! (WE LOVE ENO.)
Mitch, now that you've finished The Last of Us 2 and successfully 5-masked Stormwind and Orgrimmar, what's next on your plate?
P.S. Is the "Faceless" title everything you hoped it would be? I always thought it meant somebody had just ripped the guy's face off in PVP…
Oh goodness, thank you for paying attention to me on Twitter <3 It's true, I recently did both of those things! The title is fantastic, though it'll be even better when I can make Forsaken with nothing but eye holes, half a tongue, and the remains of a nose.
What's next? I really need to play the Shadowlands beta more extensively. I haven't done nearly as much in it as I want to, but hopefully I'll have some time now. Also, the fact that I can copy my character over will be super helpful in speeding up the leveling process.
---
SPENCER MORGAN ASKS A RELATIVELY TAME QUESTION COMPARED TO THEIR USUAL:
Q4tMitch: is there such a thing as the "Anti-Mitch"?
There are a few answers to this one:
Someone who is always, constantly cheery and bubbly. The kind of person who seems like they've never had a bad day in their life and are immeasurably happy all the time.
I apparently have a half-brother out there somewhere in the world. He's a few year older, but maybe he's doing Anti-Mitch things and we'll be destined to face off in combat at some point in the future.
Jovan, the Lovable Quip-meister
Yeah, I think that covers us.
---
ARTHONOS WANTS TO KNOW IF WE'LL GET MORE:
Q4tQ: BfA only added new areas for us to explore in one of its three patches. Do you think Shadowlands will follow a similar suit and favor adding new stuff to the existing zones over giving us new realms to explore?
The zones in Shadowlands are set up for a lot of max-level content, so I imagine the first patch will wrap up or continue the max-level stories being told there. But I'm kind of hopeful that we'll get two new areas in the patches after that. Now, I wouldn't be surprised if we only got one! Something tells me we'll have a lot to work with in Shadowlands' patches.
Please don't bookmark this page and rub it in my face two years from now.
---
MUSEDMOOSE HAD A SPOILER-Y QUESTION SO IT GOES LAST:
Well, for starters, that link is a bit of a spoiler (maybe? It's datamining from Wowhead and it was in their tweet) but it'll provide more context for this question. So I'll leave it up to you to click.
As to the question itself: Mr. Bigglesworth. Poor cat died then was (in all likelihood) killed again. It deserves some attention.
Oh, also, Smoochums from that creepy quest in Drustvar.
That covers us for today! I hope y'all have a great end of the week. Be sure to ask Liz lots of questions!