The Queue: Don't forget your umbrella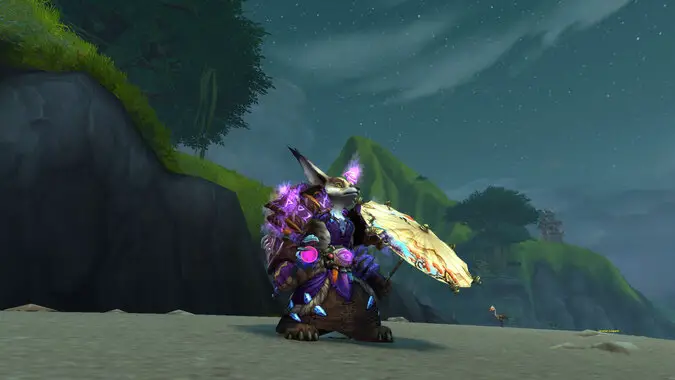 I spent most of the weekend watching the second season of the Umbrella Academy. I liked it! I won't say more because I don't want to spoil anything for anyone. I hope the rest of you had good weekends too.
Now it's time for — the Queue.
---
I MET A STRANGE MUSEDMOOSE
Q4tQ: have you ever decided to play a race, class, or race/class combo because you were able to get the absolute perfect name? 
Asking because I now need to unlock mechagnomes and make a DK, because apparently I'm the first one on my server to use the name "Deathmetal". 
Deathmetal is a supremely good name for a Mecha-Gnome Death Knight. I made and actually leveled my Vulpera Mage because I got the name Firefox. I don't think I would've stuck with it as much as I have if I wasn't so proud of the name. Amazingly, while I was leveling I got into a dungeon with a Vulpera Deathknight named Frostfirefox. Great minds think alike!
---
JALAMENOS MADE ME NERVOUS
Q4tQ: If you point a laser pointer at Magni, will he work as an amplifier, making the laser deadly, or will he work like a discoball, blinding everyone in the vicinity? 
If it was just a regular laser pointer or light source, I bet that he'd work like one of those kids lamps that has an animal pattern cut out of it, so that the animals are projected onto the wall. Only he's a Dwarf so it'd be hammers and mugs of beer. But if you had a sufficiently strong wielder of the Holy Light send that through Magni, I bet we'd get the ultimate in anti-Undead technology. Just the biggest Holy Nova Azeroth has ever seen. Send them up to the middle of Icecrown and just let them bathe the whole continent in Holy power. Maybe it'd revitalize some of the zones too.
---
ELAINE DE SHALOTT TOOK ME IN AND GAVE ME BREAKFAST
QftQ: You are in charge of making the selections for Legion Timewalking: Which six dungeons make the cut and why?
Court of Stars — Probably my favorite dungeon out of Legion. It had all the cool class/profession bits scattered around for explorers to get extra buffs, and the figure out who was the Demonic imposter mini-game was fun before the last boss.
Upper Karazhan — I said "Oh daaaaaaamn" the first time I jumped down the hole from the first boss when you get shrunk. It's such a cool moment, that might be getting missed as people don't spend as much time in Legion, and I would hate for that to be the case.
Maw of Souls — I think most people like it because it's short. But it also had a cool theme, and Helya was a really fun fight.
Darkheart Thicket — Just so that people could relive the glory days of watching Malfurion just be super whiny the whole way through. Plus I'm being a bit of a jerk and wanting groups to experience overpulling the trash on the way to the first boss because someone messed up one of the tricky platforming skips or didn't dismiss a pet. We all had to endure it, why shouldn't future Timewalkers!
Eye of Azshara — Seagulls.
Vault of the Wardens — I really liked the Cordana fight. It was a nice active tanking experience, which you don't see as often in dungeons.
---
RED DO YOU SPEAK-A MY LANGUAGE
Q4TQ: which movie have you watched the most times in your life?
I've seen the original Star Wars trilogy more times than I can count — I love them so much! Other top contenders are probably Mad Max: Fury Road, A Muppet Christmas Carol, Muppet Treasure Island, and Rat Race. I'm sure there are others but those are what sprang to mind off the top of my head. I'll tend to rewatch tv more than movies though, more episodes mean that there are more places for me to forget something and rediscover it. I've watched Farscape easily 4 times all the way through, same with Community, and BoJack Horseman. 
---
RJAGODA JUST SMILED AND HANDED ME A VEGEMITE SANDWICH
Piggybacking off Red's question below, what's the worst movie you saw in theaters? For me it was JFK. I was like 10 or 11 and I made my mom take me, which was a big deal because we didn't go to many movies when I was growing up. And then it turned out to be a paranoid fantasy about a conspiracy.
I went and saw the Rocky and Bullwinkle movie with my Aunt Lou back when I was 13. It was, not great. But there is a great story to go with it! That was the second time that week that we went to go see Rocky and Bullwinkle, but the first time we went I somehow managed to convince my Aunt that we should instead see the much more interesting movie that was going to be starting at pretty much the same time — X-men. It was a matinee showing in the middle of the week, so there was plenty of seating available, and we had a wonderful time. After we went back the second time to watch Rocky and Bullwinkle she said that we should've just snuck in and watched X-men again.
---
KALCHEUS THE FLUFFY CAN'T YOU HEAR, CAN'T YOU HEAR THE THUNDER
Q4tQ Piggybacking off of Rj's piggybacking off of Red's question, what movie did you see in the theater that totally shocked you with how good it was?
Mad Max: Fury Road. I'd gone in just hearing that the buzz around it was good, but I wasn't prepared for how good it was. I was blown away by the action, the choreography, Charlize Theron, the cars, and the music. I've written a few pieces for Blizzard Watch listening to its soundtrack. When I went and saw it though, our theater lost power just as the final act was starting. So I got to watch the first three-quarters of it again and I loved it even more the second time through.
---
RJAGODA YOU BETTER RUN, YOU BETTER TAKE COVER
300. I've killed Arthas 300 times. And yet still no Invincible. Why do I put myself through this?
Because if you don't keep trying the horse wins.
Today's Anna Earworm™: Down Under
Have a great week everybody! Don't let the horse win, and don't forget to leave lots of questions for Anna!