Scholomance Academy's six Studies cards add a new spin to the old Discover mechanic
Hearthstone's latest expansion is set during Scholomance's time as a burgeoning magic school: Scholomance Academy. And such an academically-focused expansion, it's no surprise that we'll be hitting the books with new Studies cards.
Studies are all one-mana spells with a specific implementation of the Discover keyword. First, you Discover something — a spell, a Taunt minion, a Dragon minion, etc — then, the next card you play of that type — your next spell, your next Taunt minion, your next Dragon minion, etc — cost one mana less. Cheaper cards are always nice, because they allow you to do more on your turn.
Studies remind me of the Plagues from Saviors of Uldum. Plagues were more of a grouping of cards than a specific mechanic: when you saw Plague of Death or Plague of Flame you knew it was a Plague card. Likewise, when you see "Studies" in the name of a card, you'll know it's a Studies card.
There are only six Studies cards in the entire expansion, so let's take a look at them and talk about how they might fit into the Scholomance meta.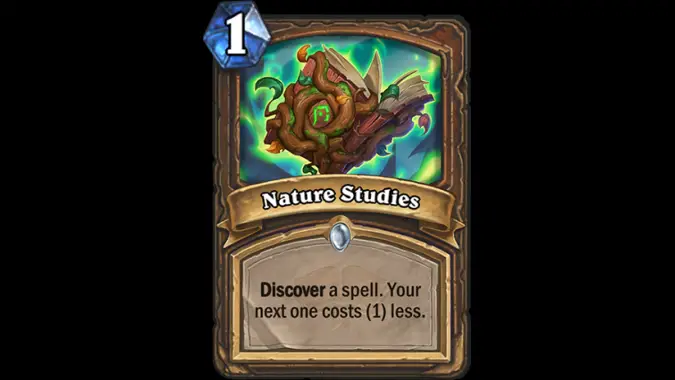 Nature Studies (Druid): Discover a spell. Your next one costs (1) less.
This is a 1 mana spell that allows you to Discover a spell. Since you Discover a spell, it then allows you to play your next spell for one mana less. We tend to look at the new cards through the lens of the current meta and this does look like an excellent card for the popular and powerful Spell Druid list.
Athletic Studies (Warrior): Discover a Rush minion. Your next one costs (1) less.
Warriors are getting two new Rush minions in Doctor Krastinov and Playmaker. That means you'll want Athletic Studies early on in the game, since Rush minions aren't as good later in the game.
Currently, Warrior is using Bomb Squad, but Athletic Studies guarantees you'll get a proactive card. Bomb Squad doesn't. Scholomance Academy continues Hearthstone's recent emphasis on rewarding proactive instead reactive classes and cards.  After the initial experimentation, it'll be interesting to see if Warrior players go back to Bomb Squad instead of Athletic Studies.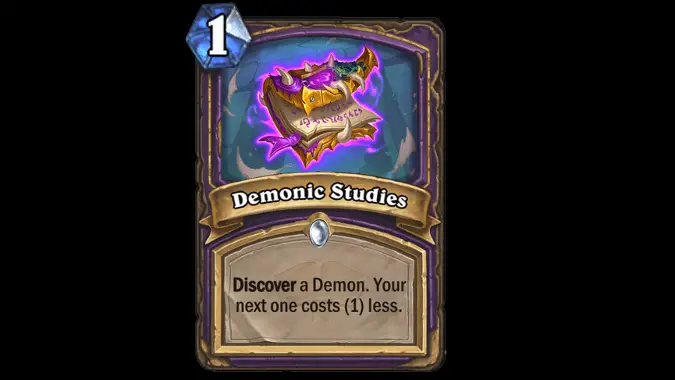 Demonic Studies (Warlock): Discover a Demon. Your next one costs (1) less.
Demonic Studies has similarities to the current Dark Possession card which doesn't see much play. Both Discover a Demon and the Demon minion pool have a wide range of outcomes. Just looking at the Scholomance Academy cards, you could get anything from a 1 mana 1/3 Spirit Jailer to a 9-mana 10/10 Ancient Void Hound. The rest of the pool has a similar range.
It's hard to predict the current meta, but I can't see where this card fits in the current popular Quest Warlock deck.
Carrion Studies (Hunter): Discover a Deathrattle minion. Your next one costs (1) less
Carrion Studies faces a similar problem as Demonic Studies — the pool of potential cards is wide and varied. While there are some so-so Demons, there are some awful possibilities from Deathrattle, like Rustworn Cultists or The Beast.
Hunter received a single Deathrattle minion in Scholomance Academy, Bloated Python. There's no question Bloated Python is a strong card, but can it, by itself, make Deathrattle Hunter a meta deck when it isn't today?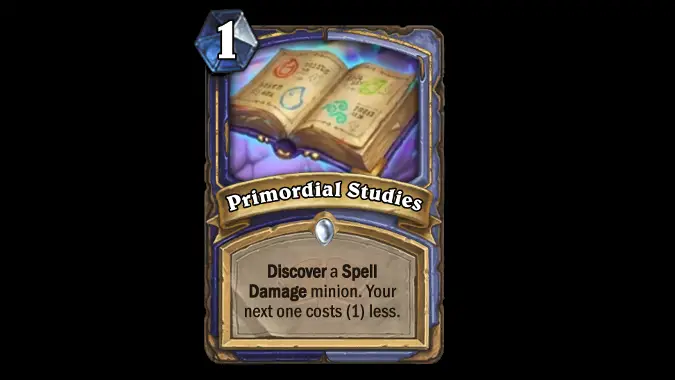 Primordial Studies (Mage/Shaman): Discover a Spell Damage minion. Your next one costs (1) less.
There aren't as many Spell Damage minions in Standard as Deathrattle or Dragons, but there are more than you might think. Two of them (Astromancer Solarian, Lady Vashj) make it worth including Primordial Studies on their own.
This card makes more sense in Mage than Shaman. It slots perfectly into No Minion Mage, and would also work in a Highlander Mage. You could also get this off your Magic Trick card.
I don't think it works as well in existing Shaman decks, but Totem Shaman probably has the best chance.
Draconic Studies (Priest): Discover a Dragon. Your next one costs (1) less.
I predicted this would be a Studies card, I just didn't know what class would get it. The card itself looks promising. Draconic Studies doesn't suffer the pool problem the other Studies cards do: while there are some so-so neutral Dragons, most still provide beefy bodies or other positive benefits. This card gives you a Dragon in hand to activate the various Dragon synergy cards.
Dragons also tend to be costly and the mana discount helps out.
But I'm not sure as about the class. The direction the developers envision for Priest is unclear. Most of the cards in Scholomance Academy for Priest support a continuation of the Resurrection Priest archetype. Perhaps with Draconic Studies and some of the new Dragons introduced, we could see a tempo-oriented Dragon Priest. Tempo Priest decks have been tried in past expansions with limited success. It's hard to create a tempo deck with a class that has a strong reactive Hero Power like Priest.
Studies are support cards, not showstoppers
Studies feel more like complimentary cards rather than cards you build a deck around. They'll need to support the gameplan of an already strong decklist — and it's hard to tell exactly how strong they'll be.
The other issue that will hold Studies back is the Discover nerf from last September. This nerf made Discover give you Neutral minions at the same rate as class minions. This gives you less control over what you'll be offered and usually opens up some genuinely bad outcomes. With as fast as Hearthstone is becoming, will players want Studies cards, and the potentially poor outcomes that come with them?
We'll find out soon, because Scholomance Academy is launching on August 6, and you can pre-order the expansion now.