WoW
Aug 31, 2020 3:20 pm CT
Players exalt, literally — the Impressive Influence 100% reputation buff returns!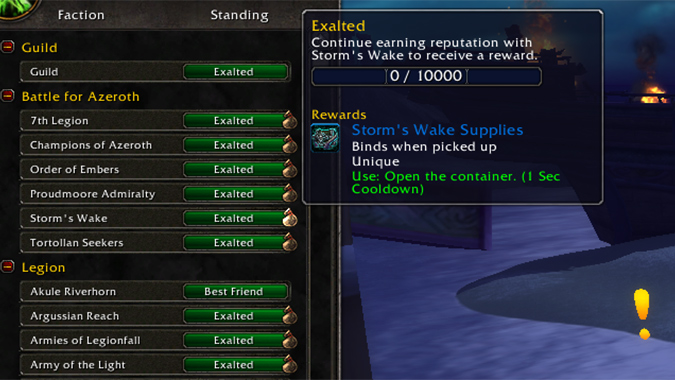 Good news everyone — Impressive Influence, the global buff that grants 100% increased reputation gains is making a return to World of Warcraft for the month of September, and it's better than ever! It works like the current Winds of Wisdom buff, but where Winds of Wisdom doubles experience gains, Impressive Influence doubles your reputation gains. The buff will be active throughout September, possibly even overlapping with the prepatch.
This buff will apply to all reputation gains from the Legion and Battle for Azeroth factions, now including the two introduced in 8.3, the Uldum Accord and Rajani, which were not included in when we saw Impressive Influence back in May. If you still need exalted for the Windfeather Quill from the Rajani or Wastewander Skyterror from the Uldum Accord, it will be a great time to hit up those Assaults. The buff will also be a major benefit for players seeking those final rewards from Paragon caches. I expect the Broken Isles and Argus will be hopping in September. 
If you're thinking about Allied Race unlocks, remember that you won't need Exalted to unlock them in Shadowlands. But if you'd like to start a new Allied Race character to level up while you wait for the prepatch, this will be a great time to finish off that last bit of rep. The decision comes down to if you'd rather level now before Shadowlands releases or wait until the expansion for the new leveling experience.
When a new expansion gets close, interest in end game activities tends to wane. With both Winds of Wisdom and Impressive Influence active in September, it'll be a great time to unlock rewards, level new characters, and enjoy the days before we dive headlong into the afterlife. If you really want to go hog wild on reputation, be sure to pick up a Contract from your local Scribe, and hit up the Darkmoon Fair for the WHEE buff.