The Queue: Worldwide cold decrease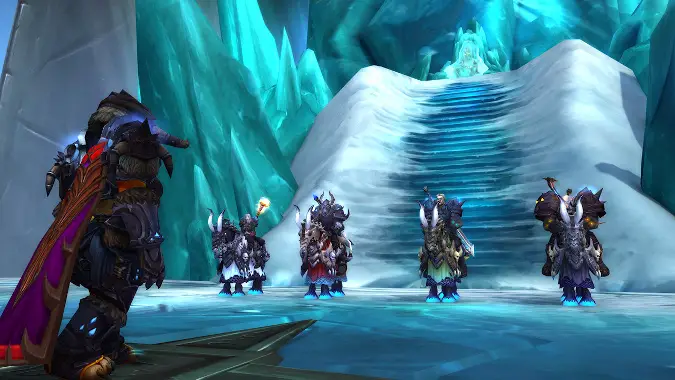 Y'know, I wrote that title with the intention of riffing on "global cooldown," but then I read it and thought it might come off as a comment on global warming. It's a fun title, though, so I kept it. And now you all know it was about the global cooldown, so we're clear there.
Right. What was I doing? Oh yeah!
Time to Queue up, partner!
---
KALCHEUS, I DON'T HAVE AN ANSWER FOR YOU:
Q4tQ: With Corruption going away, will we be able to apply the Goblin Glider tinker on our Ash Pajamas?
Unfortunately, I don't know the answer to this. My gut says it won't work right away and may get hotfixed in later.
Now, if anyone here has an Engineer with the cloak and a Glider, feel free to test this on the PTR and report back to me. I'd have tested it myself, but I don't actually have a character I can do that with at the moment.
---
GALDWYNN WANTS TO DRINK AND GET RAMS:
When does Brewfest start?
It starts on September 20! And I know you didn't ask, but it ends on October 6.
---
MISTAH JAY [NON-MOD] CONFUSES ME:
Q4tQ: How long do Queue columns last until they get hollowed out so they are just an empty page with just the comments?
I… uh… what?
---
MISTAH JAY [STILL NON-MOD] ASKS A QUESTION I WASN'T ALLOWED TO TURN INTO A POST:
Q4tQ: you can put one (1) F-Bomb anywhere in WoW, and it would still stay as PG-13. Where do you put it?
Unfortunately, I don't think any answer I have will beat this one. But as an alternative to that, how about, uhmmm… Instead of a big, famous line, what if there was just this one NPC who lived on islands totally out in nowhere. Like, one of those "islands south of Tanaris in vanilla WoW" kind of islands. You'd nearly die swimming there, and when you go to talk to him, he just says, "Eff off!" (but, y'know, the actual F word).
That's it. There's nothing else there.
---
KALCHEUS IS OPENING THEIR MIND TOO MUCH:
Q4tQ: What is the purpose of the Shadowlands? Why does it even exist in the first place?
It exists so souls can go somewhere. So that their deeds in life can be fittingly rewarded or punished with their deserved fate. Or something.
But really, if you think about this kind of thing too much, your head is going to explode.
---
ARTHONOS INADVERTENTLY ASKS ME ABOUT SHADOW AGAIN:
Q4tQ: Assuming you have beta access, what is your impression of the different covenant class abilities for your main spec? I'm no theory crafter, but from what I can tell it looks like Shadow is pretty balanced across all four, so if true it means I am safe to choose based off of covenant aesthetics alone. #Venthyr4life
So, leveling from 50 to 60, my impressions of the Covenant abilities were as follows:
Bastion: "Huh, this is weird but kinda cool. Not sure how to properly utilize it. I don't think I pull enough at once to make it feel useful."
Maldraxxus: "Okay, THIS works well with Shadow. I like this."
Ardenweald: "What the heck does this do again?…"
Revendreth: "Feels a bit redundant for Shadow but could be worse."
So, uhh… I like Maldraxxus' Covenant ability because it feels like a very "Vampiric Embrace" ability, with a Maldraxxus spin to it. The others aren't bad — and likely, damage meters/theorycrafters will figure out which one is "best" — but that's how I feel about them just from playing.
---
ELAINE DE SHALOTT MAKES ME QUESTION MY OWN JUDGMENT:
I was just rewatching Warbringer's Azshara as I polished off my Nazjatar in my story replay and I have a question.
Who told Azshara to let go? It didn't sound like N'Zoth. In fact it sounded female. Elune perhaps or Azeroth?
I took it to be N'Zoth speaking to her in a voice she'd be more likely to listen to. Big, booming voice tells you to let go? You'd probably just be confused. But if it sounds enticing, familiar, and perhaps even like your own conscience? You might listen.
That said, I do keep going back and forth on this. Ultimately, the fact that it focuses on the "N'Zoth Fish" and its eye — y'know, things emblematic of N'Zoth — has me leaning mostly toward it being N'Zoth trying to make her convince herself to give up.
---
KALCHEUS, I DON'T THINK I'M THE NORM HERE:
Q4tQ: Would you rather have one 2hr meeting, or four 30 minute meetings scattered throughout the day?
I would prefer four 30-minute meetings back-to-back-to-back-to-back. But if I have to choose between your two? Probably the 30-minute meetings still. I know it wouldn't be a very productive day, but it would go by super fast for me, and I'd never get sleepy from doing something for too long.
That's The Queue for today! Leave lots of questions for whomever is writing tomorrow's Queue!