What are you looking forward to the most from the Shadowlands pre-patch?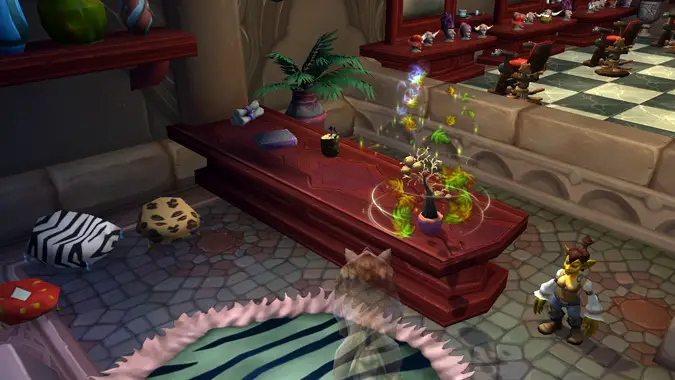 It's the barbershop, isn't it? Okay, topic over. Move along now!
…Fine, I guess there is some other stuff in there as well — like the class changes! Class changes are exciting too, right? Shadow Priests, rejoice, for you will be revamped — and according to many  people who have tried the new version of the spec, for the better. Enhancement Shaman are also seeing several changes. But even if the changes to your favorite class or spec aren't that drastic, I'm sure a lot of players are excited about the "depruning," with a lot of old favorite abilities being returned. Shaman get totems, Warlocks of all types get Corruption, Hunters get Eyes of the Beast! The rumors of its demise were greatly exaggerated.
There is also, you know, this whole event. Zombies eating your neighbors! Daily quests! Rares to kill, that might even drop a 34-slot bag for you! And I assume there will be other rewards as well. There is an involved questline that takes us to Icecrown and sets us off on our journey to the actual Shadowlands — which is sure to please those of us who are into the lore. And the daily activities in there should also keep us occupied for a while, getting used to the changes to our classes and specs.
And then, there is the revamped leveling. Leveling will be faster than ever, so if you still have a character that needs to hit level 120 — I mean, 50 — to get ready for Shadowlands, there is no time like the pre-patch. I have a Zandalari Paladin who is patiently waiting for his moment to shine.
…But let's go back to the barbershop for a minute, because that's my answer, and I'll be parking every single character I have near one the night before the pre-patch, like a little kid waiting for Santa.
Did I miss anything? I'm sure I did, so tell me: What are you looking forward to the most from the Shadowlands pre-patch?