Scholomance Academy professors are now live in Hearthstone Battlegrounds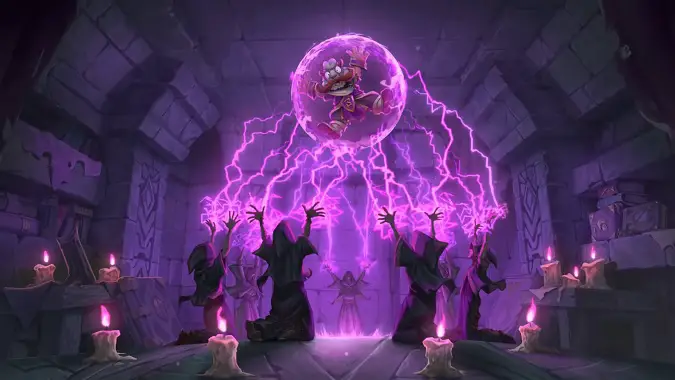 The Scholomance Academy expansion for Hearthstone is a gift that keeps on giving. Starting today, is a brand new event called The Forbidden Library which will last for three weeks, bringing new content every week. Patch 18.2, which introduces new Battlegrounds heroes, and more, is just the first part of the event — and in the best kind of Hearthstone tradition, we got the news in the form of a lovely little video.
So let's take a look at the lion's share of the content for this event, starting with Battlegrounds!

Scholomance professors join Battegrounds
Our beloved headmaster Kel'Thuzad only hires the best professors. So he decided it was time to test the mettle of his current staff by having them join the fight against the dragons, and murlocs, and everyone else.
Lord Barov
Friendly Wager [Cost 1]

Guess which player will win their next combat. If they win, get three Coins.
This is a very interesting hero power that's hard to predict until we get a better picture of how it's going to work. Is one of the next battles randomly picked for us? Do we get to see their stats or anything else, or do we have to take that information from our previous observations? It's tough to say so at the moment I'm going to consider that you're going to pay one coin for a 50/50 chance to get three coins — which isn't that bad. You're still getting half a gold for free, on average.
Jandice Barov
Swap, Lock, & Shop It [Cost 0]

Swap a friendly non-golden minion with a random one in Bob's Tavern.
If you think about it, this is very similar to Yogg's hero power — except you don't get the +1/+1 buff, but instead of paying two gold for it, you're paying only one gold — since that's how much the minion you're giving up would give you if sold. And we all know that Yogg has been a solid hero since his introduction. So if Jandice can follow suit, we can expect her to be near the top of tier lists everywhere.
Forest Warden Omu
Everbloom [Passive]

After you upgrade Bob's Tavern, gain 2 Gold this turn only.
I'm a little bit underwhelmed by this one. It reminds me of Bartendotron's hero power — and that one isn't a great hero. Still, it can help you on some key turns. Whenever you upgrade your tavern, you'll be able to snatch a minion from the new tier immediately if you save up on at least two gold. It seems like an "honest" hero power in a game mode where there are "broken" hero powers currently competing.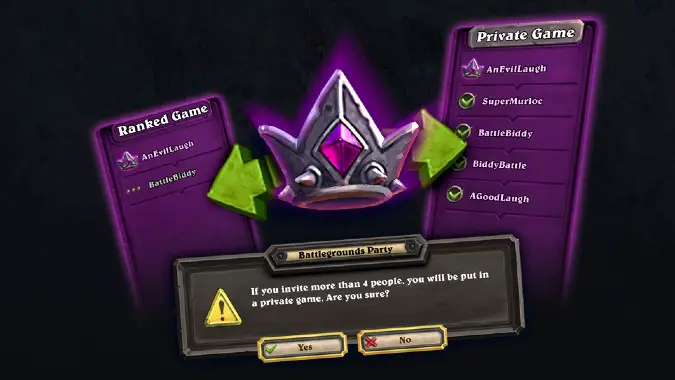 Battlegrounds is also seeing some minion changes and getting lobbies
Speaking of underwhelming, Mechs haven't ever performed as well as they did in the glorious old days of Cobalt Guardian. The way the game is now, I feel like they could even reintroduce that minion and it would no longer be overpowered.
That said, they are giving a hand to Mech comps in a different way: Mecharoo has been replaced by a new minion that comes straight from constructed: Micro Mummy.
[Tier 1, Mech] 1 Attack, 2 Health

Reborn. At the end of your turn, give another random friendly minion +1 Attack.
It's a very solid minion for Tier 1, if you ask me. Durable and with buffing potential similar to that of Micro Machine, except it's shared to other minions instead.
Beasts, on the other hand, have not been wanting for power lately. Since being moved to his new position on Tier 2, Pack Leader was a bit too strong. So it's getting a nerf.
Old: 3 Attack, 3 Health. Whenever you summon a Beast, give it +3 Attack. → New: 2 Attack, 3 Health. Whenever you summon a Beast, give it +2 Attack.
And finally, some interesting news on the social side of things: Battlegrounds now get lobbies of up to eight players! You will be able to queue for Battlegrounds with your friends. If you're a group of up to four players, you're placed in the normal queue. But for any number of players between five and eight, the game will automatically switch to a private match. It's definitely great to see Hearthstone get more social features.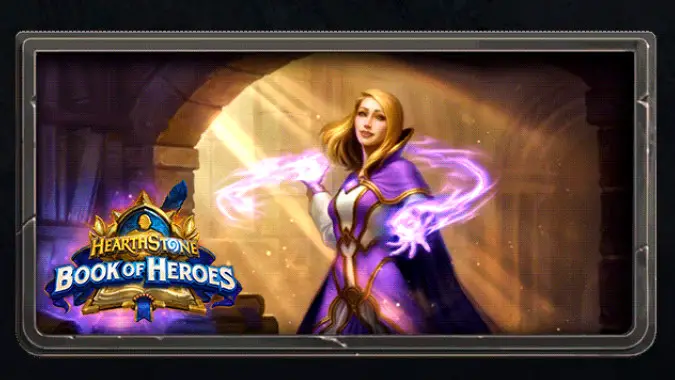 But wait, there's more!
We haven't heard anything about single player content since Scholomance Academy was released. Well, that's finally changing, because Book of Heroes is a brand new single player adventure, being released in free episodes over the next twelve months.
The first episode features Jaina Proudmoore, as you delve into her rise from a lowly scholar into one of the most powerful mages on Azeroth. Rewards for completing this episode — you must defeat eight bosses — will include a Mage card pack, which includes Mage cards from Standard.
And last, but not least, there have also been some Consturcted nerfs, which you can read about in the article. All in all, it's very nice to see this new event, which brings a lot of content for most kinds of Hearthstone players — though Arena still might as well not exist. Still, what we're getting, especially for the super successful Battlegrounds mode and for single player content, is very exciting.