Try to catch up with Tracer in a new Overwatch comic series "London Calling"
Breaking what has been an incredibly long silence on non-game material, the Overwatch team, along with long-time allies Dark Horse comics, have unleashed a new limited comic series featuring series cover girl Tracer. This coincides with a Tracer Hero Challenge event, kicking off tomorrow, which includes an exclusive comic-oriented skin for Tracer as well as some comic-themed sprays.
Years after Overwatch is disbanded, Tracer looks for new ways to lend a hand. Sprint into TRACER-LONDON CALLING, a brand new comic from @DarkHorseComics.

Read the comic today. Play Tracer's Comic Challenge on September 15.

🏃‍♀️: https://t.co/we4GAuSZ9l pic.twitter.com/7PWY7icAnP

— Overwatch (@PlayOverwatch) September 14, 2020
There are quite a few differences between London Calling and past comic releases. According to CBR, this is a legitimate serial comic book that will be released in a physical format, with the first issue hitting your Local Comic Book Store in December. The digital issues will be released one per month, both on Blizzard's site and on the Dark Horse Digital app, for free. The comic was done by Dark Horse Comics itself, with a lot of Blizzard Entertainment staff also credited for consultation — all of the past comics were created by Blizzard's on-staff writers, sometimes using in-house artists and sometimes calling in freelancers like Bengal and Nesskain.
And unlike past Overwatch digital comics, this appears to be a series that will focus entirely on Tracer across multiple issues as opposed to the one-shot issues we've seen before, so there's a lot more room for storytelling.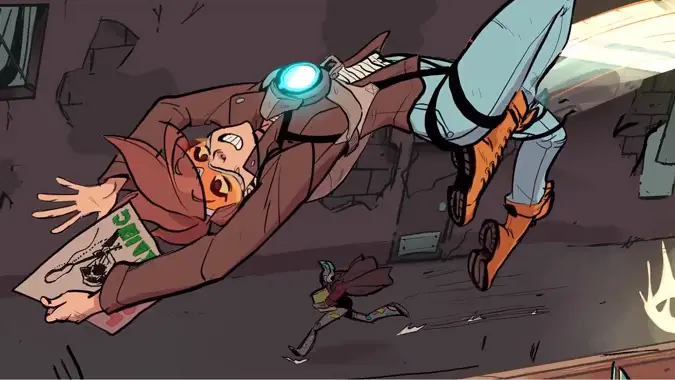 The biggest difference is the scale of this new comic series. Blizzard's past digital comics were usually 8-10 pages with the cover, while this first issue alone is 24 pages. That's a much more comic-book-like shape, and it means a lot more space for art and story to take place. Potentially, if all of the Tracer comics end up being this size and collected into a trade paperback format, it'll be around as many pages as the first collection of Overwatch digital comics (which Dark Horse, coincidentally, also published).
Given the superhero comic book roots at the core of Blizzard's art and storytelling (recall Metzen's love for the Mighty Thor, aka "you think it's a coincidence Thrall's weapon is a hammer?") it makes a ton of sense for Overwatch to really get into the comic format to the same extent that Warcraft, StarCraft, and Diablo have all done before it. What's more, the cadence of one issue per month gives plenty of time to scrutinize every panel of the comic and try to read into where the story is going and how it'll all play into the impending release of Overwatch 2. Because you didn't think we'd forgotten about that game, right? (Only been ten months since we heard anything. Not that we're grumpy or anything, Jeff.)
More information to come about Tracer's new adventures soon, but in the meantime, check out the first issue and see for yourself.