The Queue: Monday!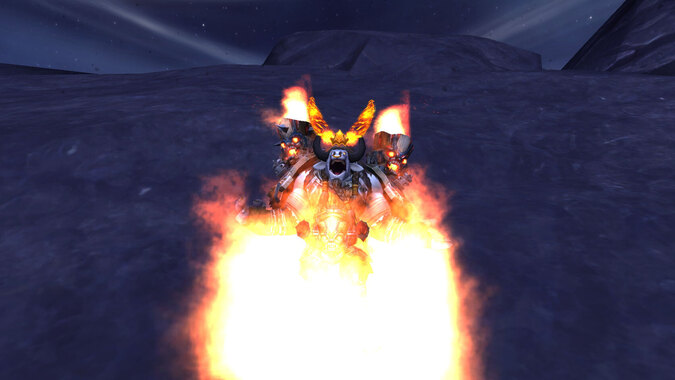 Can you believe it's Monday again? I swear we just had one of these! How does this keep happening!? Someone should really look into that.
While I run this up the flagpole it's time for — The Queue.
---
A LONG TIME AGO ME AND MY BROTHER MUSEDMOOSE HERE
Q4tQ: do you ever miss characters that you aren't currently playing? 
All the time. I haven't played my Shaman or my Paladin all expansion and I keep telling myself I should. But then I look at gearing them, figuring out what stats they need, remembering the rotation, and I think — maybe next time.
I know that I'll probably get them active again in Shadowlands, I think I just put it off too much in Battle for Azeroth. Plus without having a unique covenant to play in, there wasn't as much of a reason I felt like to level too many alts this time around.
---
ELAINE DE SHALOTT WAS HITCHHIKING DOWN A LONG AND LONESOME ROAD
QftQ: Will Cory's latest article be the most controversial BW article ever that does not touch on the topic of Sylvanas or diversity and representation in WoW? 
Oh, you mean my totally unbiased and 100% correct article about how everyone should be voting for the Jellycat mount? It might be.
I hope we get more silly polls like this for WoW. It's so low stakes while also being supremely important at the same time — and I love it. We could have a poll for which race gets to be the new expansions best cooking trainer. Tauren Ramsey would get my vote, but Worggang Puck would be a close second. Or how about a poll to decide what the next expansions Mage food is? Conjured Cronuts sound really good right now.
There's still time to vote on the current poll though so make sure that if you haven't done that go and toss the Slimesaber a vote!
Team Jellycat 4 life!
---
WHEN ALL OF A SUDDEN, THERE SHINED A SHINY RAZWICK
5 years late but Ori and the Blind Forest is gorgeous. 
This isn't a question — but yes. Yes, it is.
Ori was a great game, it controlled well, had cute characters, a great minimalist story, and amazing music. I still think the last section is some of the most intense platforming I've ever done. In fact, I might be listening to the soundtrack right now because of you.
---
AND RETPALLYJIL SAID "PLAY THE BEST SONG IN THE WORLD, OR I'LL EAT YOUR SOUL"
Q4tQ: Do you think (or know if) there will be another corruption resistance increase before SL, or is +125 it? 
That's it! 125 is the maximum corruption resistance that you can get from the cloak. If you've reached that, congratulations! You've made a cloak so powerful that Wrathion himself couldn't even improve it. Now enjoy all that corruption you can wear now. But enjoy it quickly because when the pre-patch arrives all corruption will be going away. We still don't know when that is exactly, but it should be soon™.
---
WELL ME AND SIBYLLE, WE LOOKED AT EACH OTHER – AND WE EACH SAID "OKAY"
QftQ: I know it's the end of the expac and nobody raids anymore, yada yada yada. But imagine you're in the throes of a new raid tier, those of ye who do raid. Do you have any silly little ritual (other than the practical things like checking buffs and reminding that one person who always forgets to eat the feast or renew their flask) you do before the pull? 
I /purr at two or three of my guild mates and /lick the boss.* Otherwise we can't kill him/her/it. 
*Disclaimer: I play a feral. I'm not in the habit of licking people in my original troll shape. 
Those rituals are good!
When we're getting close to a new boss killed, I'll start breaking out the shape-changing costume toys like Milhouse Manastorm or Gamon. Then whichever costume I'm on whenever we kill the boss becomes the lucky costume for the while. The costume you put on for mount farming or last pull of the night situations. I have a friend who'll do the same thing with battle-pets. Which are a little more consistent since they won't go away with a wipe. Or when I open my weekly chest I have to stand on top of it. If I don't, the good items might try and escape and I really don't need yet another My'das Talisman.
---
AND JAXDADDY PLAYED THE FIRST THING THAT CAME TO HIS HEAD
QtfQ: What do you think the most non-typical WoW soundtrack is? I'm struck by how much space and quiet they put in some of the Northrend zones like the Grizzly Hills. 
And, I do really love the Honor Hold single trumpet theme. 
Any of the Goblin and Gnome music just feels really out of place. Goblin probably more so than Gnome by a hair., They both feel too… wacky. Not that there isn't room for wackiness in WoW, just that the rest of the soundtrack is the sweeping epic fantasy stuff.
---
WHICH JUST SO HAPPENED TO BE THE BEST KALCHEUS IN THE WORLD
Halfway through 97. Should I got to Talador next or just skip it for Spires of Arak treasures? 
Definitely Talador. You probably won't be in it for very long because Warlords of Draenor leveling goes pretty quickly now, but there's a chance that you'd get pretty close to the Yrel and Blackhand cinematic. This is probably the highlight cinematic of the Draenor leveling experience. It might be the last time that anyone saw Divine Intervention in-game. Did you know that Darin De Paul is the voice of Blackhand? He's the best.
Talador is also home to the Robin Williams tribute island full of his movie references. I've made sure to pop by every time I level someone through Draenor.
Today's Anna Earworm™: Tribute
I hope you have a great week everyone! Stay safe, especially if you're on the west coast with all of the fires. Don't forget to leave Anna with lots of questions to answer!