The Queue: Impending Doom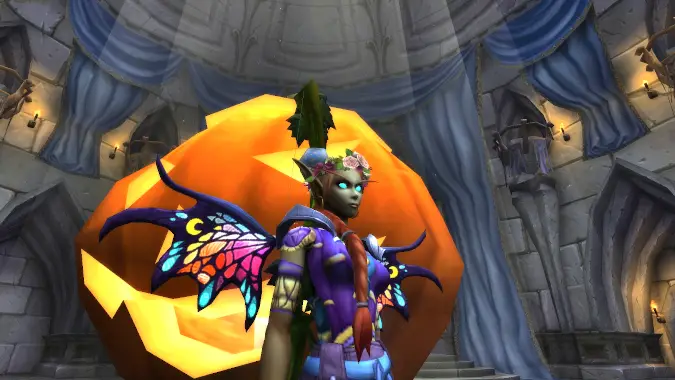 It's right behind me, isn't it.
This is The Queue, where you have questions and we're not procrastinating on anything important coming up so sure, of course, we'll answer a few questions in laborious detail.
---
NOT-PIDIA
Q4TQ: Now that they nerfed the OP pet battle combos in prepatch, how can I complete my pet battle dailies now with minimal effort?
Once I'm done with the Family Familiar quests, I find an easy team and just let Rematch queue it up for me. It takes a bit of trial and error initially, but after that it's fairly easy.
I will say that, though they were nerfed, the Clawpede combo is still pretty strong! It just isn't enough to utterly decimate everything that stands in its way.
---
KHRUTH
Q4tQ What is your favorite donut, and why is the answer the French Cruller from Dunkin?
There's a doughnut place in downtown Atlanta near the Georgia Tech campus which has a croissant they fry and then cover in glaze and it's the most delicious goddamn thing I've ever had in my life. I've had other cronuts before, but this one is above and beyond, and I don't even know why. Part of it was keeping the croissant shape, so the ends are extra crispy and the middle is nice and soft. There's another doughnut place we love which is a drive outside the city, but it's pretty worth it for the unique, delicious flavors. They have a lemon meringue filled with fresh store-made curd and topped with real torched meringue, plus a yeast-raised wrapped with bacon, glazed, and served with warm maple syrup.
However, I can't eat doughnuts anymore. When I was pregnant with both of my kids, my body hated it so much it literally tried to self-destruct and I came out the other side with a pretty useless gallbladder. As a result, anything that's too greasy makes me itch and gives me a gallbladder attack, which has similar chest-clenching sensations to a heart attack so I think I'm dying every time. I really should have it taken out, but, 2020. So that's why I can't eat doughnuts (or beignets, or funnel cake) anymore, and that's also why I have a Mirena, 12/10 recommend. Never again.
Thanks for rubbing it in, Queue!
---
MISTAH JAY
Q4tQ: Would dragons terrifying if they resembled Dragonflies?
You're asking whether a huge lizard would be more scary if it were an enormous bug?
Yes. Yes, that would be horrifying. The enormous, faceted eyeballs alone. Brrrr.
---
ALSO NOT-PIDIA
Q4TQ: How would you update the DMCA to more fairly reflect the 2020 marketplace?
This is a really tricky situation, because the necessity that led to the genesis of the DMCA hasn't changed. In fact, I'd argue it's probably even easier now to disseminate copyrighted material and prevent the artists (and let's be real, the record labels with pockets deep enough to make legislation changes happen) from getting their fair share than it was when Napster was in its heyday. People who create music (and writing, and art, and videos, and and and) deserve pay, but as it is now, DMCA pays lip service to that idea while really only enriching the wealthy companies that hold the rights (see: the Taylor Swift vs Scooter Braun case).
I think right now the main issue is with Twitch and the OCILLA exemption which basically says, "as long as you try to take down stuff your users illicitly upload we're cool but if not, we're coming for you." Twitch seems to have blown that off as blithely as the people who are listening to WAP while they stream. They have added some bots to mute VODs and even some live content, but they seem completely out of their depth, and there's such a backlog of material they're just asking to get sued. Now that the chickens are coming home to roost, Twitch is clearly scrambling to make things right in the eyes of the law and, as always, the smaller creators are the ones getting screwed. Twitch doesn't have any type of reviews process for erroneous claims, especially for people who, say, went to their favorite small creator's Bandcamp and secured a license, or hypothetically, if the guitarist from Dragonforce, Herman Li, had his partnered Twitch channel banned, despite Dragonforce basically granting an unlimited license for its last three albums across all of Twitch.
While there are huge faults with DMCA, I don't think there's a way for the law to be rewritten where Twitch isn't still completely screwing this up for their own damn selves and everyone else by extension.
---
MOVEWOW
QftQ: For Halloween candy is there any other option than chocolate? Say something like popcorn balls?
There's definitely room for non-chocolate candy. My kids love both Skittles and Starburst, and I always make sure there are non-food items in my treat bowl for the kids with allergies — bubbles, plastic vampire teeth, and small orange or black cans of Play-Doh. But homemade treats, like popcorn balls or candy apples? Not just no, but hell no. Considering that the most notorious asymptomatic carrier, Typhoid Mary (link NSFW for language and alcohol use), spread it by means of tainted food, I'm not taking anything some rando made, and that was before COVID reared its ugly head.
The one exception is Halloween cocktails. They're almost always in my apple or pumpkin wheelhouse, and besides, the alcohol content kills all the typhoid anyway, right?
That's it for The Queue today. I didn't really listen to music today, because I grabbed most of my questions in a hurry last night, because it's been a week since I got my flu shot. It makes for better efficacy if you don't take medications like tylenol or benadryl afterwards, and considering it's peak ragweed season I've been counting the days until I could take both for headache and postnasal drip. Maybe next week!