What do you think of the pre-Shadowlands event so far?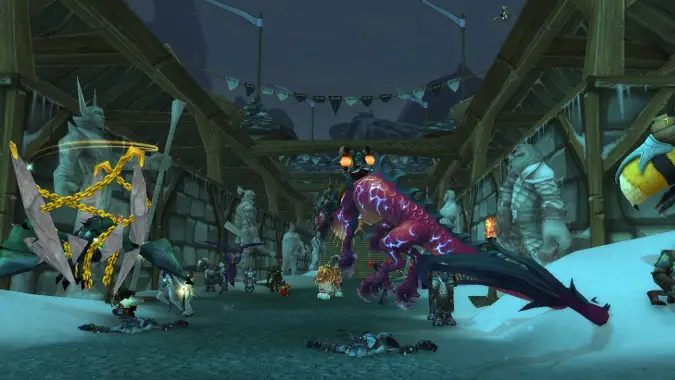 So, now that we've had a bit of time with the pre-expansion event bridging Battle for Azeroth with Shadowlands, what do we think? Did you enjoy it? Did you go kill Nathanos for a shiny ilevel 115 weapon? Head up to Icecrown to confront the new, far more aggressive Scourge rampaging throughout the whole of the glacier? Or did you sit it out and let things cool down so you don't have to deal with a whole pack of people parking their Brutosaur mounts on top of the questgivers, in a tale as old as time, (or at least as old as questgivers getting mounts parked on them)?
I personally had several character who needed to kill Nathanos, both for loot and for reasons. Those reasons are because I hate Nathanos, so I was fairly motivated, although an ilevel 115 weapon upgrade didn't exactly make me decide not to do it, if you know what I mean. But after that, I only really took one character up to Icecrown. I'll eventually get almost all of them up there, I'm sure — but for right now I'm pretty okay with not doing the full event on everyone. It's easier to see the story if I do it on my main up front and then afterwards I'll work on my legion of alts.
But of course everyone has a different idea of how to pursue these things. So I turn to you, the readers at home — did you get your hands dirty in this event yet? Killed a bunch of Scourge? Taken Nathanos out back of the shed? Watched a cinematic where someone I personally really like kind of should have listened to what someone I seriously dislike was saying, because where I come from giving someone exactly what they want isn't really revenge. Also, love him or hate him, you have to respect Nathanos for pure snark. "Oh, congratulations on tracking me down to that most unlikely of locations, my own house."
So what did you think of the first day of the pre-expansion?