How to win Symmetra's Restoration Challenge and earn rewards like sprays and a skin themed after her new short story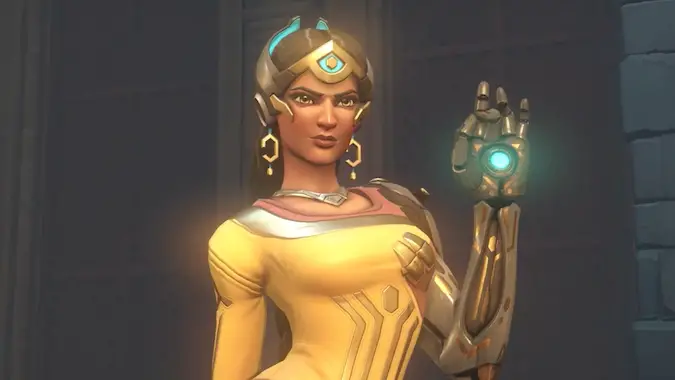 My Symmetra fans are going to be hyped for this one — the logical, reality-bending architech is the subject of Overwatch's latest special in-game event. Symmetra's Restoration Challenge is offering some limited-time rewards that increase your style options for the DPS character. It's not quite the full-scale animated short of my dreams, but I'm still delighted that Blizzard is creating this kind of fun character lore for us to enjoy.
The format for the Symmetra's Restoration Challenge is similar to the ones accompanying the Bastet short story for Ana and What You Left Behind about Baptiste. All you need to do is win matches. Any games in Quick Play, Competitive Play, and the Arcade will count toward earning the loot.
Three wins unlocks a player icon with a stylized image of Symmetra's headpiece. The reward for six wins is a spray of the character in action. I especially dig her braided hairdo, and even in a still image, her dance-inspired movements are striking. After nine wins, you'll earn a new epic tier skin. Marammat Symmetra takes her usual attire to shiny new places, with gold fabric, dark leggings and a few accents of her signature reality-altering blue glow. Also, the shape of her earrings reminds me of chemistry drawings, and I would totally wear them in real life. (Paging the Blizzard Gear team…)
Outside of the game, Sym fans can earn additional sprays for logging time watching any Overwatch Twitch stream. These sprays draw on the new Christie Golden short story Stone By Stone, which involves Symmetra engaging with Zenyatta about omnic history and spirituality. There are six sprays total, unlocked after watching two, four, and six hours of participating streams.
To get the streaming rewards, make sure that your Twitch and Blizzard accounts are linked before you start watching. This website will get you sorted if you need to connect your accounts.
Just like Symmetra's Photon Barrier, these rewards will eventually disappear. The event ends on November 30. So go forth, deploy sentries, restore order, get wins — for Symmetra.