WoW
Dec 7, 2020 2:00 pm CT
How to easily identify the doorways for each wing in Oribos so you never get lost again
Let's be real: Oribos can be a confusing place to navigate, and neither the names nor the icons of each wing are exactly helpful. Until you spend some time in the main city of the Shadowlands expansion, the place can be a little complex to find your way around.
But fret not! We have developed a system that allows you to quickly correlate the icons and the names of each wing with their functions. So read on to find out how you can easily identify the purpose of each doorway in Oribos, and never get lost again! Hopefully!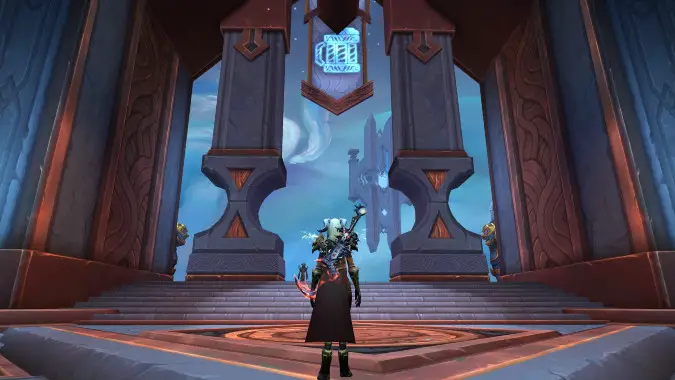 The Idyllia
"Come rest your weary feet. Grab a drink of your choice. Drink! And idle away!"
The Idyllia is probably the busiest place in Oribos, since it contains the inn — so that's where everyone will set their hearthstones to, and laze away near the mailbox. "Idyllia" reminds us of "idyllic" — but it also reminds us of "idle." And the icon is a big mug full of probably ale. It's an easy one to make a semiotic connection.
Do keep in mind that this place also harbors the stairs that take you to the bottom level of Oribos, where you will find some weekly dungeon quests.
Hall of Curiosities
"Which weighs more? A pound of Anima or a pound of Pet Charms? In your world, they're the same — but here, the Anima is lighter. How curious!"
To remind yourself of what the Hall of Curiosities does, picture two different currencies, one on each side of that scale. This hall is full of vendors, including one that will take your pet charms, but it also includes amenities such as a transmogrifier and even a barbershop. It's not very intuitive to associate "scales" with "haircuts" or changing up your looks in general, so we'll focus on the goods that are sold in abundance here.
Associating this place with pets is also useful for hunters, since this is where they can find the Stable Master in Oribos.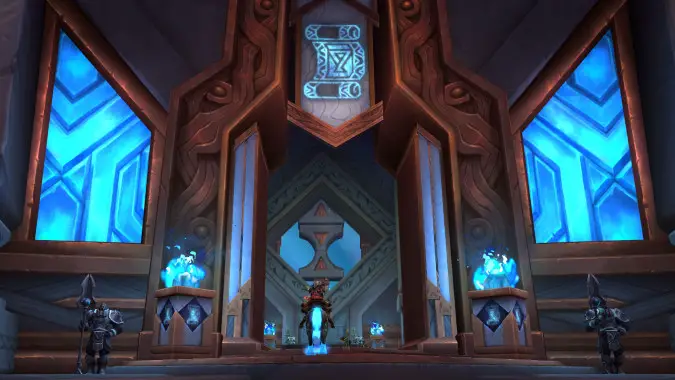 The Enclave
"I have a quest for you, Maw Walker. It's written down in this scroll. Read at your best convenience, but do make haste; these Covenant representatives are quite busy."
This is a place to grab quests as well as meet figures such as the representatives for each of the four Covenants — convenient if you ever feel like changing Covenants — and NPCs like Bolvar. The scroll icon is a dead giveaway, and there isn't much more to be said.
This place also has the PVP vendors and reputation quartermasters. Just remember that the weekly dungeon quests are not here: they're in The Idyllia. Because you can probably just queue for dungeons while idling away in the inn. Yeah.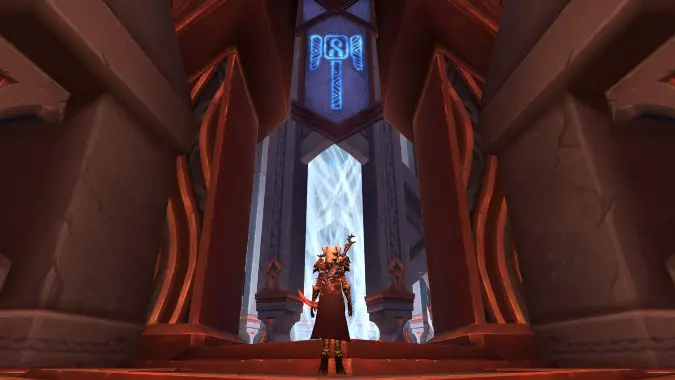 Hall of Shapes
"Where do you come from? Stormwind? Orgrimmar? No matter your origins, all of your cities have a forge, where people hammer at metal, to shape it into armor."
Another easy one. The hammer icon immediately makes one think of crafting — and that's what this hall is all about. All of the profession trainers are in here.
Also, a quick reminder that the hallway that leads to the portals that take you home to Orgrimmar or Stormwind are located between The Enclave and the Hall of Shapes. So, if you ever feel like going back to your home city, you might remind yourself that you can do it in-between your questing and your crafting.
Hall of Holding
"How do material possessions work in the afterlife? It's simple: we tie a knot into things to hold them into place. If you need them again, you can find them here."
It's a strange icon, this one, but it reminds me of a knot. Knots serve several purposes, including fastening two objects together, and that's the angle we're going for. This knot will hold things into place so that your stuff will be here — appropriate for the bank wing of Oribos.
It also holds the Great Vault, where you'll be able to acquire weekly rewards from your endgame activities. But the word "vault" is extremely easy to associate with banks and with the concept of holding things, so there should be no difficulty remembering that.
And so, there you have it! Hopefully this guide will allow you to quickly identify where you need to go to find what you seek in Oribos. Safe travels, Maw Walker!