WoW
Dec 17, 2020 10:00 am CT
Day Two of the Race to World First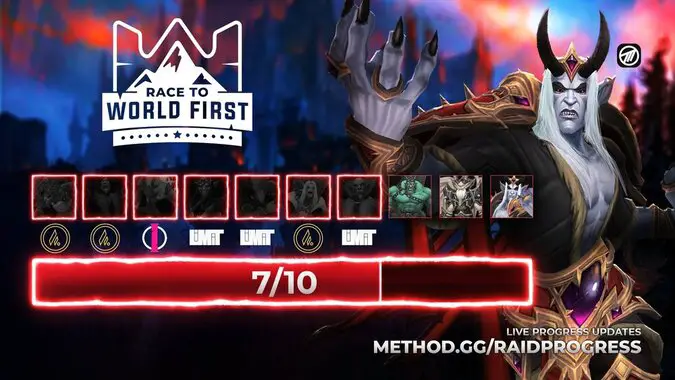 The doors of Castle Nathria lay wide open, and the sounds of combat can be heard echoing from within. We're two days into the Race to World First and the competition has been fierce so far. After the first two days of killing Complexity-Limit, Echo, and Pieces are tied with 7 bosses apiece — but they've got some strong contenders nipping closely at their heels.
Here are the top five guilds in the world at the time of writing.
Castle Nathria Day One
The race got off to a late start as Blizzard extended the Tuesday maintenance by a couple of extra hours. When the servers finally came up Big Dumb Golden Guardians exploded out of the gate and got the first Mythic kills of Shadowlands. Shriekwing and Altimor the Huntsman fell to them in short order. But while they were doing that, Complexity-Limit was busy chain running Mythic dungeons in order to get their raiders a guaranteed piece of Heroic raid gear from the weekly event.
Once they entered the raid they quickly cleared through the first two bosses and moved onto the Sun Kings Salvation encounter. Complexity-Limit got within 5% multiple times, but BDGG cleared it first by a matter of minutes. While they were fighting over who would be the first to save Kael'thas — Lazarus Imperative was dispatching the Hungering Destroyer in the basement of the Castle. Complexity-Limit wouldn't be delayed for very long, quickly downing the Destroyer. With that pest taken care of they moved on and got the world's first kills of Lady Darkvein and Artificer Xy'mox.
When the European servers came online, Echo tore through the opening bosses quickly to come neck and neck with Complexity-Limit. After their first day they'd killed everything that Complexity-Limit had, with the exception of the Council of Blood. It turns out that Complexity-Limit had been doing a little off-stream strategy practicing and wound up killing the Council to sneak in a 7th kill for their first day.
Castle Nathria Day Two
The second day of Nathria saw our top guilds run into the first real wall of the raid. Sludgefist the giant Dredger needed to spend some time in the shop, as a bug with one of his abilities was causing havoc with Complexity-Limits attempts. Rather than attempt to progress on a broken boss, they chose to do their Heroic raid splits to see if they could get some extra upgrades to make their eventual Sludgefist kill easier. They were even offering big gold bounties in the splits for players who came along to help trade gear to them — a million gold to anyone who could pass over a Sire Denathrius weapon.
Blizzard got Sludgefist fixed soon enough though, which was great news for Echo. After 33 wipes and a major strategy shift, they'd finally mastered their dance moves and broken up the council. They've been working on Sludgefist since then and managed to get him to under 20%. But it's possible they don't have the gear necessary to finish off that giant. He's got a tight timer, and a some truly punishing raid-wide damage. If he doesn't fall soon they'll likely move on to doing their own Heroic raids.
As the race heads into its third day, Stonefist will be the big wall for any guild wanting to challenge the leaders. While Complexity-Limit, Echo, and Pieces have a little bit of breathing room they have to be worried about the upcoming Stone Legion Generals. Between the Generals and Sire Denathrius, these guilds have a long weekend ahead of them.