What are your holiday gaming plans?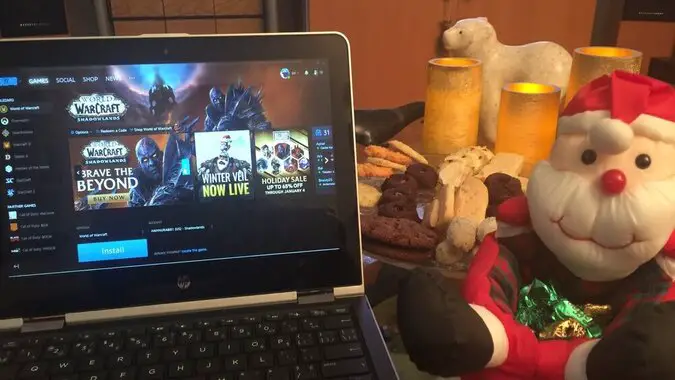 The holidays can be a tough time to get in a little extra gaming. There's lots of time off of work, friends and loved ones giving gifts, and more people around to make sure you have enough players for a great game of Settlers of Catan. Of course, this year is a little different, but that doesn't mean that we can't use gaming to help keep us together.
I've already had a couple of great Zoom hangouts where we played Among Us and Golf with your friends. It turns out that I'm a pretty great virtual mini-golfer, but a terrible alien imposter in charge of causing havoc on a space ship. I just get too kill-happy and blow my cover, next thing you know I'm being spaced. It's very rude!
On the Blizzard side of things, my laptop is a little lacking when it comes to the power necessary to run Shadowlands but it can handle Hearthstone pretty well. It's been a minute since I played any Hearthstone that wasn't the Battlegrounds mode, but I have been enjoying the Book of Heroes challenges. Except for the Garrosh vs. Cairne fight! Whoever designed that was a jerk, Cairne is so good at killing Garrosh it's doubly upsetting that Garrosh killed him in the main Warcraft universe. Even with Phil's — excellent — guide to beating him, I'm still getting overwhelmed with beefy Tauren tanks. I'm sure that I'll get it eventually, as much as I personally don't want to see Cairne killed again.
So what are you going to be playing over the holidays? Do you have enough baked goods on hand to keep your well-fed buffs? Are there any games you're hoping to get as a gift this year? Were you a parent who snuck a little extra time on a console that you were setting up for kids?