Take a journey on a haunted ghost pirate ship fighting a chain demon with our D&D group's most recent adventure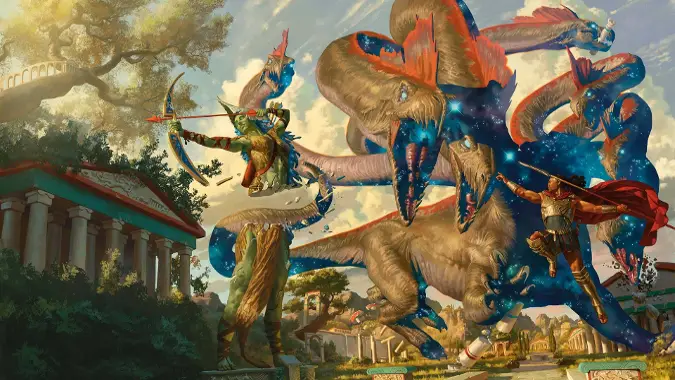 This last D&D game of 2020 allowed us, as a group, to come to terms with our own inner— who am I kidding, it was a complete and total string of utter madness as the group found themselves besieged by assassins, watched a nice shopkeeper make his death saving throws, chased down the chain demon that's been impersonating Wilyur Rustspark (our own Joe "Lodur" Perez) and fought an epic battle atop Mediel's cousin Malachi's haunted ghost pirate airship.
After a pretty tense back and forth battle with said chain demon and the ship itself — hey, he stole it fair and square — Wilyur and Fizzl the Kenku Bard ended up both trying to take over the haunted ghost pirate ship only to potentially drag the ship to what sure looked like it might be h – double hockey sticks. Or maybe not! We'll find out, eventually, but not for a while, because the group is switching to a different campaign run by Joe Perez in 2021 and I'm the kind of demonic DM who deliberately drops a major cliffhanger on people because he's just that evil.
The party as we've come to know and love them over the past year or so:
On a personal note this has been one of the most fun, and most surprising games I've ever run and I'm extremely grateful to the group for letting me run this game for them over the past year. It's been a roller coaster and I had no idea when we started this that it would last this long and for so many sessions, and it's been fun watching everyone play their character and help generate so many plots. So thank you to everyone in the group, and thank you for coming along on our adventures so far. I hope you enjoy all the fun I'm sure Joe has in store for you.
And if you're curious what, exactly, we got up to? Here's a whole bunch of episodes for you to binge on.
See y'all around in 2021.