Candlekeep Mysteries brings adventures and advice for DMs looking to bring the mysterious to their campaigns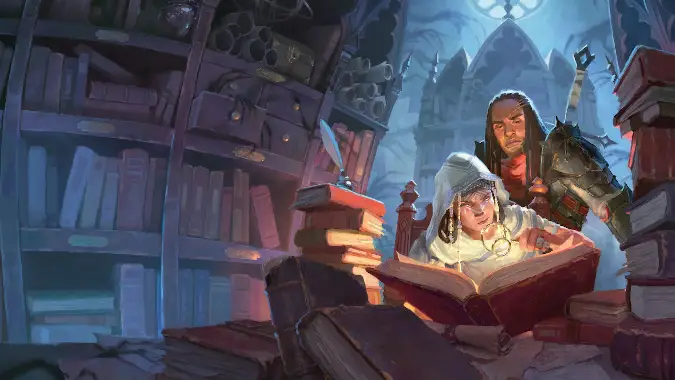 Running a mystery adventure in Dungeons and Dragons can be difficult. At lower levels you have to balance the difficulty of your conundrum with the capabilities of your party, and at higher levels spells like Commune or Suggestion can utterly wreck your carefully constructed web of secrets as the party basically just asks their god for help or gets the villain of the piece to confess everything ten minutes into the session. But as much as these complications can stand in the way, you absolutely can run a mystery adventure, and now you'll have Candlekeep Mysteries to help, with seventeen mysterious adventures for you to run for your group as well as some advice on how best to preserve the surprises when coming up with such a bedeviling adventure.
If you're curious but unsure, there's also a more detailed write up explaining how the anthology of adventures will work over on D&D Beyond. Long time D&D players may remember Candlekeep from the Baldur's Gate series of video games, especially the first game — it's essentially a monastery-city dedicated to learning and knowledge, with a vast library of lore gathered from all across the Forgotten Realms of Faerun.
I find the idea of a loosely linked anthology of smaller adventures to be a lot easier to make use of than some of the bigger mega-adventures that Wizards puts out like Descent into Avernus or Rime of the Frostmaiden, but I do find myself interested in how these adventures tackle the idea of presenting a mystery. To be frank, D&D presents some significant challenges to running an adventure where a party has to work out who did something instead of just being presented with things to bash for loot and glory, but it is possible and I'm excited to loot this book for ideas. It's coming out on March 16 so you've got a little time to plan how you'll make use of it. Get ready to force your players to unmask the Nightmare Lord only to discover he was Old Man Rossi all along, and he would have gotten away with it too, if not for your meddling adventurers.